With the advent of Magento 2 aheadWorks proclaims a new advanced approach to the development, support, and enhancement of our products. We are achieving this by means of three basic tenets.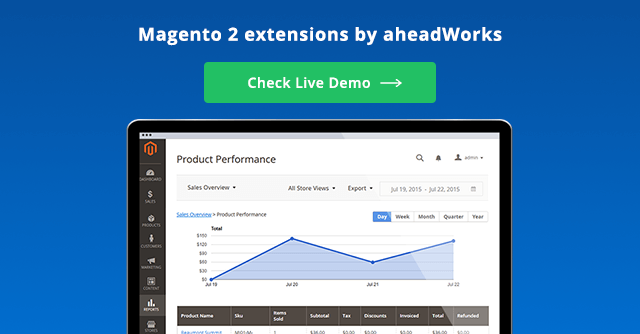 Magento 2 Extensions Advanced Approach
Ahead-of-the-curve Functionality

The first batch of Magento 2 extensions is largely inspired by our customers and we plan to make this approach traditional. With this in mind, we added some questions to our demo store tutorials and this way want to encourage you to contribute to the functionality and design of our products.
Our cooperation is the most effective way to build right Magento extensions

We believe that our cooperation is the most effective and beneficial way to build right Magento extensions covering real ecommerce needs and welcome everyone to exchange views and ideas.
Products to Run a Business, not Just a Store

Daily use of our products by numerous store owners and customers made us to carefully consider the Magento administration processes and make them time saving and intuitive.

We consciously put backend usability at the forefront and implement the most straightforward workflows in the operational logic of our modules. This way, our extensions avoid excessive actions, repeated steps, and vague interface.
We consciously put usability at the forefront

We press for seamless learnability and memorability of our products due to intuitive layout and handy navigation allowing Magento admins to easily accomplish their daily tasks.
Easily Customizable Solutions

And finally, as soon as you need to customize some of our products, we do our best to make this process largely unobstructed.

We develop our modules compliant with Magento 2 extension development guidelines in terms of coding standards, architecture, packaging, and integration abilities. Our extensions are based on the scalable architecture and thoroughly commented clean code.
We do our best to make customizations unobstructed

Magento 2 Extension product packages also include the dedicated development documentation designed to streamline the process of customization.
Pioneering Magento 2 Extensions by aheadWorks

Our pioneer extensions, Follow Up Email and Advanced Reports, embrace the mentioned above principles and open the aheadWorks Magento 2 portfolio.

Follow the tutorials in demo stores to evaluate the functionality, design and business logic of the extensions and leave your feedback. We really appreciate it.
Follow Up Email

Follow Up Email is one of those time-tested tools, which brings your relations with customers to the new level. Triggered emails are closely related to the customers' activity and deliver only accurate and timely information.

Follow Up Email events are repeatedly approved by live online stores and modern business logic. All the provided events are grouped under Marketing -> Follow Up Email by aheadWorks -> Events.

Each event reflects potentially beneficial occasions for email marketing able to create new conversions. Event sections feature email templates to be used in certain cases. By default, Follow Up Email offers you a collection of ready-to-use predefined templates and useful hints added to each section.




Within each event section you can create an unlimited number of email templates specifying their name, subject, content, dispatch time, and the parent event. The content creation is simplified by means of the built-in WYSIWYG editor and also allows you to use custom variables.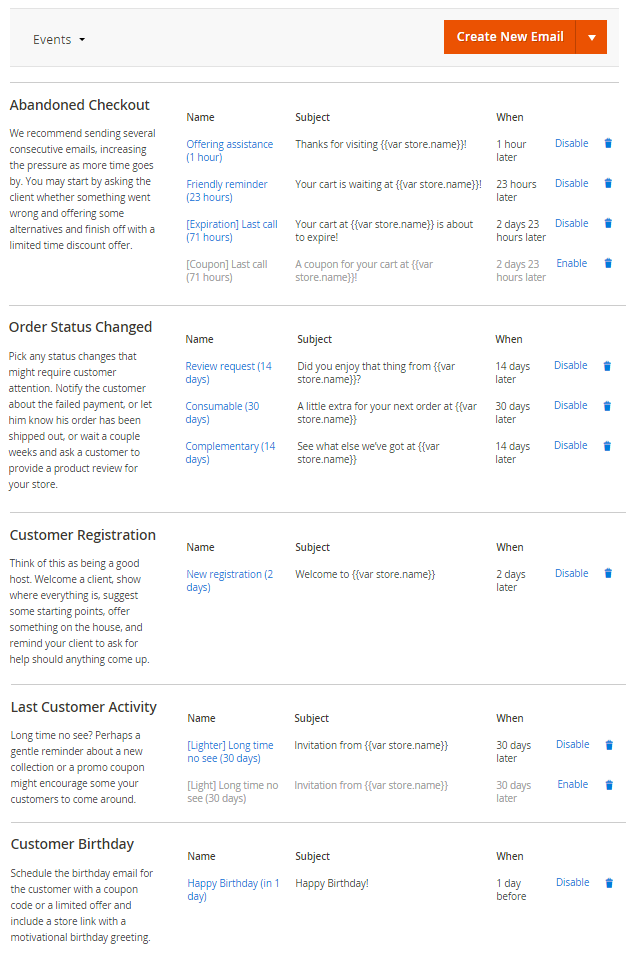 Follow Up Email Events

The conditions of each email template fine-tune the circumstances of triggered emails, while General Settings allow determining basic configuration of emails (sender, test email recipient, and test mode) and mail logs.

Follow Up Events


Abandoned Checkout. It is the hottest chance to trigger conversions, as in this case emails follow the users staying in one step from the purchase.
Order Status Changed. Seeming to be just a chance to send transactional emails changed order statuses are great to fasten relations with customers, let them know about your care or just advertise some other products.
Customer Registration. First impression is always very important and provides you with a great opportunity to establish trust in your relations with new coming customers.
Last Customer Activity. If some of your customers left you without saying goodbye or even forgot you for a while, some gentle reminders are often enough to recover their interest and loyalty.
Customer Birthday. Not much is needed to please anybody on this red-letter day, but even a grain of your attention is absolutely necessary. So, send your customers just a couple of greetings and congratulatory words, which sometimes are more valuable than the biggest discounts.

Visit the product page or demo store to examine the functionality on your own.
Advanced Reports

The biggest benefit provided by the Advanced Reports extension is that it follows your logic involving several built-in reports and adjusting period ranges according to your needs.

For example, starting from the analysis of total sales by months it drills down to the certain month period and shows you the items that contributed most to the overall result in this month, or even deeper, displaying product variants of a certain product. That is actually how we commonly behave inspecting sales – wonder from general to specific information and this way paint the whole picture in our minds.

In general, the Advanced Reports extension contains 6 reports. All reports data is displayed both in graphs and tables, which is the most comprehensive way to present information.

Report Types


Sales Overview. This is the first place to start your daily analysis featuring total sales within necessary periods. The table displays next data columns: number of orders and ordered items, subtotal, tax, shipping, discounts, total, invoiced, refunded, average order amounts, average item final price.
Product Performance. This report displays the performance of certain SKUs using the number of items and sales value. If you click certain items here, you dive deeper to the Product Variant Performance report.
Sales by Category. The report determines most successful categories within a certain period.
Sales by Coupon Code. It displays the number and value of orders completed with coupons.
Sales by Payment Types. The Payment Type report splits sales by payment types.
Sales by Manufacturer. If available, the report breaks sales by manufacturers.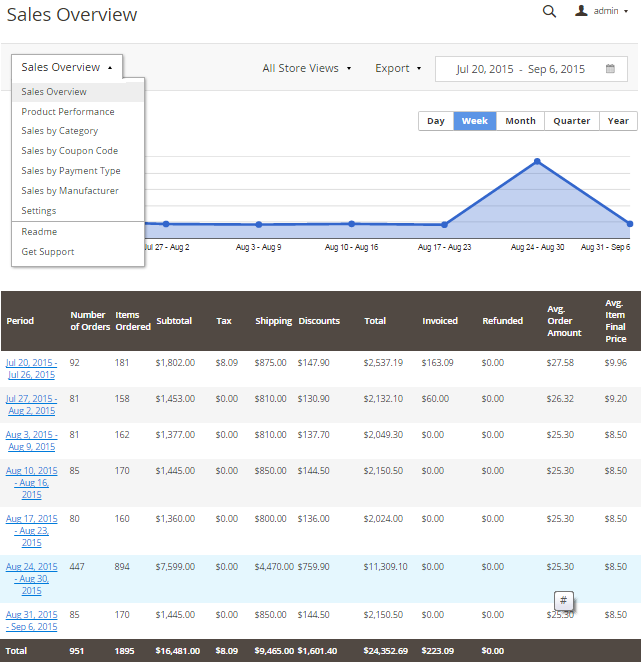 Sales Overview Report

­­

Building reports you can specify certain store views, date ranges or export reports to CSV/XML formats. By default, the module uses only completed orders for reports, but you can add any type of them in the General Settings section.



Visit the product page or demo store to examine the functionality on your own.
Conclusion

Follow Up Email and Advanced Reports just start the range of our Magento 2 modules and we'll extend our Magento 2 portfolio with some more popular products very soon. Stay tuned.

P.S. In order to answer any questions of this kind we'd like to ensure our customers that aheadWorks is going to support and update its Magento 1 extensions at least as long as Magento plans to support the first version of the platform.

Leave your comments below, please.