A variety of factors influence the shopping experience: website usability, client's mood, customer service and many others. When visits bring pleasure and delight, clients come back to the same store over and over again. When shopping is accompanied with negative emotions, users leave and never return. To avoid this outcome, all frustrating and annoying things like page reloads that frequently occur when users choose the "add to cart" and "delete from cart" options must be eliminated.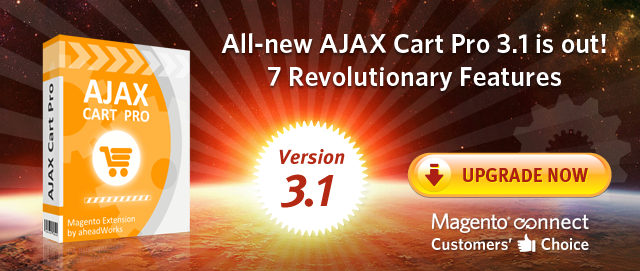 Our must-have extension
AJAX Cart Pro
makes shopping convenient and emphasizes your caring attitude to the customers. This module allows to add and remove items from the shopping cart instantly with appealing animation effects. Your store clients will buy goods without waiting for pages to reload. It helps keeping them in a good mood, so a large number of visitors will be converted into regular customers.
Today we are glad to release the
AJAX Cart Pro v.3.1
. Take a glance at new features we have implemented in this version.
▪
Product name is added to the list of predefined variables in the Confirmation blocks settings
Modifying the pop-up window that appears after adding/removing products to/from the cart, you can insert the Product name variable into the block exactly from the backend.
▪
Confirmation pop-up window can be closed by clicking outside it (click on overlay)
Now you can close confirmation pop-up windows in just a second without looking for a special button.
▪
The system messages are written in yellow color
System notifications and warnings are no longer shown as red-colored errors
.
▪
Improvement of custom themes compatibility (Custom.js optional file)
With the help of this additional file you will adjust the updated extension to your custom theme easily.
Besides, the following bugs are fixed in AJAX Cart Pro v.3.1:
* Incorrect work if a sidebar cart block is removed/renamed in template
* Pop-up position is not changed while zooming or resizing of a browser window
* Top/sidebar cart links are not updated if the Full Page Cache is enabled (for Magento Enterprise)
* Incorrect work with Safari browsers (endless timer in the pop-up window)
* Duplicate error messages
* Confirmation pop-up window has been removed from the Shopping Cart page
* Backend configuration menu issues under HTTPs
Remember
, if your support period is active, you can download the latest version of the
AJAX Cart Pro
extension absolutely
for free
!
Find more information on the
AJAX Cart Pro
page.