All touchpoints matter throughout the customer's buying journey; however, the checkout process is of the utmost importance. If customers experience friction during checkout, whether due to poor customer service or checkout speed, it will most likely impact their decision to return to your store in the future. In fact, about 26% of consumers abandon their carts due to too long and complicated checkout. However, this can be avoided easily.
There exist two checkout methods: one-step checkout and multi-step page checkout. Consumers prefer one-step checkout due to its simplicity, convenience, and effectiveness. It is worth mentioning websites that provide faster, simplified checkouts are also the top-performing eCommerce merchants. That's why more and more Magento 2 merchants turn their attention to one-page checkout. 
If you also look for better checkout processes for your store, you can take a look at one of the best Magento checkout extensions - Aheadworks Smart One Step Checkout extension for Magento 2. 
Magento 2 Smart One Step Checkout
One step checkout extension for e-commerce platforms simplifies the Magento checkout process by condensing multiple checkout steps into a single page. With one-step checkout, customers can complete the entire checkout process with fewer clicks and without having to navigate through multiple pages.
Let's talk a bit about the features the extension provides.
Easy-to-adjust Magento 2 checkout fields
The one step checkout extension offers the flexibility to customize the checkout fields, enabling the store owner to choose which fields to include or exclude. For example, you can add such fields as house number, VAT number, etc. 
In integration with Customer Attributes for Magento 2, you'll also have an opportunity to manage checkout fields relations to make the field appear only when certain options were selected by the customer in a previous field. For example, if the customer selects Yes in the field "Are you a member of our club?", a new field will be displayed "Member Card number". 
For Magento EE: to support the functionality it's mandatory to install module-customer-attributes-relation
This helps to optimize the checkout process based on your store's specific requirements.
Autocomplete options for shipping and billing addresses
This feature allows customers to quickly and easily fill in their shipping and billing addresses by automatically suggesting their address as they type. 
Together with autocomplete options, one step checkout makes it easier to fill the phone number validation on Magento 2 checkout - only numbers and some special symbols (-, +, () ) can be entered in the Phone Number field.
All these features save customers time and reduce errors, resulting in a smoother checkout experience.
Multiple checkout payment methods
Smart One Step Checkout extension for Magento 2 supports a wide range of payment methods, including Braintree Payments by Gene module, PayPal, Amazon Pay module, NMI, Authorize.net, B2B Company Credit, Splitit payment module and other online payment systems. This enables customers to choose the payment method that suits them best. 
And to increase conversions, admin are allowed to specify where the 'Place Order' button will appear.

Together with payment methods, customers are allowed to use a coupon code or a gift card. The section for these two functions is merged for convenience.
If the Gift Card extension by Aheadworks is not installed or disabled, only the coupon code field will be displayed.

Aheadworks One Step Checkout extension provides detailed revenue reports, helping store owners to track the performance of their checkout process. These reports include information such as conversion rates, abandoned cart metrics, revenue loss on checkouts, etc.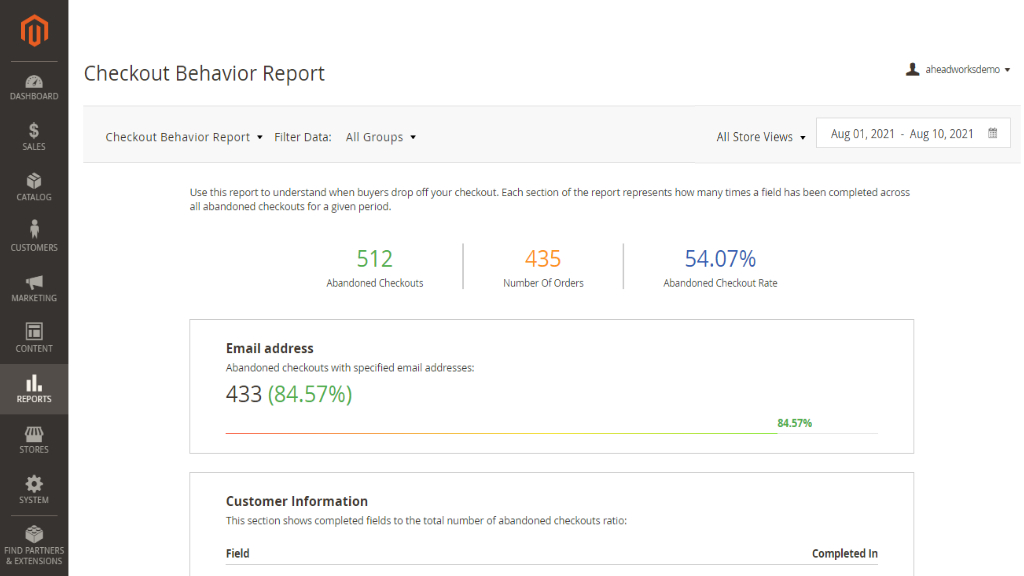 It's worth mentioning that Smart One Step Checkout is constantly updated to receive even more useful features. Thus, for the last month, two major updates have been released. Let's look at new features in more detail!
1. Integration with Adobe Payments
It's important to offer multiple payment methods at your checkout - about 8% of abandoned carts appear due to the lack of preffered payment options. With this regard, in the current release an integration with Adobe Payments has been added. The integration allows your customers to pay for their order via such popular payment methods as PayPal, credit cards, Apple Pay and others.
2. Default payment method
With our latest release, you are able to set any custom payment method as your default payment option for the one-step checkout. To set a default payment method for your Magento 2 checkout, go to Stores > Configuration > Aheadworks Extensions > One Step Checkout > Default Values > Payment Method.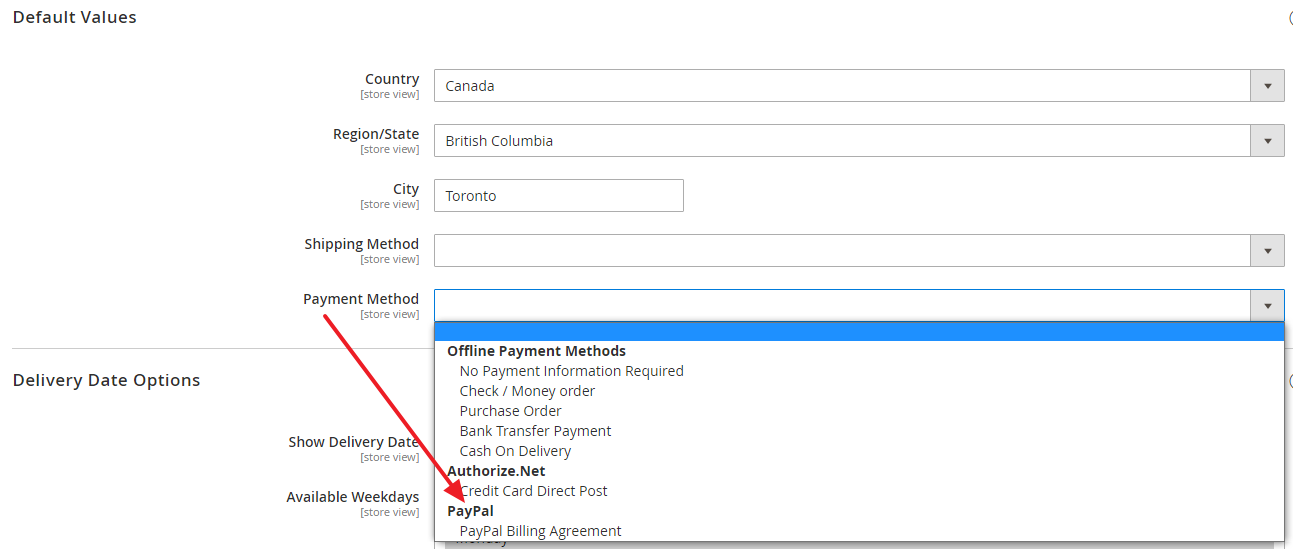 3. Add estimated delivery date to checkout on Magento 2 store
One of the key features of the Smart One Step Checkout extension is the ability to offer flexible delivery options to customers. You can decide if customers are allowed to specify delivery dates and times. For merchants, there is also the option to exclude specific dates and time slots from the available delivery options. By offering this level of customization, online stores can provide a more personalized shopping experience to their customers, which can help to increase customer satisfaction and loyalty.
If you are looking to add a delivery date to the checkout page in Magento 2, the latest update of Smart One Step Checkout can help you achieve this. With this feature, you can display an estimated delivery date and time to your customers, taking into account various factors such as weekends, holidays, and the delivery method. 
To implement this feature in Magento 2 using Smart One Step Checkout, you would need to install the latest version of the extension and configure the delivery date settings in the backend - you can set the number of days the delivery usually takes for each delivery method. Once configured, the estimated delivery date and time will be displayed to customers during checkout, providing them with added convenience and transparency regarding the delivery of their orders.
This feature can help improve the customer experience on your Magento 2 store and increase customer satisfaction.
Note
Estimated delivery date (EDD) have a higher priority than Days Between Order and Delivery Dates feature. In fact, the last option is available only for shipping methods without EDD specified.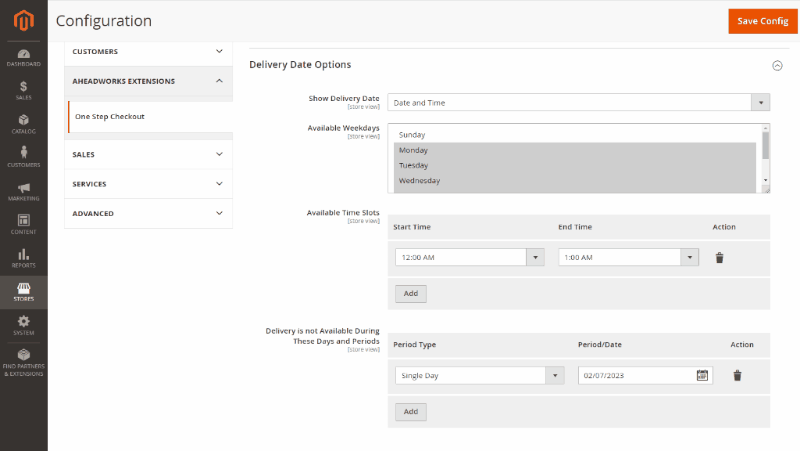 4. Same-day or next-day delivery restrictions
In addition to the delivery options mentioned previously, you can also set same-day or next-day delivery restrictions to avoid unnecessary rush and failed expectations if customers ordered late in the day. With this feature, you can set these restrictions and ensure that customers are only offered these delivery options if they meet the necessary criteria. 
For example, you set that next-day delivery is unavailable after 13.00. If a customer places an order before 13:00, they can select next-day delivery, and the order will be delivered the following day. But if the order is placed after 13:00, the next-day delivery option is disabled, and the customer can only choose a later delivery date.
By setting same-day or next-day delivery restrictions, you can effectively manage customer expectations and ensure timely and efficient deliveries. This can help enhance the overall customer experience and drive customer loyalty.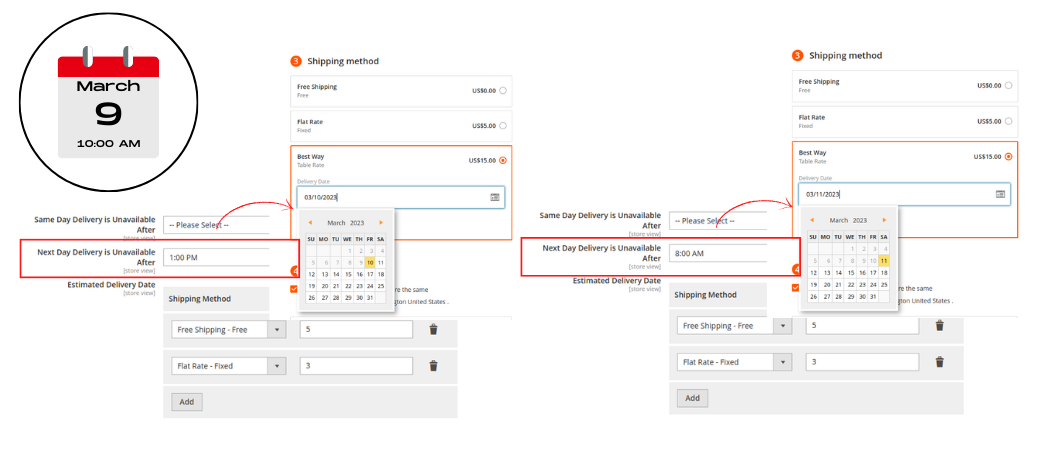 Phone number validation is not the only validation method on Magento 2 checkout now. With the latest update of Smart One Step Checkout, VAT number validation functionality has been added.
To enable VAT field on your Magento 2 checkout, first go to Stores > Configuration > Customers > Customer Configuration > Create New Account Options > Show VAT number on Storefront set to Yes. Once you saved this configurations, in Aheadworks Extensions folder choose One Step Checkout and enable VAT number field in the Shipping and Billing Fields customization sections.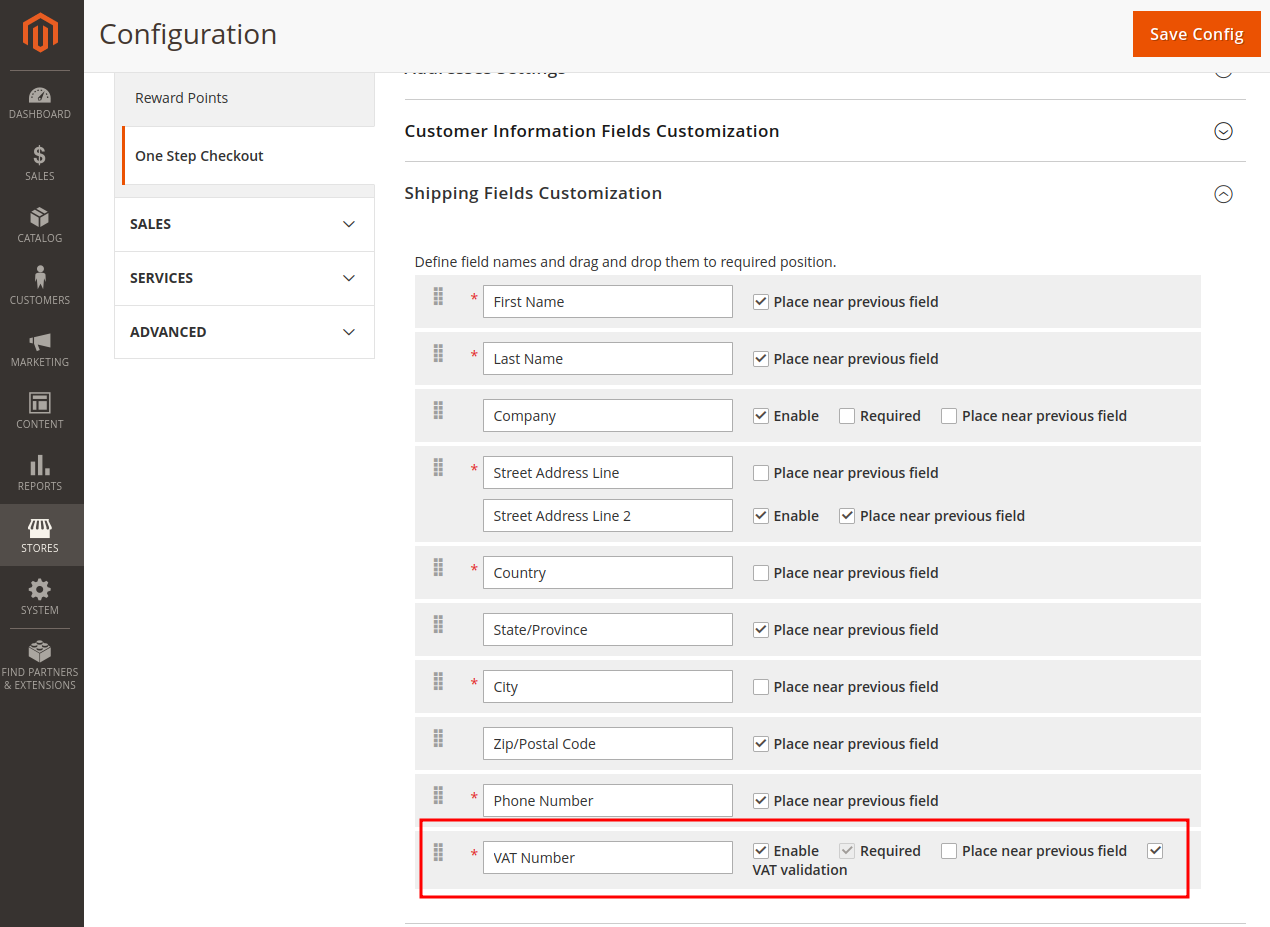 By implementing phone number and VAT number validation in the Magento 2 checkout field, businesses can streamline their checkout process, reduce the risk of fraudulent activity, and provide a more secure and trustworthy experience for their customers.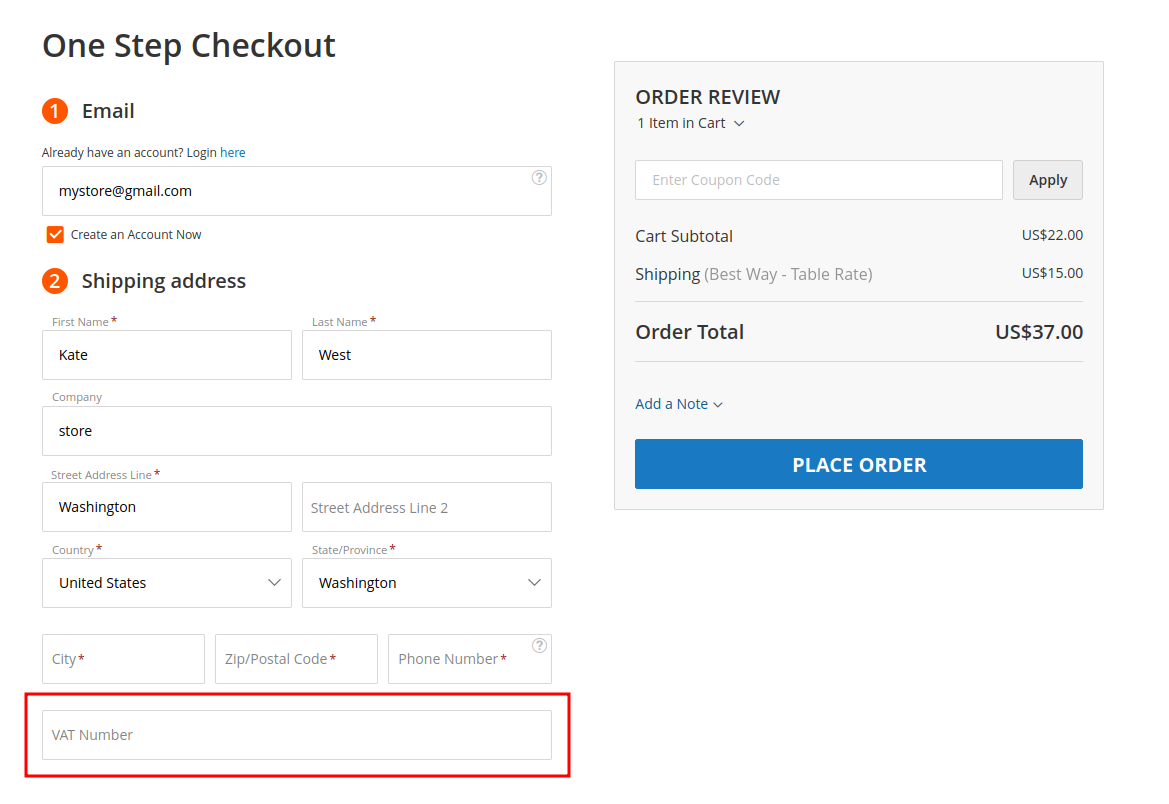 Summarizing all the changes made, here is the general look of our checkout page: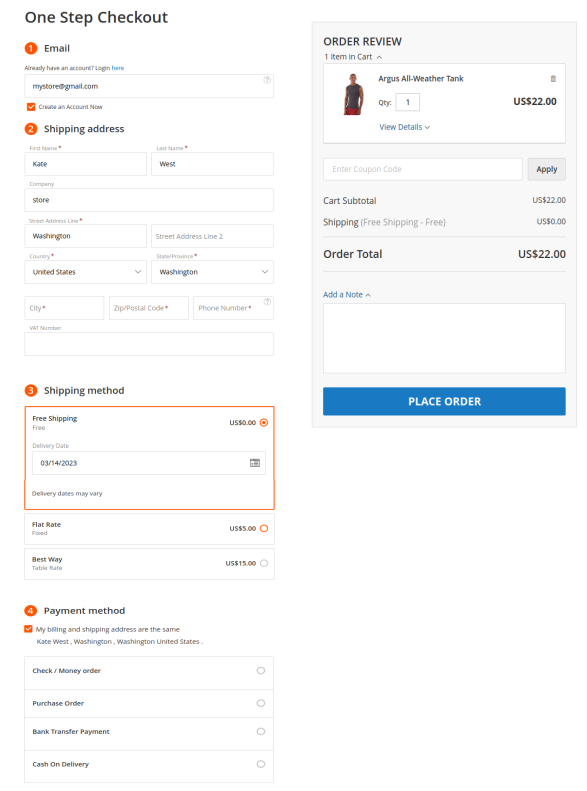 Smart One Step Checkout Extension for M2 Product Highlights:
Customize the Checkout page: add or remove predefined fields, make them required or not

Analyze & track conversion rates and performance of each checkout field

Adjust to demands with smart configuration tools and data collection

Allow flexibility with the support of multiple payment methods
Want to learn more about the Smart One Step Checkout extension by Aheadworks? Please visit our product page to review all features, experience a demo, and delve into the detailed user guide.