All touchpoints matter throughout the customer's buying journey; however, the checkout process is of the utmost importance. If customers experience friction during checkout, whether due to poor customer service or checkout speed, it will most likely impact their decision to return to your store in the future.
There exist two checkout methods: one-step checkout and multi-step page checkout. We delved into the finer details of these methods here if you need help determining the most suitable option for your store. It is worth mentioning websites that provide faster, simplified checkouts are also the top-performing eCommerce merchants. And consumers prefer one-step checkout due to its simplicity, convenience, and effectiveness. These are the guiding principles driving the success of the Aheadworks Smart One Step Checkout extension for Magento 2.
Recently, we've updated the Smart One Step Checkout extension to version 2.0.0, and needless to say, a ton of work has been done. Let's review what is new and what has been improved in the latest update of the extension. 
1. Major UI/UX Checkout Page Update:
The behavior of the checkbox "My billing and shipping address are the same" is improved and now clearer, avoiding customer confusion when billing and shipping addresses are.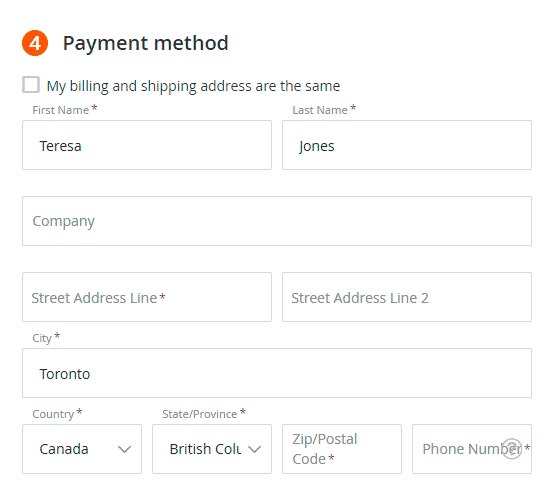 WCAG 2.1 AA compliance, making your content more accessible to people with disabilities and is essential for creating high-quality websites that allow all people to access your products and services.

Headers and colors redesign.

Better UI for fields makes the name appear in the field input when it's empty and above it when typing.

Gift Card and Coupon code sections were redesigned, allowing customers to now merge Coupon Code and Gift Card fields.
NOTE: If the Gift Card extension by Aheadworks is not installed or disabled, only the coupon code field will be displayed.
Now the admin can configure where the 'Place Order' button will appear.

2. Improved Phone Number Validation
Only numbers and some special symbols (-, +, () ) can be entered in the Phone Number field.
 3. Integration with Customer Attributes
When installing Aheadworks Customer Attributes extension in conjunction with OSC 2.0.0 a wide range of possibilities becomes available.
Please note: In Magento Commerce, the native Customer Attributes module includes the below-mentioned options, so you don't need to install an extra extension.
Customizable Address Fields
You will be able to add new fields to Shipping and Billing Address blocks like house number, VAT number, etc.
Extended Customer Information Fields
A new checkout block  "Customer Information" will be available with such attributes as Gender, Date of Birth, etc.
The Manage Relations option of attributes allows displaying a field only when certain options were selected by the customer in a previous field.
Make sure you have created dependent attributes first to see them in the Dependent Attribute field as alternatives for choice.
For example, if the customer selects Yes in the field "Are you a member of our club?", a new field will be displayed "Member Card number".
For Magento EE: to support the functionality it's mandatory to install module-customer-attributes-relation
4. Payment integrations:
Integration with Braintree Payments by Gene module

Integration with new Amazon Pay module

Splitit for creating payment support
5. The download process has been improved:
Now users can interact with some checkout page elements during the refreshing period of others.
Summarizing all the changes made, here is the general look of our checkout page: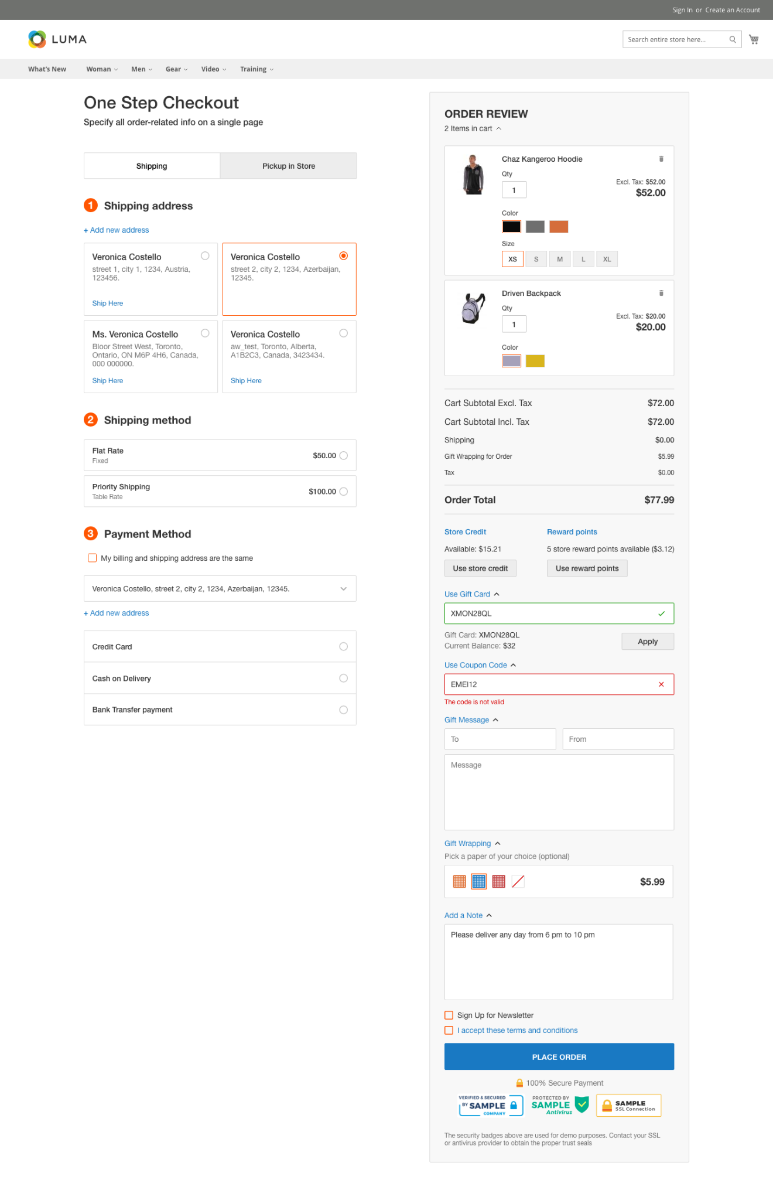 Smart One Step Checkout Extension for M2 Product Highlights:
Customize the Checkout page: add or remove predefined fields, make them required or not

Analyze & track conversion rates and performance of each checkout field

Adjust to demands with smart configuration tools and data collection

Allow flexibility with the support of multiple payment methods
Want to learn more about the Smart One Step Checkout extension by Aheadworks? Please visit our product page to review all features, experience a demo, and delve into the detailed user guide.