Our guys, Matt Krivoshein and Peter Samoilov, have just returned from the Meet Magento event in the Netherlands. More than 350 Magento enthusiasts gathered together to share ideas, experience and thoughts about the future of Magento project. We were happy to see our partners from Studio Emma, WebShopApps, Atwix and some others.

While Matt was dealing with general questions on how aheadWorks can improve store functionality, Peter, CTO at aheadWorks, was healing Magento merchants and curing their technical problems.

Read what Matt and Peter say about the Meet Magento NL 2013




MATT KRIVOSHEIN, CMO: Unfortunately, there was no Internet available on the first conference day (May 29). However, it didn't affect us that much. Some of my basic observations:


Magento Doctors were the most popular guys during the event;
Roy Rubin has disappeared right after his impressive keynote. That's a pity.
Magento team has learned some Dutch words ('dank u wel' means 'thank you');
Lots of Magento merchants still use CE 1.4;
Ede is a very nice town for working – its environment is quiet and peaceful. All attractions are 100 km away - in Amsterdam;


I want to thank Marc Dekkers and Guido Jansen for organizing and taking charge of such an awesome conference, Tom Robertshaw for a well thought presentation, Viacheslav Kravchuk and Karen Baker for keeping us a good company.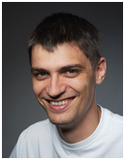 PETER SAMOILOV, CTO: Meet Magento Netherlands seems to become one of the largest events in the EU - it gathers more and more participants every year.

This time I was acting both as a guy at aheadWorks booth and as Magento Doctor at first. I have to say that being such kind of a 'doctor' is really exciting: I met real Dutch merchants with their actual Magento problems and helped them out to resolve their issues. A lot of questions were related to performance and store speed, so it's probably the most troublesome part of Magento.

The only bad thing about being Magento Doctor was that I had no time to attend keynotes at all :).

But if you ask me about my preferences – listening to keynotes or being a doctor and helping merchants - I will choose the second option undoubtedly.

SCROLL THROUGH OUR PHOTOS FROM MEET MAGENTO NETHERLANDS 2013.