Gamification model is finally adapted for Magento stores
! Merchants tell us every day that they are daydreaming of gamification functionality: the way it will affect customer shopping experience and the amount of money clients will be eager to spend. Magento gamification solution from aheadWorks is currently baked in the development oven, and it's a high time to introduce it to the public.
The
eCommerce Gamification Suite
Magento extension is an absolutely new solution that allows to engage customers and stimulate desirable user behavior. This module is built on people's natural tendency to strive for high statuses via competition and achievements.
eCommerce Gamification Suite
embraces the strategy of game rewards for customers who accomplish certain conditions. These rewards include points, achievements and ranks.
Pre-order
this unique new
eCommerce Gamification Suite extension
for
$159
! Save
$90
before its official release, when the price will be increased to
$249
.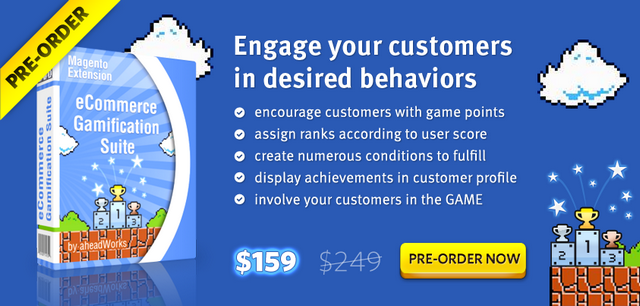 Look through the list of implemented features.
Points
One game point is equal to the currency unit used in the store. Customers earn points depending on how much they spend in the store, the number of reviews they leave for products and friends they invite (if
Refer a Friend
is installed and configured).

Achievements
Merchants can create numerous achievements based on six activity types. If customers fulfill the conditions, they get recognition in the form of achievements.

Ranks
Ranks are special statuses set by merchants. Customers get a new rank if they reach the minimum required game point score.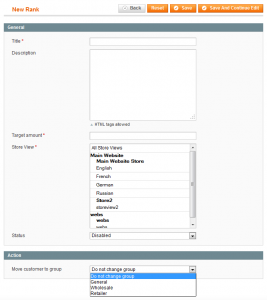 Live Stream
and
Top Chart
New achievements and ranks of customers can be shown to other users as a Live Stream. Top Chart displays the list of leading customers to the public .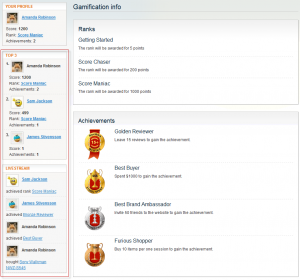 User Public Profile
If this section is enabled, registered users will see their profiles.
Facebook Link
integration gives ability to post achievements and ranks of customers on their Facebook pages.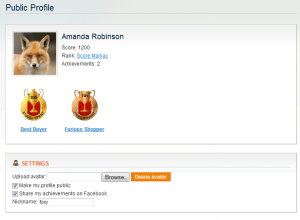 Learn more about the
eCommerce Gamification Suite
Magento extension and
pre-order
it on the product page.