There are million Magento stores with a wide range of extensions aimed at engaging customers and helping merchants boost sales.

Since I like to see what solutions the store owners have chosen for these purposes, I'd like to share with you a success story I've got from one of our customers. Read on to learn how iPhone Theme helped Zap Sweets increase mobile sales by 15%.

Who: zapsweets.co.uk

What: Not only does Zap Sweets specialize in bulk confectionery but they stock a vast range of wholesale retro sweets, chocolate, fudge, American candy, drinks and lots, lots more.

Where: London, UK

Q: Tell us a little about your business, and how you became involved with Magento.

A: The business was initially established in 2009 after planning to launch an online e-commerce store. Whilst many ideas were discussed, finally the idea of creating a confectionery store that was a fun, modern environment where customers could browse and reminisce about sweets from the past won the battle!

When the researching began, we researched many shopping carts to find the most suitable to the business. Magento was our favorite from the very start. It was packed full of features and could be easily customized to our needs.

Q: So, you had no experience with Magento. What was the hardest thing in launching an ecommerce store?

A: Launching our Magento store took around 3-4 months from start to finish. The majority of the time was spent adding products and uploading good quality images to attract customers to our store.

We also spent a lot of time optimizing and tuning our store to ensure that it runs at lightening speeds! We combined and tweaked the JS/CSS files to ensure that any unused code was removed. We also took full advantage of the .htaccess file and installed Varnish on our VPS server which cut loading times by almost 3s! It has paid off in the long run as our customers often compliment us on our fast site.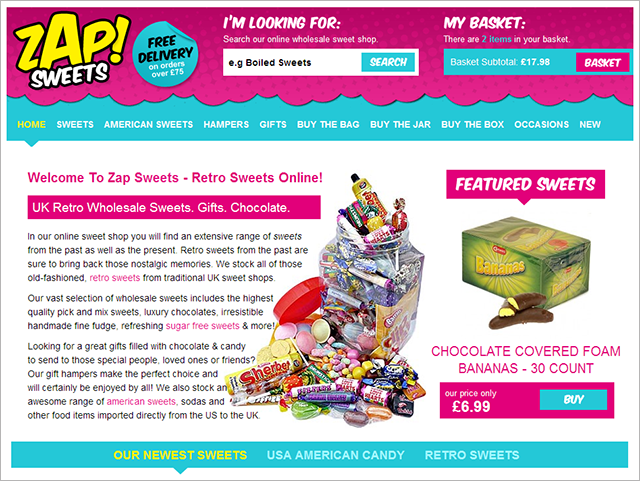 Q: Why did you choose aheadWorks as a Magento extensions provider?

A: We first came across aheadWorks when searching for a Blog extension to add to our growing store. Due to the simplicity of the installation process and the quality of the extension, we were instantly attracted to aW.

Extensions installed are:









| | |
| --- | --- |
| | iPhone Theme – This has become an essential part of our e-commerce set up with customers browsing from their mobile device all over the country. |
| | |
| --- | --- |
| Help Desk Ultimate – Customer service has improved x 10 with the help of this. All customer support tickets are replied too much quicker and by a knowledgeable member of staff. | |
| | |
| --- | --- |
| | Advanced Reports – Allows us to separate which items are selling from certain manufacturers to give us highly valuable information. |
| | |
| --- | --- |
| Blog – we also try to use our blog to showcase new sweets and chocolates. Our customers love reading and viewing images.. | |
| | |
| --- | --- |
| | Ajax Cart Pro – we've seen a HUGE increase in items added to baskets due to the simplicity of this extension. We focus on speed for our website and ACP provides this. |


Q: What's the most powerful aW extensions for you and why?

A: This is a very tricky question for us to answer. On the frontend, it has to be Ajax Cart Pro. ACP has been a hit with our customers. We often ask repeat customers for feedback and this is often mentioned. Our customers love adding a product to their basket and choosing what to do next, not being forced to their basket. No page reloads makes our site feel very responsive and it looks very professional.

On the backend, Help Desk Ultimate has been a saviour! Customer service is something that we pride ourselves on and we are now able to deal with issues at rapid speeds, often within minutes thanks to HDU. Every support ticket is diverted to the correct member of staff which ensures that the issue is dealt with efficiently.

Q: What's the percentage of users coming to you through mobile devices? Did you notice any changes after installing our iPhone Theme?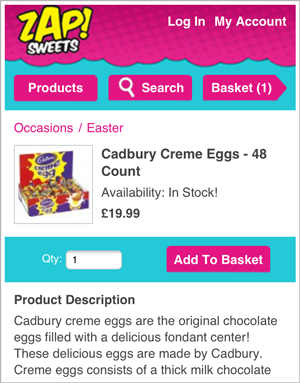 A: Analytics show that around 40% of our customers are using a mobile device. This figure was around 25% before we installed aW iPhone Theme.

Again, feedback from customers has told us that they enjoy shopping on their mobile device wherever they may be. We often find that traffic to our site is at a peak during rush hour when customers are browsing our site on the way back from work!

Currently, 29% of our customers are iOS users. The iPhone Theme has been a great benefit to us and it performs fantastically straight out of the box. With a little customization, we have a mobile store that we are very proud of.

Q: You used a customization service. Please describe your experience in working with our tech team.

A: We needed some help adding some AJAX calls to our mobile theme so that customers could update delivery information without reloads. This work was carried out in great time and the support team was very helpful. We would have no hesitation in recommending the aW team to anyone.

Q: What Magento solution would you like to use in your store that hasn't been released yet?

A: We would love to see an extension that shows a live stream of our store activity. For example, this would show when a customer purchases an item, shares an item they like on a social network, when we add a new product to our sweet shop, etc. It would really show off our website and give customers an idea of what products are hot in the marketplace at the time!

Author's note: A new Magento extension - Activity Live Stream is already in testing and will be available for pre-order soon.

Q: Any recommendations for people evaluating Magento?

A: We have had a few problems during our time with Magento but they have all been solved with ease. The Magento community is very helpful and has helped us with any issues that we have had. It may seem a little slow to begin with but with some tuning, it can run at very fast speeds. Our recommendation would be to choose Magento and never look back.

Q: Any last words you might have?

A: We would like to thank aW for the great extensions that we have on our store. We couldn't imagine our website running without them! We make tremendous use of all of them during an active working day from checking reports to answering customer support tickets.


P.S. Want to share your success story in our Blog? Feel free to contact me at [email protected]