Currently Magento undergoes multiple changes that modify the platform and ecommerce in general since Magento is its biggest and most influential participant.
In our opinion,
most changes are positive
, but how do they influence the main success indicator – popularity? The answer is in our traditional study examining the popularity of main ecommerce platforms.
Study Description
The Study explores
Alexa 1 million Top web sites
and checks the number of online stores built on one of thirty ecommerce platforms included into the survey.

We'd like to remind you that the obtained results are accurate only under specific conditions of this study.
Study Results
Starting from small platforms we can say that several of them made real breakthroughs. For example, Shopware and ECShop increased by 80% and 69% accordingly, which are great results even considering their small segments - below 1%.
Big players usually are not able to increase their shares so fast and show smaller achievements, but we know that their growth is the result of
tremendous efforts
. So, who is the leader?
The results of the study are not surprising, and
Magento CE is leading again
as usually, but its "unexpected" competitor is booming.
+2.9
to the absolute share
from 20.8% to 23.7%
– that is the result of
WooCommerce
since
our last study in October 2014
.
Diagram 1. Ecommerce Platforms Popularity, May 2015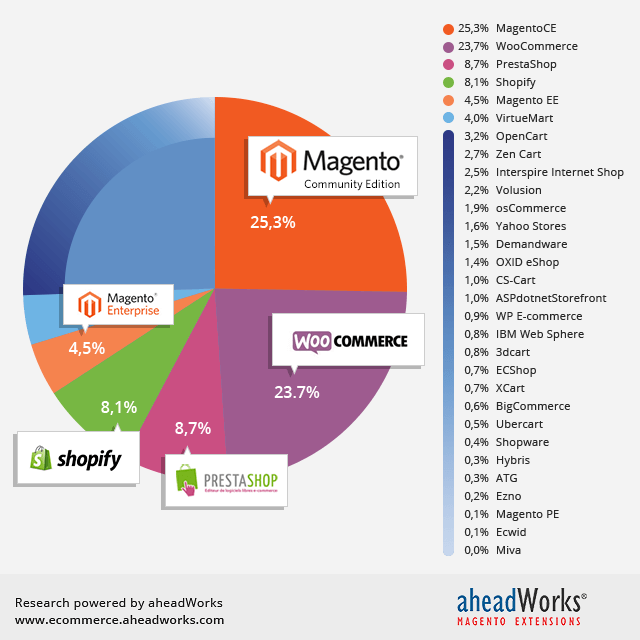 While Magento CE
almost did not change
and decreased by 0.3% from 25.6% till 25.3%.
Presuming the same pace for WooCommerce
we can expect a new leader at the end of 2015
. But who are the victims for thus young and ambitious newcomer as soon as Magento keeps its share untouched?
PrestaShop, VirtueMart, ZenCart, and the majority of the participating platforms were forced to gift some percent of their market share. Only
10 of 30 platforms are in the positive territory
, including Magento EE. Pleasant!
Shopify, the traditional leader among most growing and biggest platforms, is
deposed and now is only the second
one with only +7% vs. the +14% change of WooCommerce.
PrestaShop decreases
: - 8%; Magento EE grows: + 3%. Below are the changes in comparison with our October exploration.
Table 1.
Ecommerce Platforms Popularity Changes Compared to the October Study.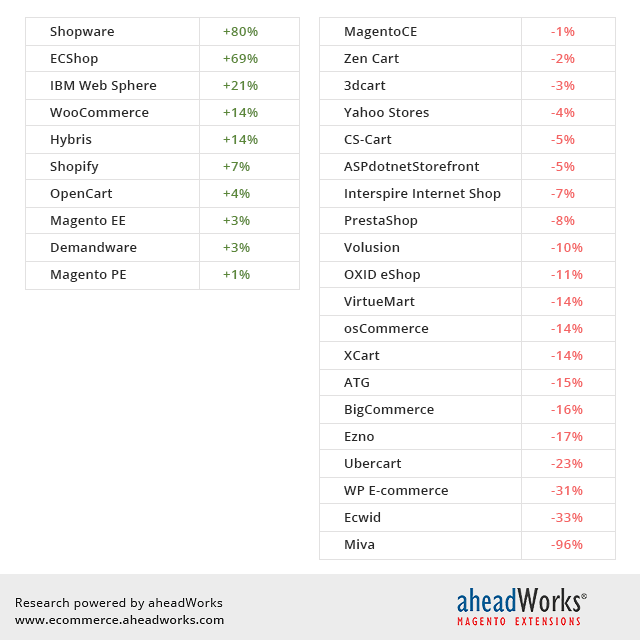 Most positions within the TOP 10 remain the same, except Magento EE, which moved from the sixth to fifth position.
Key Findings


Magento CE leads with 25.3%;


Magento CE + Magento EE = 29.8%;


The growth of Shopify slowed down considerably from 26.5% to 7%;


Magento CE (25.3%) and WooCommerce (23.7%) take 49% of the market;


PrestaShop and VirtueMart decreased by 8% and 14%, accordingly;


Shopify is almost equal to PrestaShop - 8.1% vs. 8.7% accordingly;


WooCommerce is the second most popular and the first most growing platform;


Shopware and ECShop are growing stars with the 80% and 69% increases, accordingly;


Miva is the most decreasing platform: -96%.


Conclusion
The
market of ecommerce platforms is gradually weeding out small companies
as soon as two main competitors take 49% and six biggest platforms – 74.4% of the market.
Still, the
competition remains intense
 and keeping its share requires multiple efforts from Magento.
Apparently, small businesses prefer WooCommerce and ready to abandon the great functionality in favor of simplicity and launch velocity. And, the current Magento project directed towards small businesses seem to be
just what we need
now.
Announcements
Magento CE vs. WooCommerce
Almost 50% of the market belongs to two platforms
- Magento CE and WooCommerce. The phenomenon of these two platforms is really exciting. So, in our further publications we plan to compare these two ecommerce platforms and the stores they power in order to find their similarities and differences.
Ecommerce Platforms Market Tendencies
What are the tendencies of the ecommerce platform market? What are the demands that raise or overthrow e-platforms? What are the perspectives of certain platforms, and what should we expect? – These are the questions we will ask and answer in our nearest post about ecommerce platforms in order to
explain current positions within the chart and their possible ways to move
.
Leave your comments below, please.