Editor's note: Magento ecosystem is a complex phenomenon arising from multiple components and connections. And, without a doubt,  passionate people within are the main incentive which pushes Magento forward and further. This time we have a remarkable opportunity to get acquainted with thoughts of a true  enthusiast and Magento-dedicated person.

I am very happy to introduce to you Brent Peterson, Chief Magento Evangelist in Wagento Creative LLC (our Professional Partner) and forum moderator for Magento Ecommerce Website. Brent kindly answered our questions related to Magento and his life within it.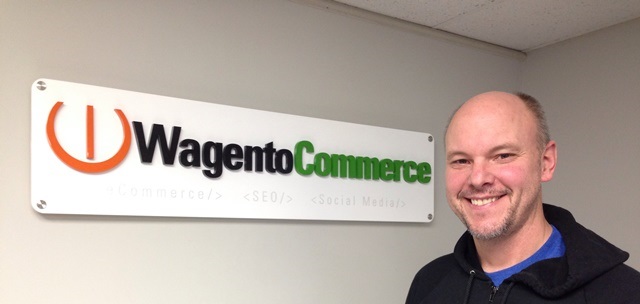 Q. How long have you been working in Magento market?
Brent. I started working with Magento in Jan 2009. I spent so much time with Magento learning, that by April I was asked to help with the forums. I was then asked to help recruit other moderators and lead the US forums. I still help with Magento forums and, of course, I spread good news about Magento everywhere I go.
Q. Before Magento you developed websites in .net. What made you change the occupation?
Brent. I had created a .net site for a client and they chose Magento to move their new site. I could either learn Magento or lose a client. I think I made the right choice!
Q. Tell us about your company? What kind of projects do you develop?
Brent. We started with two of us doing Magento upgrades and I created a couple of Magento modules for CE1.2/1.3. Cartex was that last module I created and supported. I stopped after 1.4.  In 2011 Bob Shwartz started to convince me that I should become a Magento partner and create an Agency.  It took a year to finally make the leap and we are very happy we did this. We are now 14 people and do Magento upgrades to EE, Magento site builds and Magento integrations to third parties. (ERP, CRM etc.)
In Nov 2013 we opened an office in Bolivia and have three employee there already. Our goal is to help Magento spread through Latin America.
Q. How do you estimate Magento platform in comparison with other e-commerce platforms (functionality, complexity, flexibility etc.)? What are the similarities and differences?
Brent. Going open source was a new experience for me. Always being in the Microsoft world taught me to never share your source code. Now I realize how open platform, self hosted website can be so flexible and allow the end user to make a solution that truly fits their needs. We have looked at some SAAS based commerce platforms, but, so far, we have found nothing that can compare with Magento.
Q. How would you characterize present position of Magento on the market of e-commerce platforms?
Brent. We have all seen the Tom Robertshaw eCommerce surveys, it is well known that Magento now commands a large share of the market and continues to grow. This along with great companies like aheadWorks will propel it forward for the foreseeable future. We are excited about Magento2 and recently attended a technical conference on this.
Q. Tell us a bit about Magento Community 1.8. What features do you suppose to be the most important?
Brent. It is great to have REDIS now part of Magento!
Q. What are the perspectives for Magento in the future? What are the possible ways for further development?
Brent. As I mentioned, Magento2 is going to be a exciting release, I have Magento2 running on my local and I am excited to see the progress.
Q. How would you estimate the contribution of third-party functional extensions into overall Magento development and promotion?
Brent. We pick a couple of vendors and stick with them. Third party extensions are what make Magento so great and partnering with aheadWorks has only enhanced what we can do with all Magento.
Q. Wagento is an aheadWorks Professional Partner. What are the most used aheadWorks extensions in your projects?
Brent. I like Refer a friend and the subscription module!
Q. And one more question. I know you arrange events called "Runs for Magento". Tell us about them a little . How did the idea come to life?
Brent. Our CEO is Susan Peterson and she is a runner. For the 2012 Magento conference she wanted to do a run before the Imagine event. I found a race and invited some other Magento developers. Soon we thought it would be fun to create T-shirts and suddenly we had 25 people signed up for this race. Our first race was the Labor of  Love 10k and Half Marathon and last year we all ran the Rockin Rabbit Half Marathon. We also have a small group of people that always run at Magento events. We try to organize this through Facebook and Meetup.com. I am organizing running t-shirts and perhaps biking shirts for the Magento running and biking team!
Q. Thank you very much, Brent,  for your answers and truly informative conversation. Perhaps, you have something to add at the end?
Brent. Like Magento, Wagento is community driven. We are trying not to be a traditional agency but want to leverage why we build Magento store around the great community and make Magento what it is. Instead of being a closed platform that excludes everyone, Magento is an inclusive platform that invites everyone to contribute. We have the same culture at Wagento with all of our staff having a voice everything we do. My job as the Chief Evangelist means that I am out telling people how great Magento is and more importantly how Magento will work in their solution.  By centering around community, Wagento can succeed where closed agencies fail.
One more story of successful Magento usage and implementation was eventually created in this talk. We saw, that Magento gives people excellent chances for success whoever they are, store owners, developers or else. We wish good luck to Brent and Wagento and are waiting for more Magento stories from you.