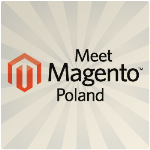 Editor's note: In this short post we want to review the results of Meet Magento Poland 2013. Marta Molinska, organizer of the conference, shares her impressions and thoughts about the event.
As the web is full of positive reviews of Meet Magento Poland 2013, aheadWorks, as a media partner of the event, decided to ask a first-hand opinion about the conference. Marta unfolded her impressions in this guest post.
Here is what Marta says about the conference:



There were many presentations (for instance, by Ivan Chepurnyi, Slava Kravchuk, Paweł Sala or Guido Jansen) that collected great feedback even before the end of the conference.
It would be appropriate to note here, that the conference had live stream video for all sessions and now you can watch it on the conference's site.



After Party, sponsored by Sofort, was also great. We had a very nice drink (unfortunately I don't remember what was inside), but it was called "Orange Revolution".
We ask Sofort guys to reveal the recipe of this "Magento cocktail", as we expect it to be an "open source" for Magento insiders.



Food & venue were really great, people loved them :) - especially food.




Atwix prepared a couple of orange helmets with Magento logo on them. They were the most desired objects at the conference. One of them was given to the person, who remembered one thing from Slava's speech, the second one was given during the closing keynote and the last one... I don't know. Disappeared…




On the closing keynote we also gave: three packages full of sponsor goodies, one Atwix helmet, five Magento Live Germany tickets, four Magento Developer Certification vouchers. People were supposed to answer some tricky questions.




Meet Magento Poland 2013 was a really international event with the participants from 10 countries.




30% of business audience were e-shop owners or representatives.




We created (as Snowdog) a great mobile app which was downloaded by the majority of attendees and is a great tool for every Magento conference.

<br/ >
So, the way Marta describes the event makes us believe it was truly successful. We thank Marta for her feedback and wish Meet Magento Poland to become even more crowded and interesting.

<br/ >