When it comes to the level of customer service, all possible insights matter. While extensions like Magento 2 custom report provide all the necessary information about sales and product performance, they lack in demonstrating reports on ticketing systems.
With almost 90% of customers thinking that issue resolution is the main customer service indicator it can affect your brand perception and possible recurring sales. In other words, with almost 9 out of 10 customers who prefer to make their opinion about the service your brand provides based on your support service effectiveness, it should be the utmost priority - for any business.
"I'm aiming to track the effectiveness of our support team through help desk analytics."
Measure and analyze the productivity of each support agent and identify frequently encountered support inquiries using Magento 2 Help Desk Ultimate integrated with Magento 2 Advanced Reports.
So, let's look at one of the best Help Desk extensions in the Magento 2 market, which can simplify your support team work significantly.
Help Desk Ultimate for Magento 2
Help Desk Ultimate is a must-have tool for support specialists which allows them to process queries with maximum efficiency and manage tickets easily with a convenient spam-free ticket box.    
Magento 2 Help Desk Ultimate offers a variety of features to help you improve customer service and achieve business growth thereby: 
Automation systems

save support agents time

by conditioning actions on trigger events.

Customizable ticket submission forms

help gain all necessary information and speed up ticket resolution time.

A convenient Agent's desk

gives agents the opportunity to make notes, find customer's history and organize tickets in the way they like the most.

Ticket grid

and

ticket thread

simplify the process of tracking tickets.

Canned responses

save agent's time on responding to generic messages.

RMA integration

allows support specialists to convert a ticket into an RMA request.
These and a bunch of other useful features make Help Desk Ultimate for Magento 2 a vital tool for eCommerce businesses. Check all in-built features of the Help Desk module here.
And here the benefits of the extension don't end. With Magento 2 Help Desk Ultimate latest update v.2.3.0 the extension has gained even more useful features:
Compatibility of Help Desk Ultimate with Magento 2.4.5

- enjoy the full potential of your extension on the newest version of Magento 2 platform and stay fully secure and up-to-date.

Message displaying automatically when the ticket rating has been changed

- let your agents immediately learn that the customer's opinion about the service has been changed (based on rating) and increase the chances to find out reasons and provide a solution on time.

Tickets submitted by a customer are now displayed disregarding the way it is done

- let your support agent see the full history of communication with customers even if they have started the conversation as guest users using the Contact Us form. 

Integration with Advanced Reports for Magento 2

- enable ticketing system reports to learn all relative information about your support service efficiency.
Let's discuss the last feature in more detail.


How to check Help Desk Reporting Metrics?
There are two types of help desk reports you can gain with the latest update:  
Tag report;

Response and Resolution Time report.
Tag report
The first allows merchants to check ticket types in dynamics for a period of time. The chart displays the tag or combination of several tags starting from the date the tag has been assigned to the ticket.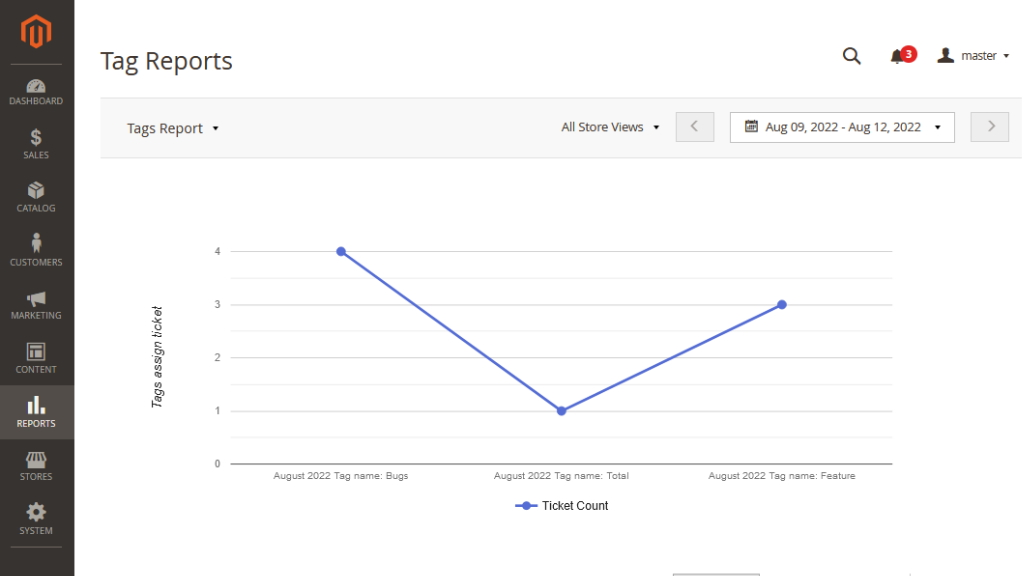 This way you can quickly check what types of support requests are received for the period of time: 
Bugs;

Features;

How do I;

Others.
How to enable Tag Reports?
To check Help Desk analytics you will need Magento 2 Help Desk Ultimate, Magento 2 Advanced Reports extension and Help Desk Ultimate reports addon to be installed. To enable reports go to Stores > Configuration > Aheadworks Extensions > Help Desk 2 Report. Add necessary settings including day start, day end, work days to define days that will be taken in consideration by the reporting system.
When all general configurations are set, you can start analyzing your Help Desk processing. 
To get the report by tags, go to Reports > Help Desk Ultimate 2 by Aheadworks > Tag Reports. Specify the date or date range and compare the analytics results to the previous period ones if needed.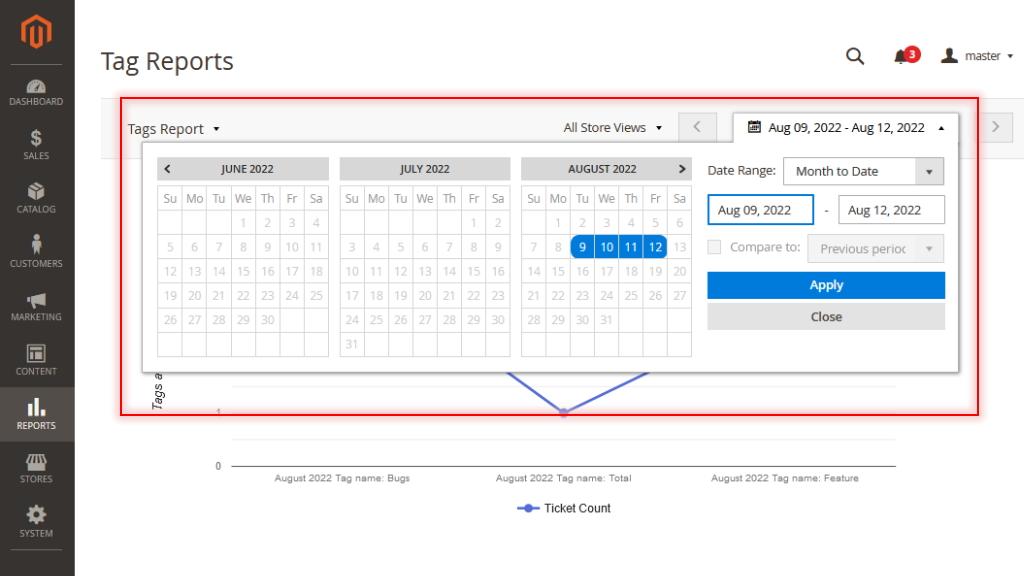 Find the metrics of ticket types below the graph, specify which values to be shown in the table and filter the table by Period, Updated Ticket and Ticket Count.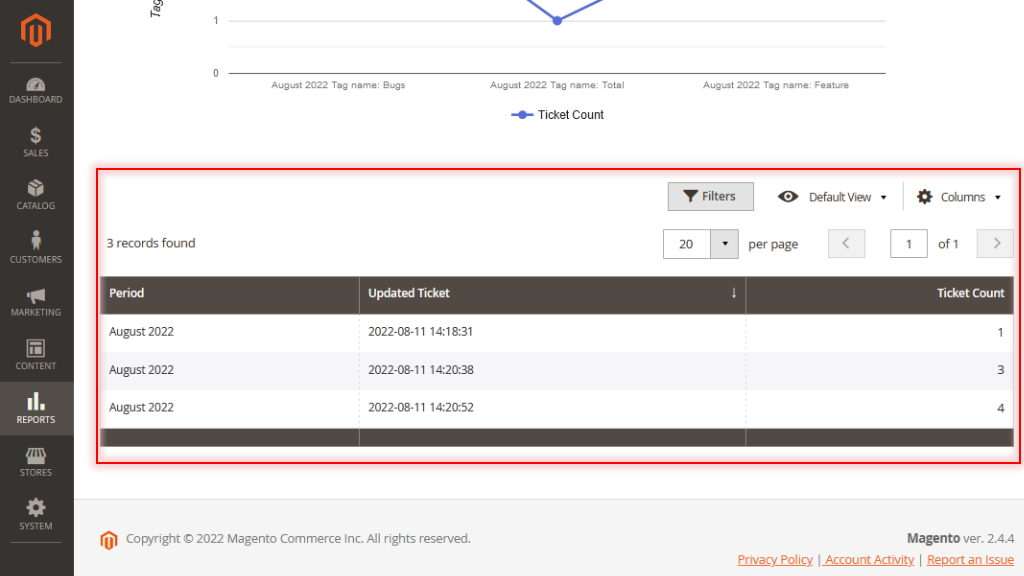 Response and Resolution Time report
Response and Resolution Time report gives relevant information about the support agents' efficiency displaying the following help desk reporting metrics:

Average First Response Time

counts the average time an agent needs to answer a query for the first time. The value is counted in the following way: the total time taken to send the first response on the given period of time is divided on the number of tickets to which the agent sent a response on that period of time. Automated responses and tickets created by agents are not taken into calculation.
For example, from September 10 to September 15, an agent received 30 new tickets. The total time the agent spent to send the first response on those 30 tickets was 10 hours (600 minutes). So the Average First Response Time is 20 minutes.
Average Overall Response Time

is similar to the previous metrics but counts all responses, no matter if they're first or subsequent, on the given period of time. 
For example, from September 10 to September 15, an agent sent 150 answers on 50 tickets (we know that conversation doesn't always end with one response). So the total period of time spent by the agent to send all these responses, let's say it's 50 hours, is divided on the total number of responses, 150, and we see that the Average Overall Response Time was 20 minutes in that period of time by the agent. 
Average Ticket Resolution Time

is calculated as Total Resolution Time for all tickets closed is divided by the number of tickets closed. The total Resolution time is the time between the first message from the customer to the moment when the ticket is closed (if it was opened and closed multiple times - to the most recent moment when the ticket was closed).
For example, from September 10 to September 15, an agent received 20 tickets and resolved them. It took him 40 hours. So the Average Resolution Time for the given period is 2 hours.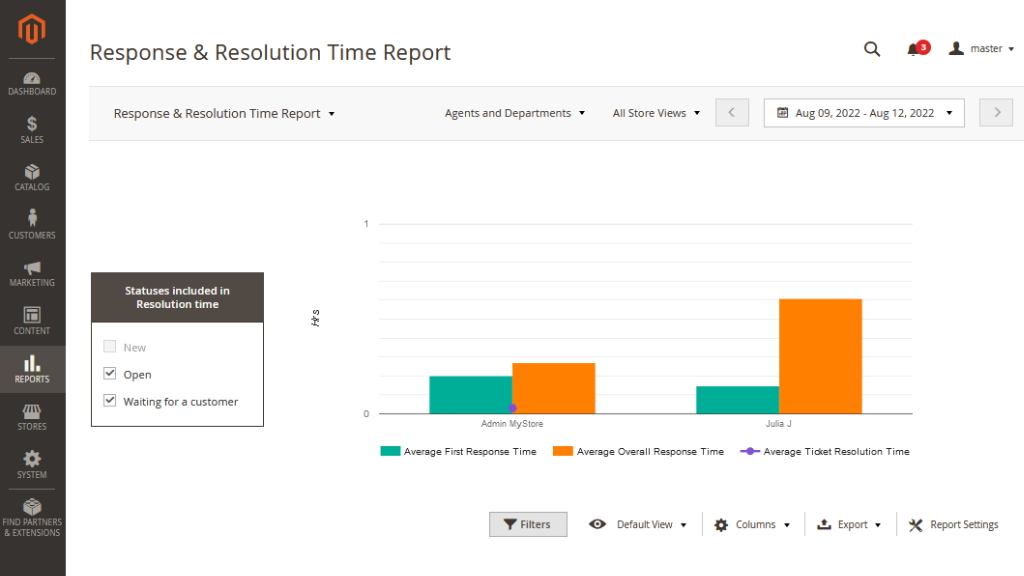 Below the graph you can also find a table with key values and their metrics, which you can filter or disable/enable if needed.
How to enable Response and Resolution Time Report?
When the general settings mentioned in the previous report description are set, go to Reports > Help Desk Ultimate 2 by Aheadworks > Response & Resolution Time Report.
Select the date range, the values displayed in the chart and statuses included in resolution time. Check the results and use table filters for convenience.
Why do we need ticketing system reports?
Same as the sales performance metrics, which you can receive via a good Magento 2 custom report module, can help you improve your strategy and increase sales, help desk reports give a better understanding of how to improve support specialists' workflow and identify all possible drawbacks of the service.
With business decisions driven on Help Desk reporting metrics, the following benefits can be achieved:
Build efficient support service strategy;

Reveal product downside with support tickets analysis;

Identify most effective agents;

Analyze support team workload.
In other words, ticketing system reports are very useful for business decision makers to optimize support team work and get a better control over customer service the brand offers.
Help Desk Ultimate for Magento 2 is a great solution to arrange an effective support service. But the extension is famous not just for its features but also for its powerful integrations: integration with Hyvä Themes, M2 RMA, M2 Customer Attributes, M2 Coupon Code Generator, etc. And with the latest update one more integration has been added - with M2 Advanced Reports. 
Install M2 Help Desk Ultimate and M2 Advanced Reports to access help desk reporting metrics and make data-driven decisions related to your support service.