If you are reading this post, then this topic is relevant for you. Like other merchants, you want to increase your sales and attract new customers. One of the solutions for you might be a blog, an affordable for any business content marketing tool. Write on topics through which you can reveal all the features of your store, answer customers' questions or explain how your products work. Let's see why blogging is crucial for businesses of all sizes.
Convert your readers into buyers
Get more traffic to your site by call-to-action that redirects the readers of your blog to a particular landing page, product, or special offer. You can place the CTA buttons throughout the article so that they're seen, which increases the chances to convert. Our advice is to place a CTA at the middle/end of your post, or in a pop-up for better visibility and clickability.
Build trust and showcase your expertise
Consumers are attracted to companies that share their experience and speak honestly about their products. By writing a blog post, you can demonstrate what your company knows, and how it can use this knowledge to help others.
Build a strong community around your company and products by promoting your company in social media, posting blog posts, and communicating with customers in comments. So you can connect one-on-one with customers, making them continuously excited about what you do.
Employing different SEO practices to your blog, may drive more traffic to your website. So create fresh new pages, which contain keywords you want to rank for, implement metadata, canonical URLs, redirects, page and title tag affixes, etc. Regularly updated sites are also more likely to be favored by Google.
What if I don't know what to write about?
Every company has to deal with this challenge from time to time, whether they realize it or not. You can find a topic in the FAQ, where your customers ask their concerns through article questions. While the frequently asked questions section is the first point of contact with your potential shoppers, allowing them to find an answer on some of their questions, your blogs can reveal the topic even better, extend and deepen the question. 
One more efficient way to realize your shoppers' concerns are forums and social media research. Check out communities and social media requests related to your industry and turn the questions into blog topics, shoppers will be grateful for it. 
And finally, survey your audience. It can be done via a questionnaire which gives reward points to respondents (for wider audience reach), or by analyzing support requests and reviews on the product pages. You can also track the KPIs, and focus on the most painful points, which can be the result of poor customer awareness of the product's usefulness or current promotional campaign.
What should I start from?
Blogging as well as the eCommerce business in whole should start from the right eCommerce platform: it should be flexible and fully-managed to provide you with necessary tools for creating highly ranked and appealing blog posts. 
As the best solution on the market you can try Aheadworks Commerce Cloud, a robust DIY platform which supplies merchants with all needed features, including content management. With Aheadworks Commerce Cloud you can create compelling blog posts, answer, store and manage frequently asked questions, offer reward points for a required action, and track sales performance with 10 different informative reports.
Aheadworks Commerce Cloud features:
Share practical knowledge with your customers with the help of an in-built blog module, which provides merchants with customizable blog layout, authorship tools, advanced SEO features and drag-and-drop design.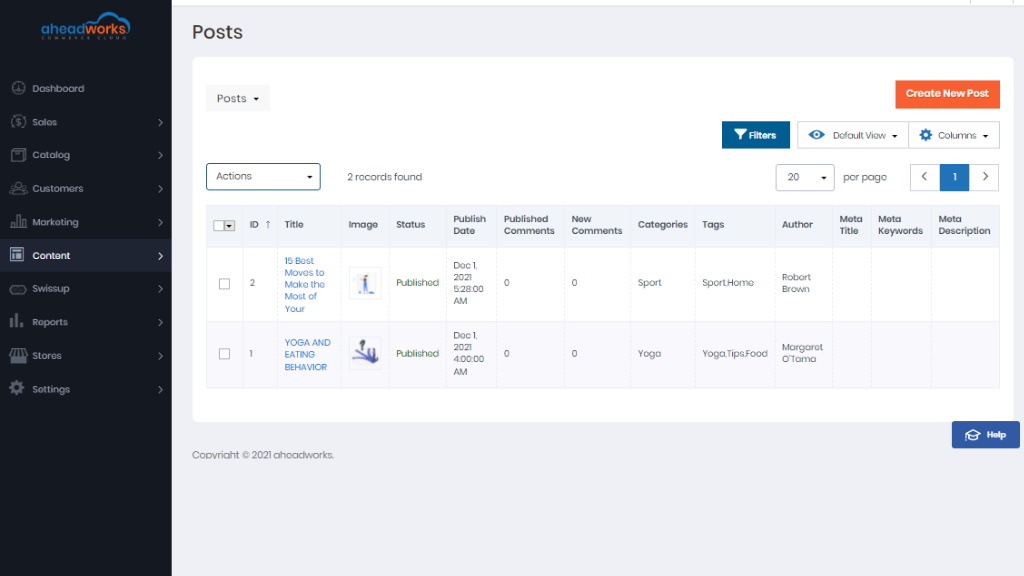 Share necessary information not only through blogs, but also via FAQ section, and find out unclear points with helpfulness rating and article questions. This way you'll earn more topics to reveal in your blog posts.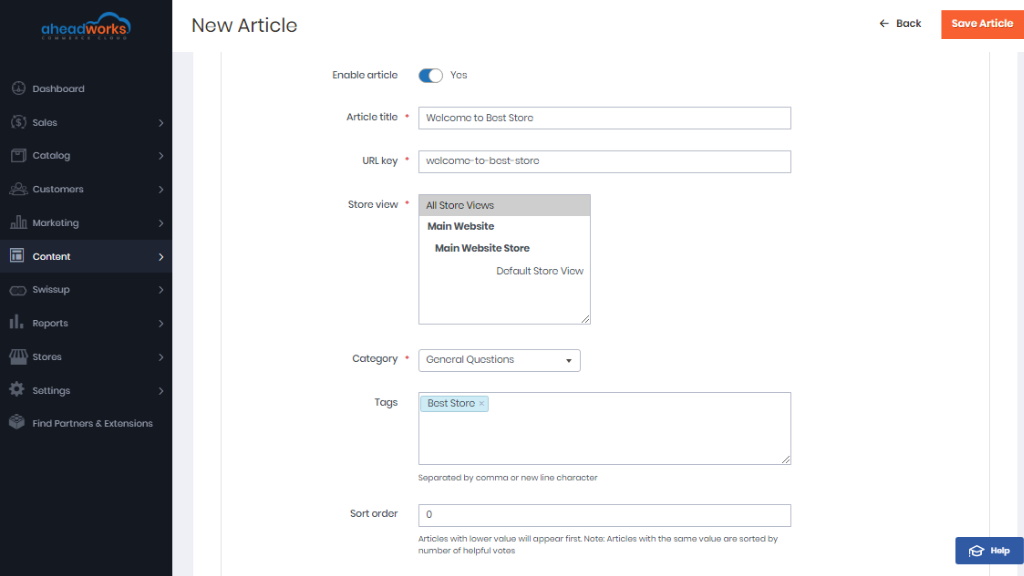 Product Downloads Management
The more informed your customers, the more confident and loyal they are towards your brand. Attach any number of files with product additional info and increase customer satisfaction accordingly. To configure the product downloads feature, go to Stores > Aheadworks Ecommerce > Product Downloads and add the prepared files to specific products or the whole catalog.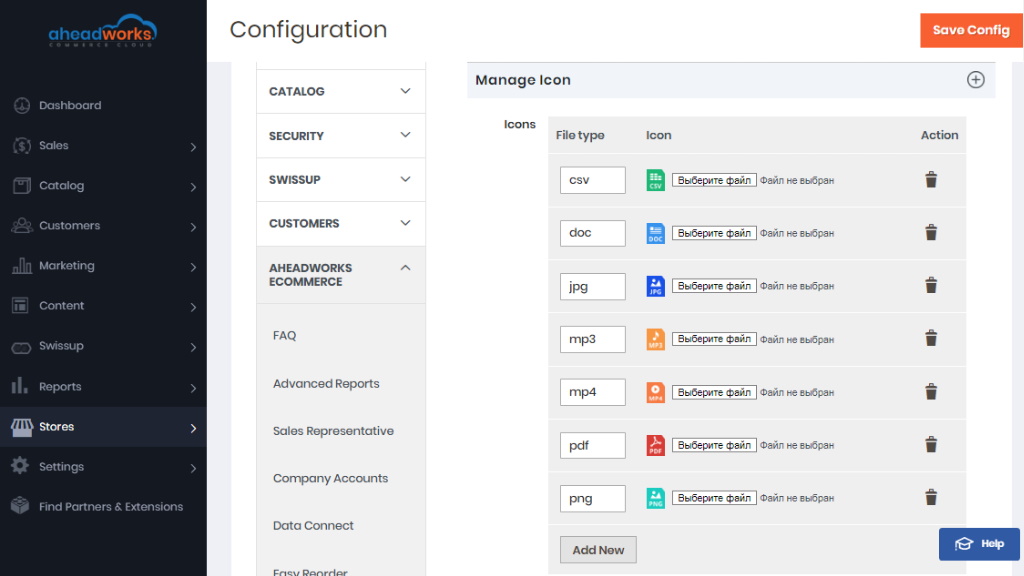 The marketing management is presented in a wide range of tools for managing promotions, communications, SEO and user-generated content. It allows merchants to create Catalog and Cart Price Rules, add and customize store notifications, analyze search terms and synonyms for better search ranking, offer reward points and enable reviews on the product pages.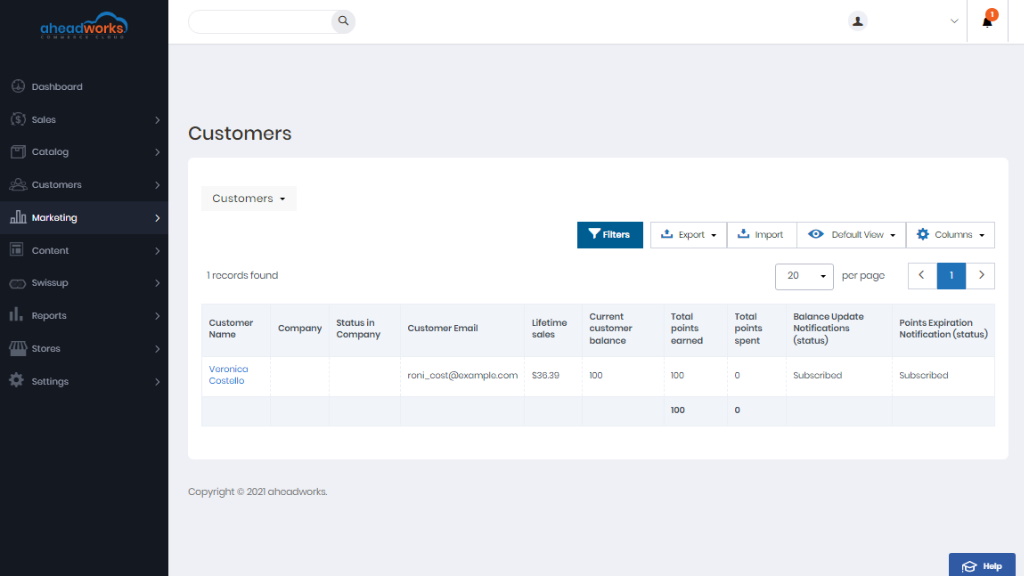 Customize your store design with the inbuilt theme library. Connect your blog with the whole website with the help of a single design.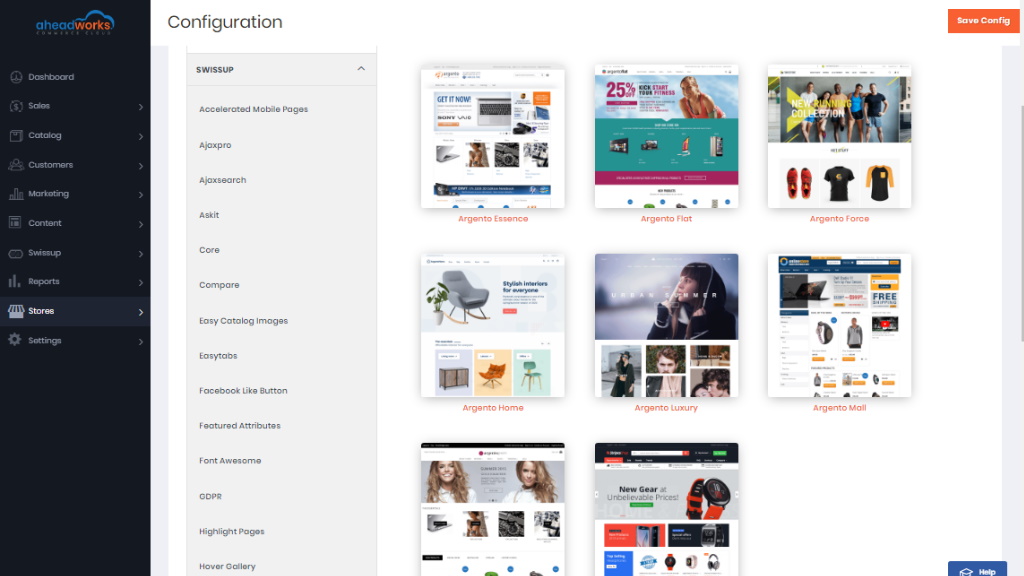 These and many other AW Cloud features will help you attract more customers to your store and hold them engaged thanks to perfect customer service and enhanced store functionality.
Blogging has become an integral part of the business marketing strategy, so there's no point in wasting this free opportunity to promote your products and services. You can raise the efficiency of your store content at the highest level with our all-encompassing platform Aheadworks Commerce Cloud. 
If you already have a blog but are interested in the AW Cloud platform, you can migrate it with export/import features.
Try out Aheadworks Commerce Cloud for FREE with a 14-day free trial.