Some merchants, who come from traditional to eСommerce, admit that they've got their work cut out for them. Stores needs to take a  completely different approach towards customer engagement in these two branches of business-making. While an offline store could offer a wide range of gift options if the buyers haven't found anything to their taste, whereas the online stores have to handle themselves in a tight spot. The solutions can be different, starting from sales representatives to gift cards, which can satisfy the buyer and keep the money within the store. 
The COVID-19 times raised the demand for gift cards and certificates by 2.3X, which had a direct impact on online stores revenue. By the end of 2022, US gift card sales are anticipated to reach $171 billion, which means that those merchants who haven't started selling gift cards in their Magento 2 stores yet may have lost loads of money and opportunities.
Today we are going to discuss why gift cards are the trend you need to follow, and how to create compelling vouchers with the Gift Card extension for life and online stores.  
Gift Card extension for Magento 2
First, we should mention that the lack of imagery support and limited functionality of the default Magento Gift Card prompted us to focus mainly on extensions, the abundance of which you can find in the Magento Marketplace.  
One of the most popular representatives there is the Magento 2 Gift Card extension by Aheadworks. It is designed to simplify the process of gift card creation, management and distribution. It helps merchants to build long-lasting relationships with customers and grow revenue, especially during the holiday season, when gift cards become a live-savior for a lot of shoppers.
The extension allows merchants to create premium gift cards, assign them to card pools based on the pattern, customize the card view by adding any number of images to a gift card and creating compelling designs with the inbuilt editor. For those who prefer selling all types of gift cards: physical, virtual and combined, there's ConnectPOS feature, which synchronizes online and offline inventory to provide the best customer experience and control store operations in real time.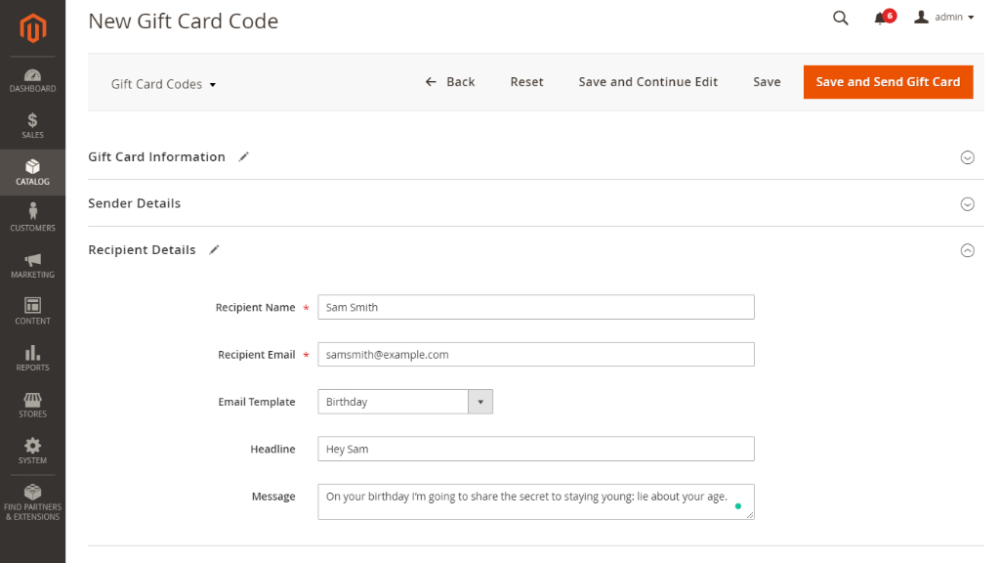 Along with the mentioned above, the Aheadworks Gift Card module provides the following functionalities:
Gift Card codes;

Admin management tools;

Pricing options;

Delivery options;

Sorting;

Import and export;

Email notifications;

Expiration settings;

Integration with One Step Checkout module;

Web API and GraphQL support;

PDF invoices;

Backend configurations;

Etc.
As you may see, our Magento 2 Gift Card extension is flexible and highly functional. Let's discuss what benefits it may bring.
Benefits of gift cards for customers
1. Saves time and efforts during holiday period
I think a lot of us have faced the challenge of buying a gift in record time, when work or household duties take up all your attention, and you have no opportunity or desire for shopping. Gift cards can become a perfect alternative, which will assure you that the recipients will spend it on something they like.
Flexibility is everything in today's fast-paced world. Gift cards can be used at any time, in any location (especially virtual ones) and on any product within the store, even if it is more expensive than the gift card, the shopper can pay extra to get the desired product or service.
Gift cards are protected as credit cards. They can be redeemed or restored only via unique gift card codes or personal information.
4. Convenient notification system
All the store operations with the gift card are clear to customers thanks to the notification system. It helps to build trusting relationships between store and shoppers.
Magento 2 Gift Card extension enables store admins to allow an open amount - the feature defines if the customer can specify the gift card amount within the established limits.
6. Personalized gift giving
Every customer is allowed to leave a personal note with greetings or any other information.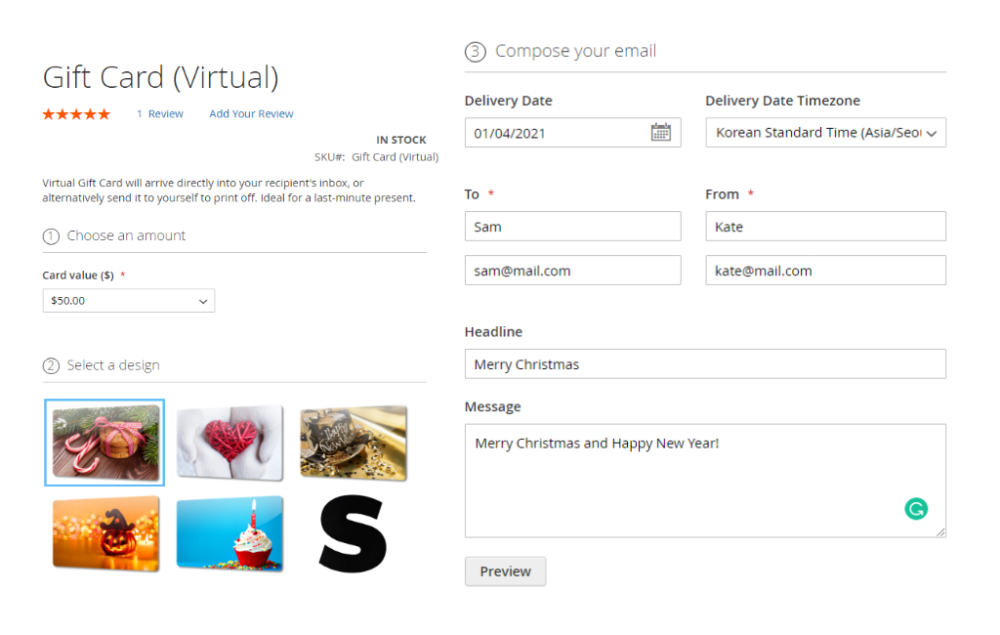 Benefits of Magento 2 Gift Card extension for merchants
By offering more options and alternatives to the traditional gifts, you contribute to enhanced sales and revenue. Also, the research done by Retail Touchpoints showed that about 72 % of gift card buyers return to purchase something for themselves.
2. Attracts more customers
The gift card recipient will not only learn about your store, but also explore the inventory closely. It's a good way to drive more buyers and cultivate loyalty.
3. Increases brand awareness
Merchants can create different gift cards in the brand colors with the logo or symbol associated with the store. It'll match the aesthetic of your website and increase brand awareness.
The extension allows store admins to create, edit or delete gift cards with ease. They can assign gift cards to pools, generate an unlimited number of unique codes or upload them via CSV and combine them into patterns.
5. Full control over gift card performance
In the Gift Card Product grid a store admin can track gift cards details, including status, visibility, type, purchased amount, used amount, email templates, etc. It gives full visibility of gift cards performance.
6. Compatibility with one step checkout
Magento 2 Gift Card extension is integrated with Smart One Step Checkout module, which allows shoppers to apply gift card codes into one page checkout: both modules share information automatically without mandatory store admin involvement.