If you're looking to expand your e-commerce business globally and reach a wider audience, translating your online store into multiple languages is a must. Thankfully, Magento 2 provides two main ways to translate your store: via language pack or translation plugin. However, the former method typically involves manual translation, which can be time-consuming and prone to errors. On the other hand, the translation extension offers multiple translation methods and useful features to enhance the quality of translations. 
In this blog post, we'll dive deeper into the ways to translate every single element of your Magento 2 store using LangShop translation extension for Magento 2. Here you can find a step-by-step manual of how to achieve the translation goals quickly with the extension.
LangShop, A Magento Language Translation Extension
LangShop is the ultimate language translator for Magento 2 that supports a staggering 247 world languages and dialects. With LangShop, you can easily translate your online store into different languages effortlessly. In addition to manual translation, LangShop offers other more time-saving options. Thus, you can translate your store using standard AI translation engines, pro translation engines (Google Cloud, DeepL Pro) or you can order translations from a professional translation agency. Let's discuss it in more detail.
Translate your entire Magento 2 store with LangShop!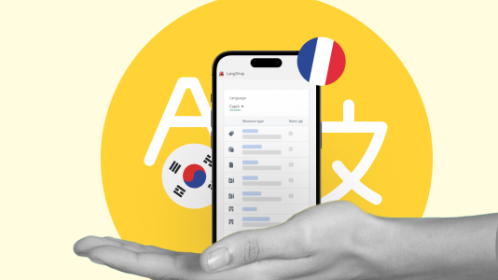 Magento 2 Google Translate Extension
One of the most convenient and efficient translation methods offered by LangShop is the ability to use pro translation engines. LangShop is integrated with major translation engines such as Google Cloud and DeepL, allowing you to leverage their powerful translation capabilities for your online store. 
To use this feature, you'll need a paid account on the pro translation engine platform (either Google Cloud Platform or DeepL) and obtain an API key. Once you have your API key, you can easily access your account through LangShop. Then you'll need to select the store elements you want to translate and simply click the "Translate" button, and the pro translation engine will perform the translation automatically. So there's no need for you to manually copy/pasting.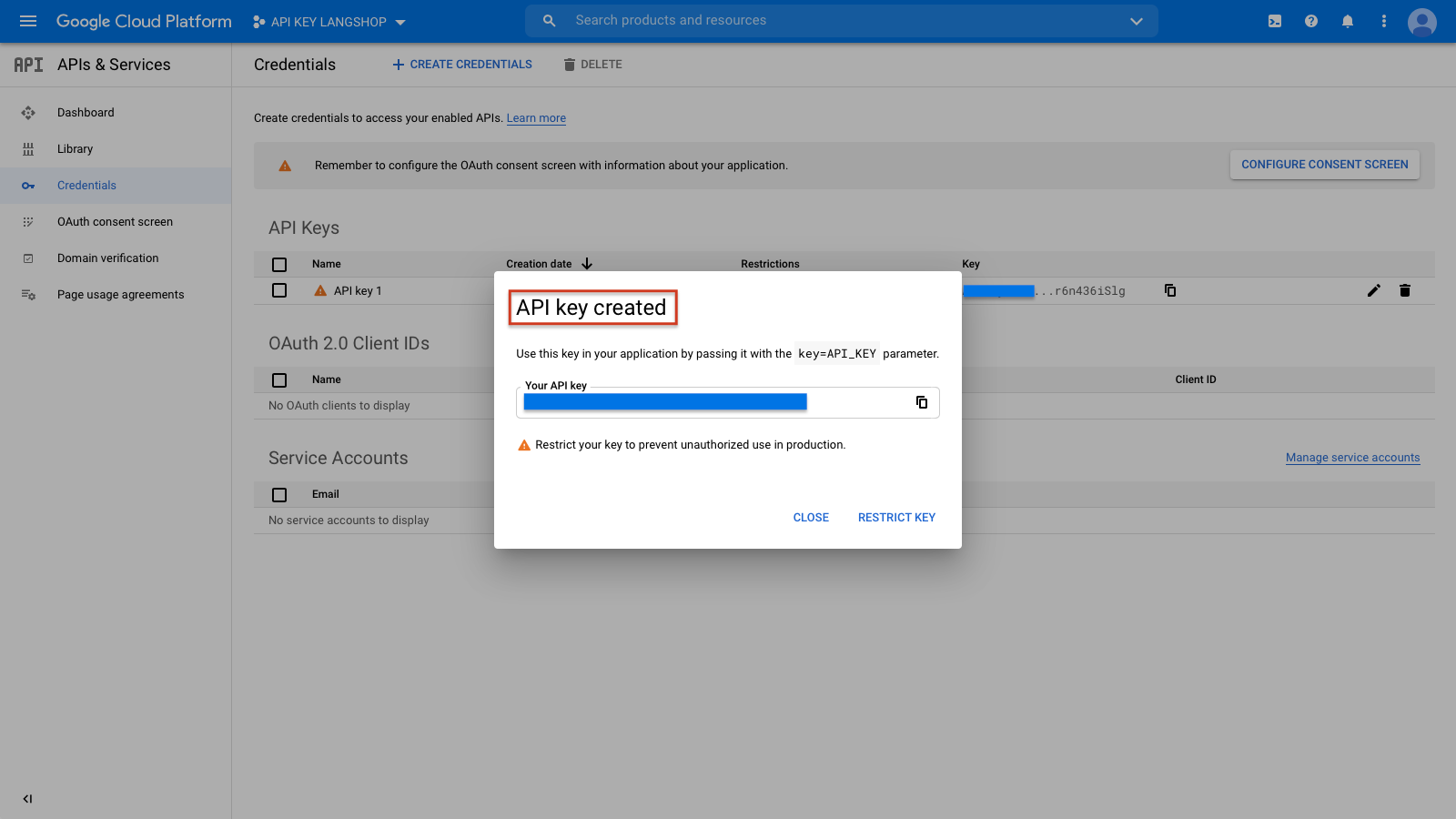 This translation method is incredibly time-efficient and produces translations of relatively good quality. So, if you're looking for a quick and easy way to translate your online store, LangShop's pro translation engine integration is definitely worth checking out.
Magento 2 AI Machine Translation
LangShop is also considered to be an auto translate website extension thanks to its AI machine translation method. For this method, LangShop uses standard AI translation engines: the content is translated by 5 different translation engines, and the most popular variant is displayed as the final result. 
It's an incredibly easy and quick translation method that doesn't require any effort on your part. All you need to do is select the product you want to translate and click the "Translate" button. Plus, you don't need any API keys or additional accounts in other services.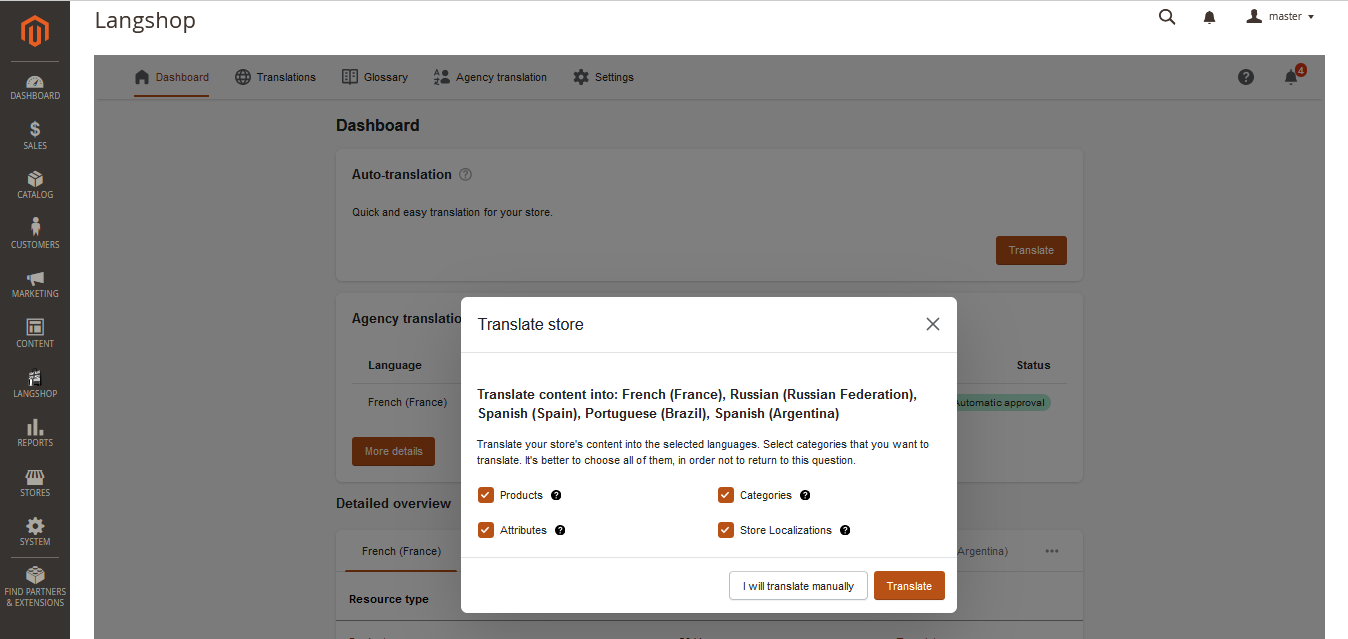 However, keep in mind that the translations produced by this method may not be of the highest quality. So, if you're looking for a more precise translation, LangShop's other translation methods, such as pro translation engines or agency translation, may be a better fit for you.
Quality Translation Agency for Magento 2
For larger businesses, quality is absolutely paramount. This is especially true when it comes to translating the online stores into multiple languages. That's why we highly recommend trying out LangShop's agency translation method. 
With this method, your content is transmitted to the professional translation agency, TextMaster, which performs the translation for you. You can specify which store elements you want to order translations for, and then simply submit the order. The text is collected and sent automatically to the translators - there's no need for any manual exporting.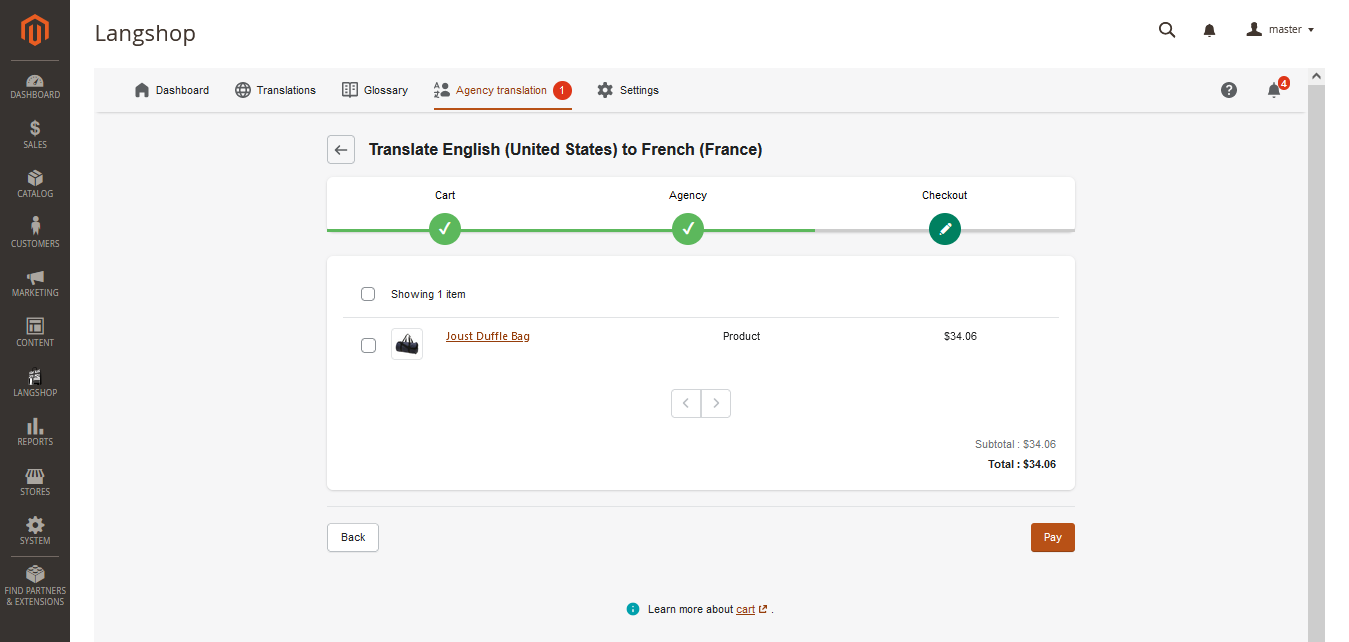 When the translation is complete (usually 48-72 business hours), a native speaker translator will send it to you for approval. Once you give the green light, the translated content is automatically imported to the right place, with no need for any additional manual work on your end.
It's an incredibly efficient and effective way to ensure that your translations are of the highest quality possible, while also saving you time and effort.
How to Translate Your Magento 2 Store
Due to the complex nature of the Magento platform and the extensive hierarchy of pages, the website translation is divided into four main parts: product, categories, attributes and 3rd party extensions' translation. 
As LangShop offers a variety of translation methods, we'll be walking you through how to translate each part of your store using the most suitable method. By following these recommendations, you can ensure that your translations are accurate, efficient, and of the highest quality, no matter what part of your store you're translating. 
Product pages are the most critical part of an online store, as they have the most significant impact on sales. Therefore, it's crucial that your customers can understand every word and phrase. To ensure the highest quality translations, we recommend using the LangShop agency translation method to order translations from professional translators. Here's how to do it.
From LangShop admin, navigate to Translations > Products. Select the products you want to order translations for from TextMaster. Click More actions > Add to cart (agency translation).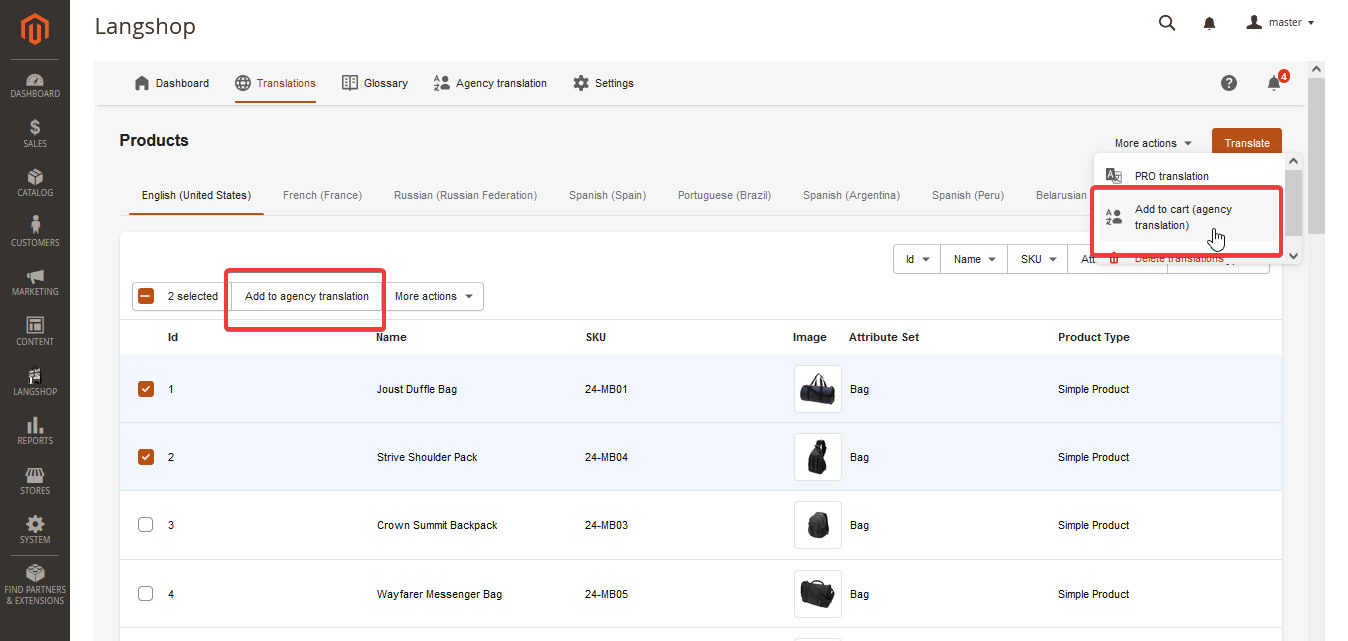 Select the language you want to translate the products into (only one language per order is allowed; if you need translations in multiple languages, make a separate order for each language). Click Add to cart. You can find the products you added to your cart under Agency translation > Cart in the navigation menu.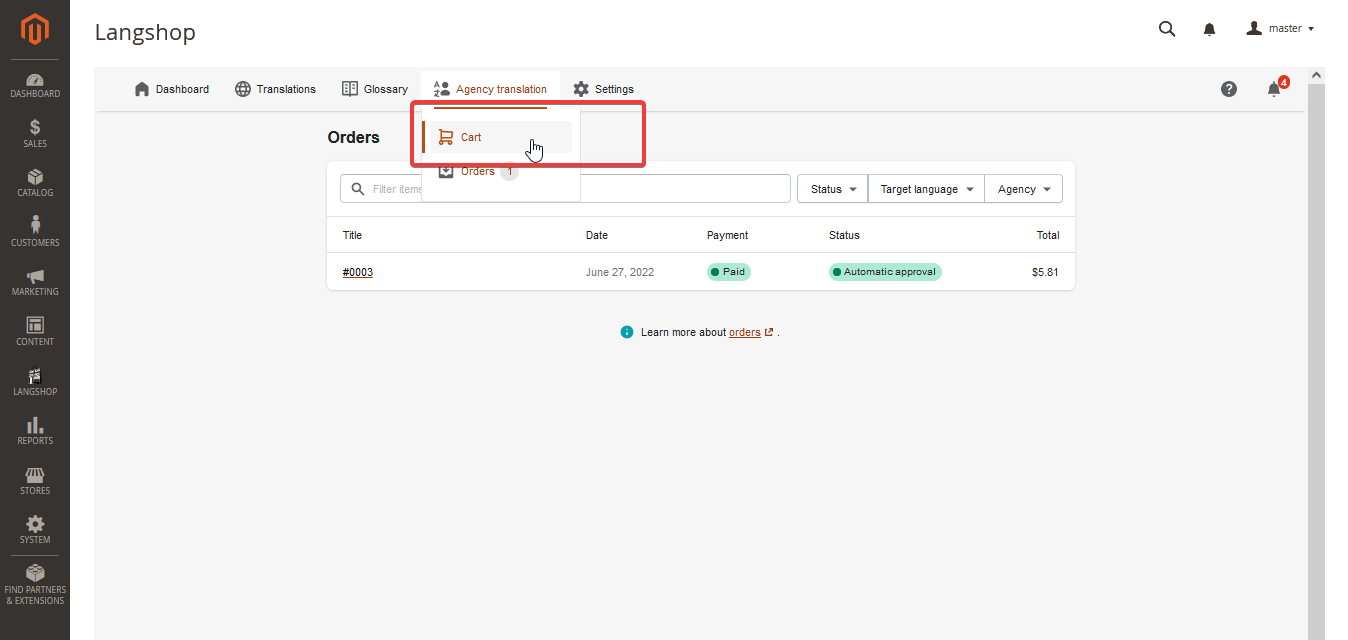 Here, click Proceed to Checkout next to the order you want to submit. Review the products and their quantity. Click Next to proceed to the form where you can describe the type of products you sell online, so that native translators better understand the field of your business and deliver the best possible translations. 
Choose the language level that meets your needs, select the domain, specify the tone of voice and key objective of the content. You can also leave a comment or message for the agency with any specific inquiries you might have.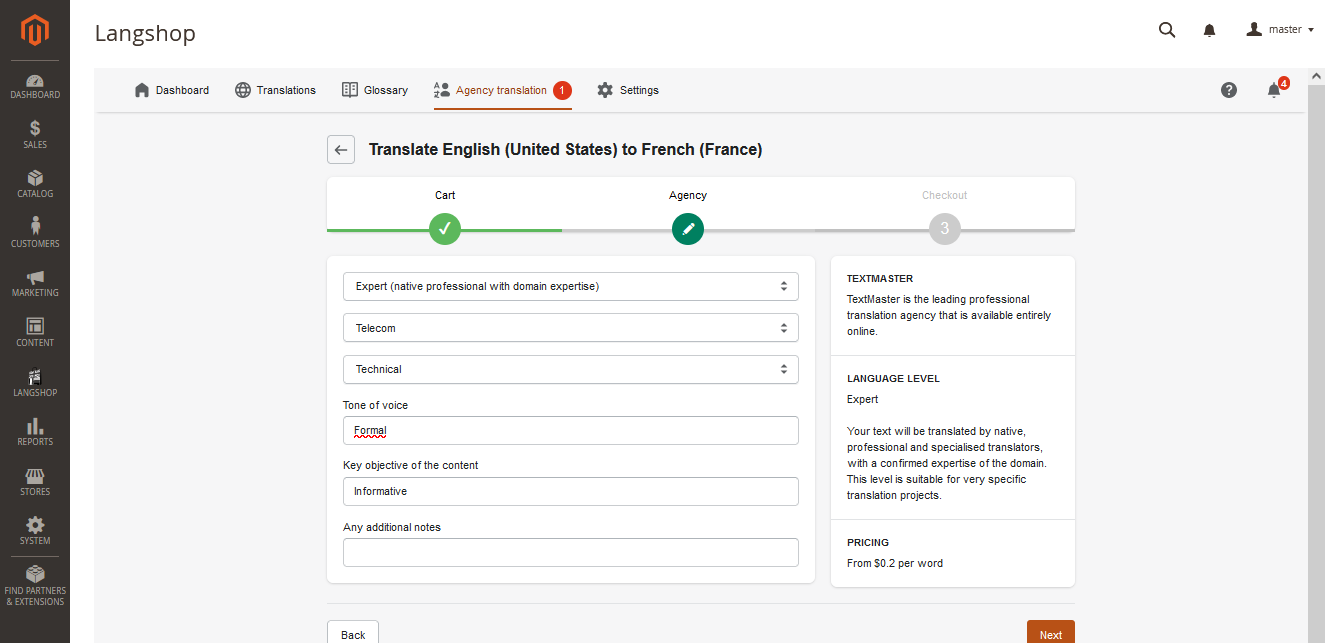 Click Next to proceed to the checkout. The system will take a moment to calculate the number of words and generate an exact quote for your order. When you are ready to pay, click the Pay button to complete the payment process.
When the order is ready, you will receive an email notification informing you that your order has been completed successfully. You will have seven calendar days to review and proofread the translations.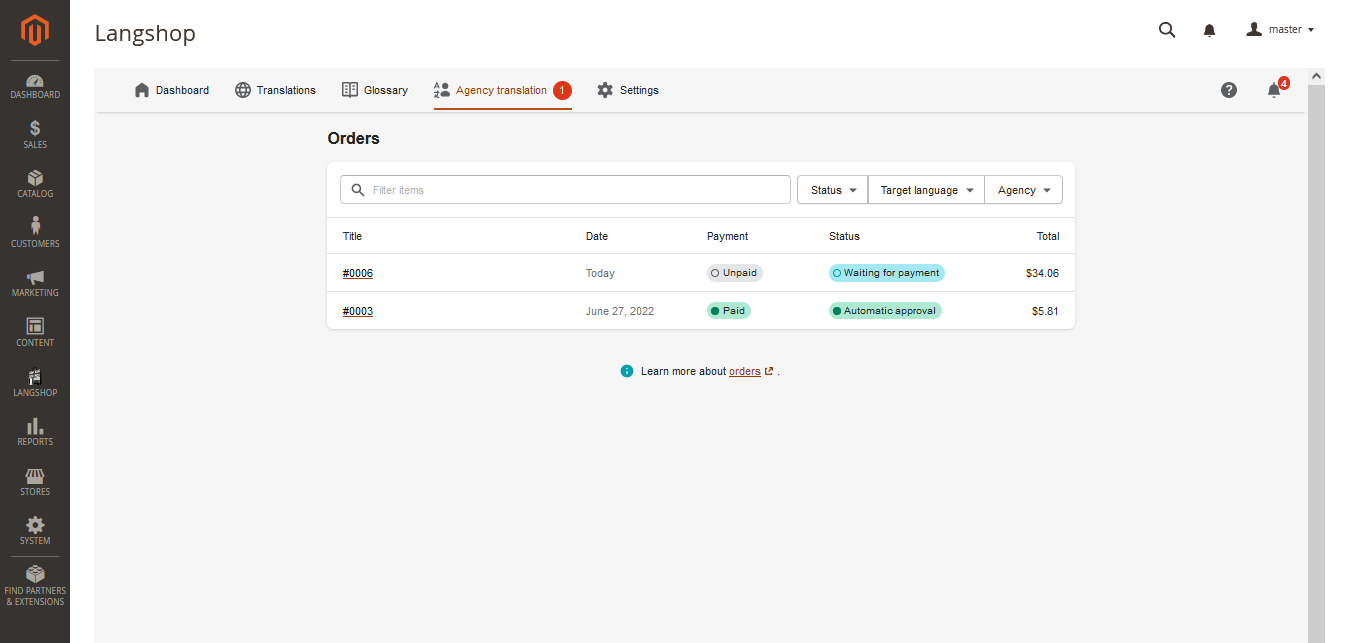 After reviewing the translations, click the Mark as reviewed button on the order page to notify the agency that the order is complete and can be closed. The translations will automatically start the import process into the exact language in LangShop.
Magento categories are essential for website navigation, making it crucial that they are easy to understand for buyers. We recommend translating categories using either the agency or pro translation method. If you prefer using the pro translation method with Google Cloud translation engine, follow these steps:
First, you will need to enable the API key in LangShop. Simply copy the API key from the Google Cloud Platform (you need a paid account to get API key), and from the LangShop Admin, go to Settings > Translation engines > Google Translation, and paste the API key.
Now, your LangShop account is integrated with Google, and you can enable translation whenever you want.
To translate categories, go to Translations > Categories in the LangShop admin, select the items you want to translate, and click Translate. Next, select Google Translation and specify the languages you need. Finally, click Translate, and you're all set!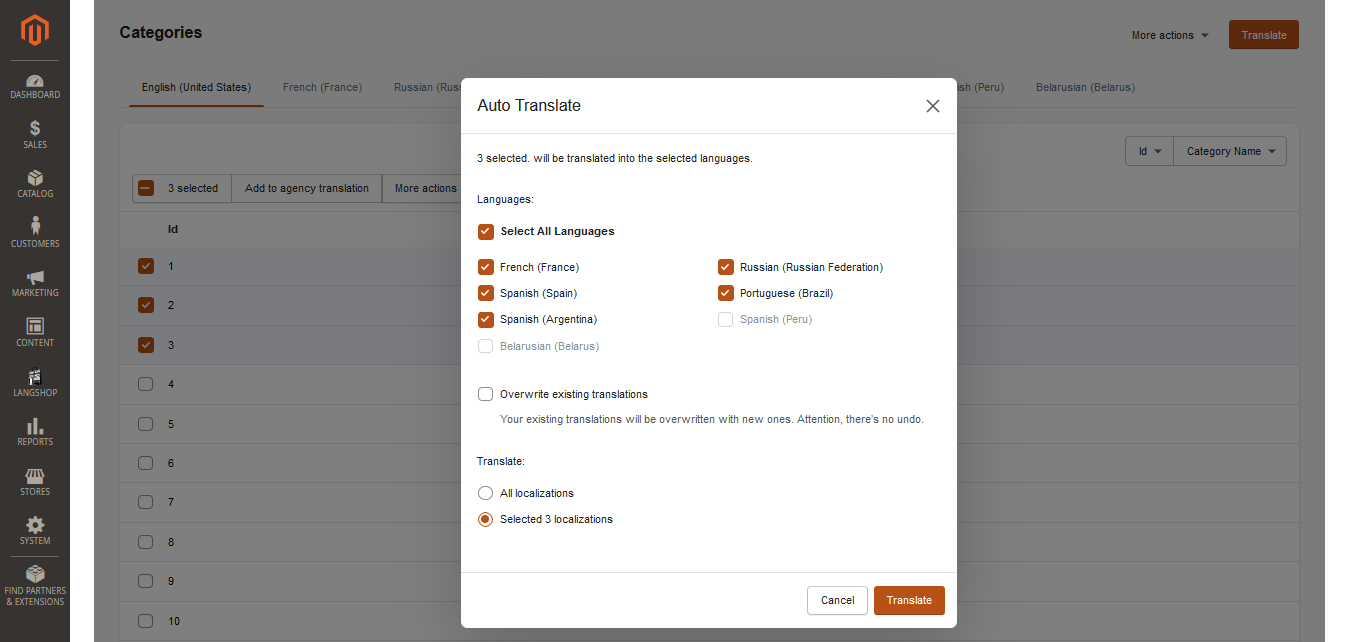 Translate Product Attributes
Product attributes are used to provide additional information about products, such as size, color, material, and more. This information is critical for customers to make informed purchasing decisions, and it also helps merchants to manage their products more efficiently. 
When it comes to translating product attributes, merchants usually prefer to use the AI standard engine method, as it is quick and easy. 
From your LangShop admin, go to Translations > Attributes, select the items you want to translate, and click the Translate button. Then, select the languages into which you want to translate the product attributes, and click Translate.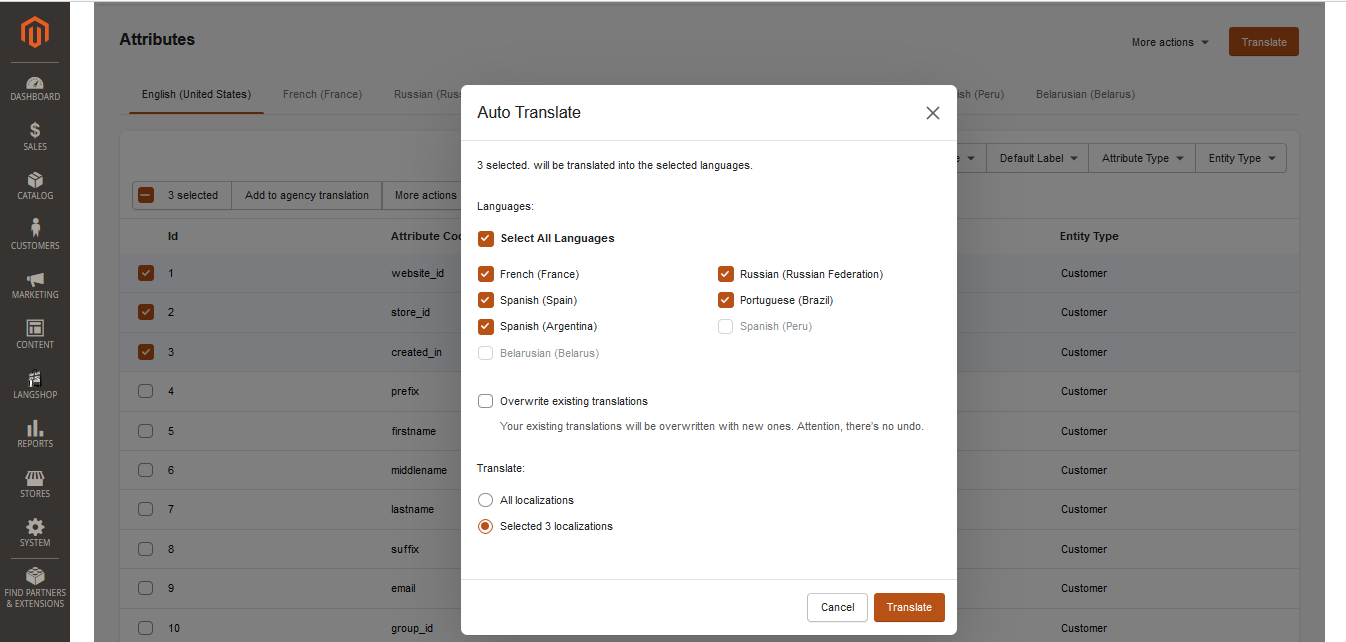 The AI translation engine will take care of the rest. While the quality of the translations may not be as high as with other methods, it is still a useful way to quickly translate product attributes for customers in different languages.
Translate 3rd Party Extensions
For translating the remaining parts of your store, you have the option to use store localization translation. In this case, you can stick to one translation method or mix different methods for different modules. Keep in mind that this method uses CSV files for translation, so only modules that store information in CSV can be translated. 
To translate third-party extensions, go to Translations > Store Localizations. Select the items you want to translate and click Translate. You can choose your preferred translation engine or make an order for agency translation. Then select the languages you want to translate and click the Translate button. If you're using agency translation, you'll need to click Add to Cart instead.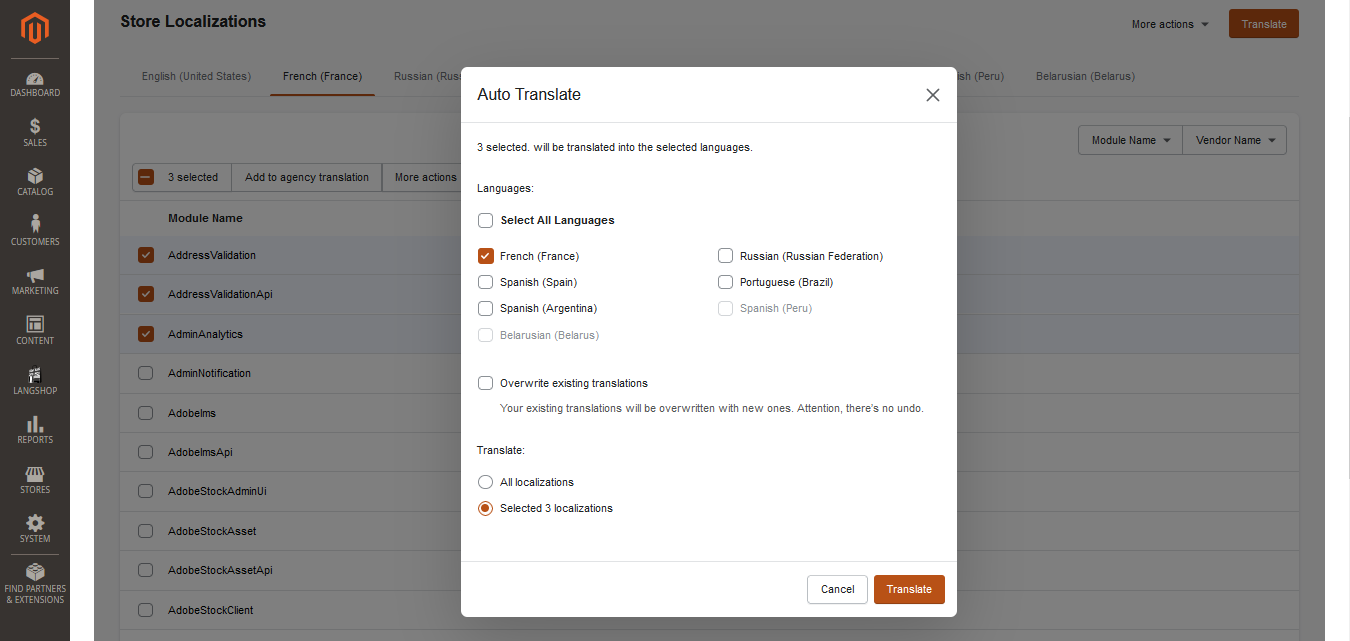 Create a multi-language store in Magento 2
In conclusion, if you're planning to expand your business globally, having a multi-language store is crucial. With LangShop, you can easily translate all parts of your store into multiple languages using your preferred translation method, be it professional agency translation, AI machine, agency, manual translation or a combination of them all. 
Additionally, LangShop provides helpful tools such as Glossary, which allows you to define specific translations for certain words or phrases, ensuring accuracy and consistency across all translations. The Standard and Advanced plans also offer Auto translation of new products, saving you time and effort in initiating new translations for every new product. 
Start your international e-commerce journey today by installing LangShop!
Create a multilanguage website in just a few steps with Langshop!