Which is better, to have 0 or $10.000 at the beginning of each month? Surely, no one will choose the first option when it comes to real money.
Starting each new business month you suppose  to reach a certain sales volume and can estimate the revenue you will apparently obtain, but it is still just your assumption. And, you will certainly be more confident and surefooted, if you firmly know that this revenue is assured to you by your customers. It is really possible within the
recurring revenue business model
.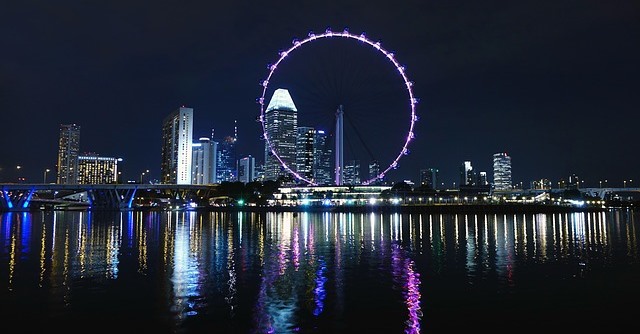 Not only applied to new businesses this model can also be used for running online stores
in combination with one-off sales
.
The Benefits of Recurring Sales
The more recurring sales you make, the more benefits you have:


Recurring sales provide you a steady cash flow;


They allow you to better plan your investments and payments;


This stability allows you to take higher risks and get higher returns from risky projects;


You get a chance for potential up-sells and cross-sells during the customer lifetime;


The recurring character of your income allows you to get large loans easier;


The attractiveness and cost of your business rises considerably for investors and prospect customers.


Types of Recurring Sales
However, recurring cash streams are also
not equal
and we can distinguish several types starting from most valuable ones.
Hard Contracts
This is the most valuable recurring sales model, which contractually guarantees merchants
stable revenues during a long period of time
. Great example here is your cell phone contract forcing you to stay with a certain provider or pay significant fines for the contract breach.
Automatically Renewable Subscriptions
Also known as
"evergreen"
this type of subscriptions is almost endless, anyway until the client stops them.
Straight-up Subscriptions
These are the
finite subscriptions
, which have an initially determined validity and can be restarted at the end of that period.
Sunk Money Subscriptions
These subscriptions require you to
purchase a hardware or platform
in order to get the subscription. For example, you purchase a coffee machine in order to prepare coffee at home, but it is just a platform rather than a product. And, you recurrently need accessories to achieve your ultimate goal, in particular, coffee capsules.
Simple Recurring Sales
Coming back loyal customers actually make recurring purchases in your store, just like you purchase your favorite coffee at Starbucks every morning. So, we can assign theses sales to recurrent types.
Now, when the value of recurring sales is obvious, the next coming question is what
kinds of products
we can sell recurrently. In the long run, all products are purchased recurrently. Of course, selling subscriptions to houses sounds ridiculous, still most of us change them twice or three times in lives.
Most
popular products
purchased on the recurring basis are grocery, bottled water, pills, detergents, SaaS products, memberships, web hosting, coaching, home study programs, information subscriptions, etc. But, it does not mean that you can't sell any other products this way.
There are hundreds of cases highlighting successful businesses selling
subscriptions to absolutely different products
and their core ideas are both amazing and simple simultaneously. Sometimes, we just can't imagine a business concept, while for customers it is the thing they've been waiting for ages.
Products in Subscriptions
Pet Food
Dogs, cats, and other pets
never stop eating
and that is the regular responsibility to restock their food for owners. Now, you can just subscribe to the PetFlow's regular deliveries of food, toys, vitamins, etc. and stop troubling about shortages and lack of time.
Toys and Gifts
Kiwi Crate is the company
sending gifts to your children
each month at their own discretion and providing surprises this way. They send a box with a crafts project appropriate to the age of children each month able to entertain them for hours or even days. That is really pleasant and useful at a time.
Underwear
Regular deliveries of specific
products for single men
are the main sales channel of Manpack. Deliveries of undershirts, socks, razors, and underwear are the way to simplify lives of busy individuals. Hoseanna is the women's version of the service.
Surprises
The next concept for recurring sales is to sell
subscriptions to certain persons
 instead of products. People subscribe to the goods selected by certain persons – tastemakers - and get them quarterly.
You are free to choose any person you like and get the goods selected by them especially for you. This is the concept Quarterly follows in their subscriptions.
Books
The Right Book 
sends books based on personal preferences
and introduces new authors and stories, as well.
So, the list of products suitable for subscriptions is endless and you can
sell almost everything
: cosmetics, tees, snacks, healthy food, arts, videos, laundry supplies, jewelry, accessories, bath products, home goods, etc.
Amid this, recurring sales make regular contacts with customers traditional and improve loyalty.
Functionality Requirements for Online Recurring Sales
Online recurring sales require some functionality necessary to
make the process possible
. You should allow customers to purchase subscriptions, bill and process payments automatically on the recurring basis.

Magento store owners can take advantage of the
Subscriptions and Recurring Payments extension
, which makes possible to create subscription products and process recurring billings and payments.
This Magento extension allows you to either
start new business
based on the recurring revenue model from scratch or increase the share of recurring sales in your existing store considerably.
The module provides you with 
multiple configuration options
for subscriptions and payments. Merchants are able to set up different prices for short and longtime subscriptions, offer free or discounted initial deliveries, provide with infinite subscriptions, define the number of recurrent sales, define subscriptions' duration, create subscriptions for different web sites, set up initial fees, determine subscription start days, etc.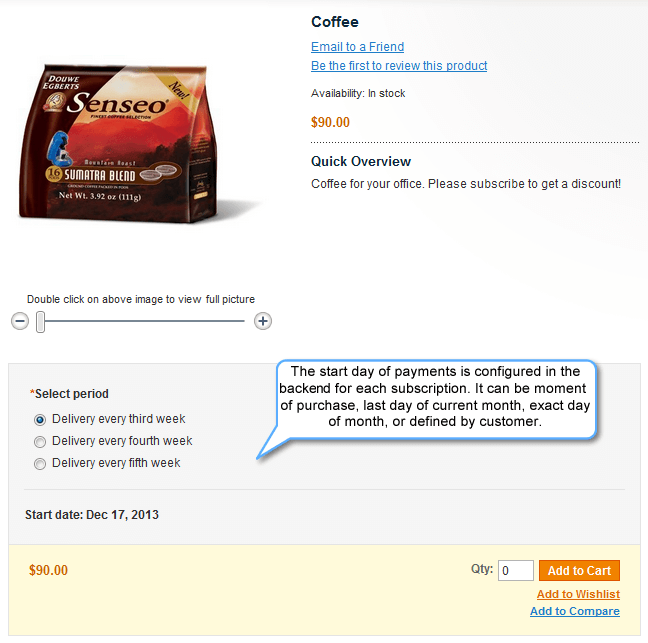 Subscription Period
The module supports multiple payment methods, including
eWay, Authorize.net, and PayPal
, and next native Magento products:
simple, downloadable, configurable, and virtual
.
The module allows you to offer subscriptions as product options together with one-off sales, but you can also make recurring sales your main source of income and adjust sales.
If you need some more information about the Subscriptions and Recurring Payments extension, please visit its
product page
and the
knowledge base
in our store, or read the
module's documentation
. You can also try its functionality in action in our
demo stores
.
Add your comments below, please.