Looking for a versatile Magento template applicable for multiple business fields? Pay attention at the Magento Universal Shop theme by aheadWorks. Our template has the blue-green color scheme with gray background what makes this Magento skin suitable for selling a wide range of goods starting from home appliances and finishing with office supplies.

The Universal Shop Magento Magento theme has 3-column layout what allows effectually centering the content column and makes the template design symmetrically balanced. Moreover, such skin layout gives you the opportunity to select the column for your banners placement – either left or right template sidebar.

The eye-catching JavaScript slider and new products showcase on the main page of our universal theme help you to manage promos and enlarge click-through rates of your Magento store.



Our Universal Shop Magento template is designed in such a way that My Cart is displayed throughout the entire site. Search doesn't stand out of the general skin design and is implemented in a separate block. To stimulate customers to proceed to checkout faster, we have designed our theme so that Checkout is a separate noticeable button at the top of this Magento template.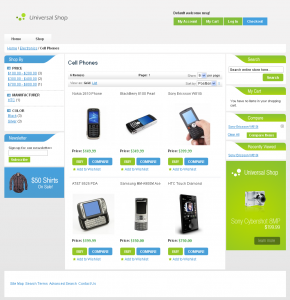 The navigation is quite user-friendly in the Universal Shop Magento theme. On the main page, all the categories and subcategories are listed in the Store Catalog bar (next distinctive template zest) what allows your visitors to get the idea of your website at a glance. Besides, in our universal Magento theme the menu is available from the Shop tab on the top left of the page.

The Universal Shop Magento theme is designed for stores based on Magento 1.4*. The step by step guide included in the skin package will assist you in installing our template. And if you would like to replace some graphical elements or make any other changes in the theme, feel free – the PSD source is at your disposal.

Please, visit the Universal Shop Magento template page to view the screenshots and get to this Magento theme demo.