'Diamonds are a girl's best friend' sang Marilyn Monroe and nothing changed since that time. Why I tell you about these rocks? Because in this blog post we spotlight a jewelry website run on a Magento platform with over 30,000 products in their catalog. Impressing, isn't it? What impressed me more is the company's 40-year history and… beautiful gems of course.
Recently I spoke to Kara Mangiere, Director of E-Commerce at J.R. Dunn Jewelers, to learn more about a key to a long-lasting business behind the company.



Kara Mangiere


Director of E-Commerce at J.R. Dunn Jewelers
I have used aheadWorks with two different organizations and I think one of the things that developers will consistently find is a very responsive support team offering a suite of stable and reliable extensions for Magento. Sadly that is not the case with every extension development team creating Magento add-ons.
Who:
jrdunn.com
What:
J.R. Dunn Jewelers has been synonymous with excellence as an authorized dealer for luxury lines such as Breitling, John Hardy, Roberto Coin and Mikimoto. For over 40 years, three generations of the family name have served customers through its 8,000 square foot retail store and website jrdunn.com.
Where:
Lighthouse Point, FL USA
The physical store appeared over 40 years ago. What made you go online?
In 2005 many independent jewelers felt people who were buying jewelry on the internet were not their customers. Fortunately for J.R. Dunn Jewelers, they decided not to take that approach and embraced the web and launched their e-commerce site in 2005 long before many jewelry designers had considered a web presence. The company soon discovered that the web offered an amazing opportunity to cultivate new clients both domestic and international.
Old website was pretty but what did it do? From that point
on, I wanted a website that did something!
Why did you choose Magento as your current platform?
Magento offers great flexibility for customization in functionality that cannot be found in other open source platforms. In October 2013, J.R. Dunn Jewelers moved from Volusion to Magento and launched a completely new version of their website which has grown to showcase over 30,000 products online.
There are numerous complaints about Magento performance. Since your product catalog is huge, have you faced the slow speed trouble?
If the hosting configuration for images and products isn't set up properly then yes it can be quite slow. We did make some tweaks to the host environment to improve the site speed and continue to merge code.
What's the most important thing to focus on when setting up a jewelry web site?
For a jewelry web site to be appealing the customer has to be offered a similar experience to what they would see in person. They need to be able to view product close up and interact with jewelry experts and gemologists in the click of a button to
ask product questions
.
Outside of tuning the Magento, what's the toughest aspect of running an online store?
As with most retail the biggest challenge is anticipating the customer's needs. Do we have the proper breadth and depth of product the customer desires? Are they able to
find what they are looking for within a few short clicks
no matter their search style?
Why did you choose aheadWorks as a Magento extensions provider?
aheadWorks offers a wide variety of Magento extensions that integrate well together. I cannot say that for many other extension providers.
"

I have used aheadWorks extensions in the launch and redesign of half a dozen e-commerce sites and have consistently had great results with the installation and support provided by the aheadWorks team.
The modules we use are:
What's the most powerful extension/s for you and why?
Follow Up Email
is certainly one of the extensions I could not live without. It allows us to set up trigger email campaigns that have proven extremely effective in keeping customers engaged with jrdunn.com.
Starting in January we began to use
MSS
in conjunction with
FUE
to notify customers of new inventory arrivals that would fit their jewelry interests.
[caption id="attachment_29936" align="aligncenter" width="640"]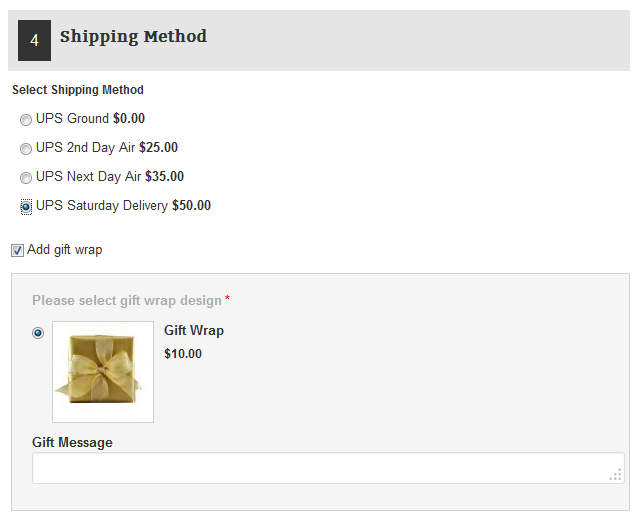 Gift Wrap at checkout with the ability to add a gift message[/caption]
What is the funniest online sale that stands out in your mind?
There are many that do. Another memorable sale took place a few years ago. A gentleman living in Texas had is eye on a six figure diamond watch with a full diamond bracelet featured on our website. We flew him in, put him up at the Riverside Hotel and had a car take him to our store to complete the transaction. Everyone was happy!
Any last words you might have?
Going through a full platform shift to Magento or even just integrating Magento extension can be a great challenge to those comfortable with the status quo. As Steve Jobs once said,
"Innovation distinguishes between a leader and a follower"
.
P.S. Want to share your store with Magento society? Please feel free to contact me at

[email protected]