One more useful guide, published at Packt Publishing Ltd., drew our attention -
"Magento Search Engine Optimization"
by Robert Kent. The book describes an eternal subject of all site owners - SEO, but this time it will be especially valuable for Magento store owners, as it describes SEO expertise for Magento-based stores.




Robert Kent


Magento Certified Developer at Creare
Robert Kent works at Creare - one of the largest Web Design and SEO companies in the UK. He has over 4 years experience with the Magento platform and has worked on more than 50 Magento installations for a wide range of businesses from many different industries.

The Magento SEO book was written through his experience in optimizing Magento websites for search engines - from the early stages of Magento CE 1.3 right up to the current release.
Book Review
Audience
Although the subject of this book can't be considered as a purely technical one, but yet it will require definite knowledge of SEO from you, namely on-site optimization. This book will be especially useful for SEO specialists, who just start with Magento. Here they will find the description of on-page optimization techniques applied to Magento stores and their specific features, which affect the way search engines treat these sites. The second part of the audience is Magento admins, of course, as they know everything about the platform, but, possibly, miss something about SEO in their daily routine.
Structure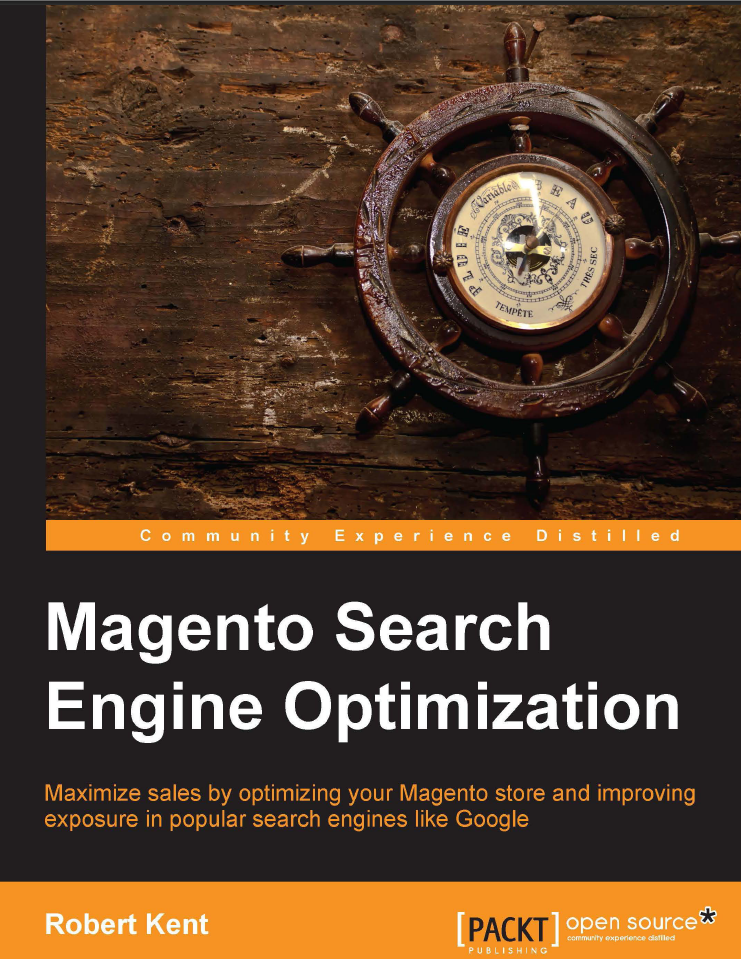 The structure of this book is intuitive and arranges chapters in order of their importance for SEO. Thus, the chapter about product and category pages goes first, as they are usually being optimized for main keywords and used to be landing pages. Technical aspects of SEO are followed by contextual issues and naturally build a complete comprehension of the SEO process.
The chapter about Magento extensions finishes the book and puts a justified full stop of this exciting topic. The only chapter "Analyzing and Tracking Your Visitors" is, possibly, a bit universal for this book and could be replaced by the one covering SEO specific indexes and their measurement tools.
Contents
The content is really valuable and has no any digressions or theoretical discourses. The book is full of relevant examples and useful tips; all technical issues are accompanied by code excerpts; all navigation paths are followed by screenshots and schemes.
SEO in this book is considered in conjunction with usability and conversion rate optimization, which closely corresponds to recent Google's guidance for webmasters.
The author does not overlook any essential SEO issues inherent to Magento CE v.1.3 - 1.8 and provides useful advice on their overcoming.
Summary
Throughout the book we perceive author's professional approach and assistance, which reveal the subject in the most comprehensible manner. The language of the book is simple and uses only conventional technical terms.
On the whole, we'd recommend this book for those readers, who seek for a practical guide covering perhaps 90% of all possible on-page optimization technics, which are certainly enough for everyday purposes.
You can win a free e-copy of this book
If you find this book useful, we welcome you to take part in our small contest. For this, just finish the sentence below based on your personal experience:
SEO should start from… Because…
Five of you, randomly chosen, a week later will get their free e-copies.
Dates of the contest:
March 24, 12:00 PST – March 31, 12:00 PST.
We wish all the participants good luck and call you to comment actively.