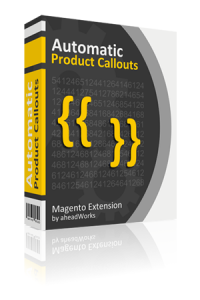 The Automatic Product Callouts extension introduces top product sets organized in blocks in any place of your site. The most common usage is having completely automatic category landing page with top products from this category, but you can use the extension in any other place of your site as well.
Features:
Highlight your top products

Best Selling, Top Rated, Top Searched and Top Viewed automatically retrieved product sets are supported by the Automatic Product Callouts extension. Place any of the blocks into your pages - do it once and have them updated automatically with updated relevant products with zero maintenance efforts!
Configurable block displaying

Any block has its own configuration section in the admin section of your store. Besides, you can redefine any configuration directly from the block variables when inserting it via CMS.
Unlimited blocks

Have unlimited number of any type of the blocks at any place of your site! Even more, you can vary their content size, space orientation and other parameters, so even sets of the same type can look different.

Own extension cache

The Automatic Product Callouts extension has its own cache what dramatically reduces the extension load time to almost zero value! Your visitors won't experience any delays and still you have fresh and actual automatic content on the store pages!

Products retrieval options

You can define where the products must be taken from - current store or just category, restrict to in-stock only items, set the collection size and other options are at you disposal.

Easy set up, trusted aheadWorks product quality and support




Easy 2-minute installation


100% open source


30 day money back – satisfaction guaranteed


Lifetime bug free guarantee


Meets Magento programming practices for most versions and customizations compatibility


Free upgrades at least in current version branch


Our excellent support team is waiting to hear from you each business day from 9:00 am to 5:00 pm GMT


If you want to view extension screenshots and find link to frontend demo, please visit the Automatic Product Callouts page.