Most customers trust online reviews. In fact, most of them read product reviews each time they purchase online and prefer unbiased opinions on the products they are going to purchase.

And what is the most abundant and informed source of reviews for your products - of course, your current customers. Once stumbled upon a negative experience many of them will share their irritation willingly, but the ones fully satisfied with your items usually prefer to stay calm and silent. But, if you ask them to provide a product review, they will be glad to make you a favor. That's the point successfully used by the Review Reminder extension for Magento 2.
Review Reminder for Magento 2

Review Reminder sends email reminders triggered by extension rules automatically and doesn't require any supervision or manual setting after the initial configuration is done. Still, it is an effective solution if you need to push a bit some actually grateful customers to send you product reviews and share their product experience.

The internal menu of the extension embraces four main sections: Rules, Mail Logs, Orders and Reminders, and Settings.
Settings

The settings of the extension consist of two areas - general settings and mail log. The General section provides you with the general sender email and test email recipient contacts, and test mode enabling option. The Mail Log section determines the period of time for keeping sent emails in mail logs.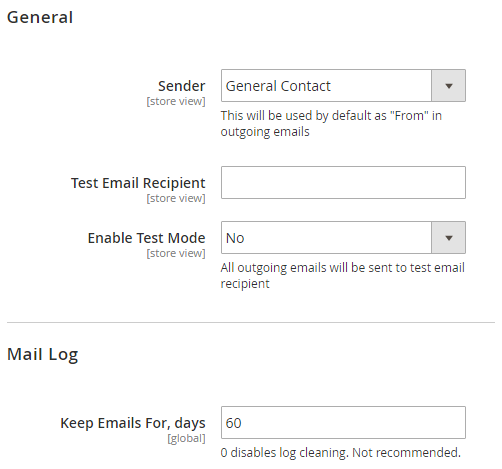 Review Reminder Settings
Rules

Extension rules allow you to setup automated triggers sending email reminders exactly according to your guidelines.

The Rules grid displays all the created rules either enabled or disabled and specifies their names, email subjects, sending dates, and statuses. It allows you to enable, disable, and delete rules massively. You can also create a new rule on the spot using the Add Rule button.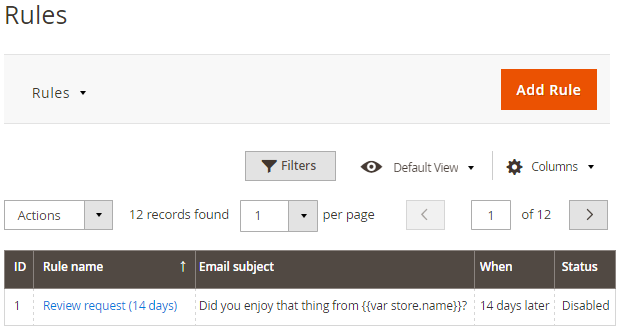 Extension's Rules

A new rule starts with the section specifying general rule options, including the enable/ disable switch button, rule's name, subject, and content. The content is specified via the rich content editor enabling you to preview it instantly and send a test email, if necessary.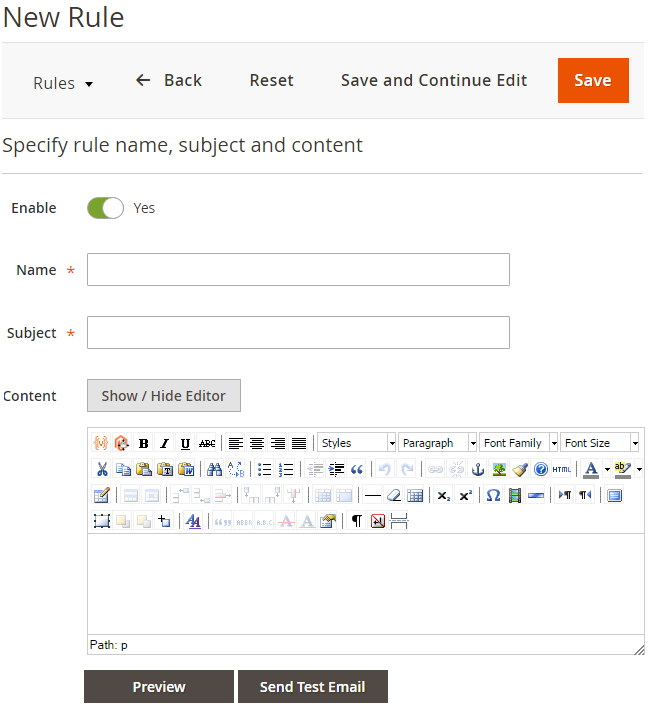 New Rule General Settings

Next, you can specify exact time you need for sending your review reminders in days, hours, and minutes. If necessary, you can also specify a required store view and customer group.

Finally, you can target necessary customer groups and narrow them down as accurately as you need using the Carts and Products Condition sections. The cart conditions include totals, subtotals, payment and shipping methods, shipping regions, countries, total weights, and other cart characteristics. You can also choose the customers ordered certain items picking them up from the orders by product attributes and types.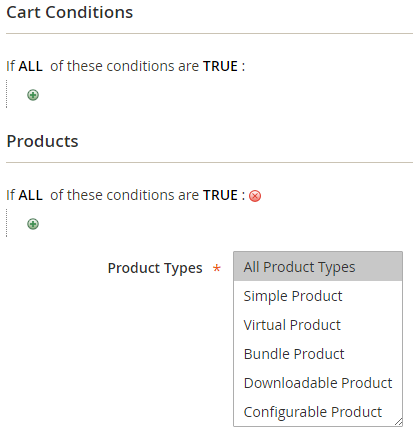 New Rule Cart and Product Conditions

This way, you can differentiate notifications for various customers making them more relevant, personalized and effective, respectively.
Mail Log

All the sent and scheduled emails are stored in the Mail Log section. The Mail Log grid highlights email IDs, statuses, creation and schedule dates, email names, recipient name and email contacts and provides the Action column. Using this column you can preview, cancel, delete or send any emails immediately. You can also use the Actions dropdown in the upper left corner for the Send Now, Cancel or Delete mass actions.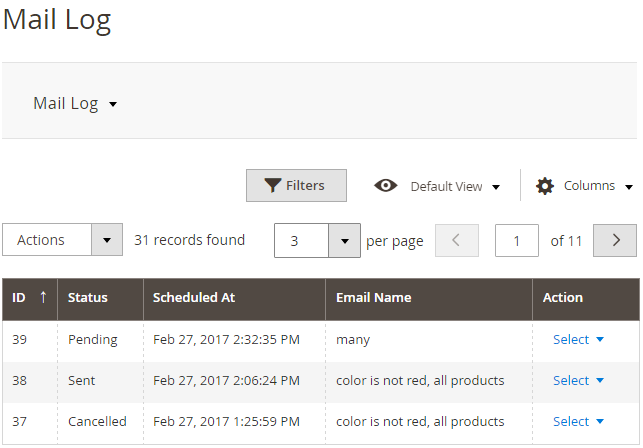 Extension Mail Logs
Orders and Reminders

In order to track Review Reminder emails, related orders and products you can take advantage of the Orders and Reminders section. It specifies orders, products and reminder statuses in one grid, so you could make sure that all the ordered items are covered with product email reminders. You can also delete any row out of the Orders and Reminders table and prevent email notifications for this particular product.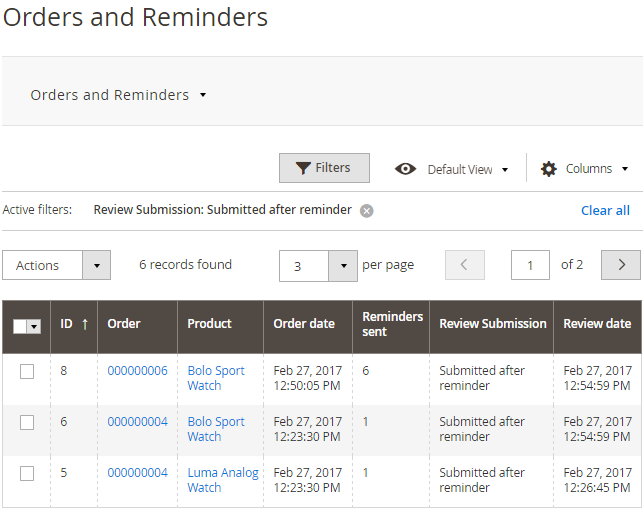 Orders and Reminders Grid

As soon as the configuration process is finished the module starts working independently and doesn't require any other manual adjustments. However, you can add a new rule to the configuration set anytime you like.
Conclusion

Review Reminder for Magento 2 is the fourth extension added to our Small Business Kit and available at more than an affordable price of $79 for any Magento 2 store.

You can purchase this extension in our store or get any additional information you need on the product page and from the product documentation. If necessary, you can try the module in action in our demo stores.