We continue adding new extensions to our Small Business Kit, and Store Credit and Refund is the next one to join the collection.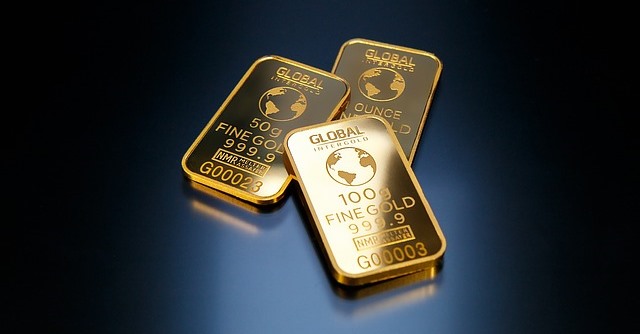 With no quality or functionality drop the
Store Credit and Refund extension for Magento 2
, just like any other component of the kit, is available
at only $79
. Below you will see that this extension worth to be used in your Magento stores exceeding your investments manifold.
Store Credit and Refund for Magento 2
If you have never issued
your own digital currency
, you will find it quite simple with the Store Credit and Refund. In fact, store credits are an alternative payment instrument that can be used for any purposes, e.g. promotions, rewards or refunds.
Refunds are not a very pleasant thing for both merchants and customers. Still, we all know that they are inevitable for mass product stores and do not always happen due to merchants' faults. Often, they are just about wrong size or color, manufacturing defects, or just wrong expectations.
So, the Store Credit and Refund allows you to
charge customers with store credits for any reasons, including for refunds
. Taking advantage of the extension in this way you make certain that customers will return to your store and possibly become your regular shoppers in the future.
Backend Functionality
Settings
The extension settings are comprised of three sections:
General, Storefront and Email Notifications
.
The first one contains three options -
Allow Applying Store Credits on Shipping, Allow Applying Store Credits on Tax, and Refund to Store Credit Automatically
. If the last one is  enabled, all the created credit memos come with the automatically checked Refund to Store Credit checkbox. The possibility to use store credits as a sterling currency is provided by the Allow Applying Store Credit on Shipping and Allow Applying Store Credit on Tax. If you enable these options, you can allow your customers to use store credits for shipping and tax payments.
The
Storefront section
 enables you to display additional credit balance notifications on the frontend. You can either place them in Top Links or on product pages. Notifications on product pages show customers their store credit balances and explain the opportunity to use credits on the checkout. The notifications in top links show current balances and here you can also discard top link notifications if the balance is empty.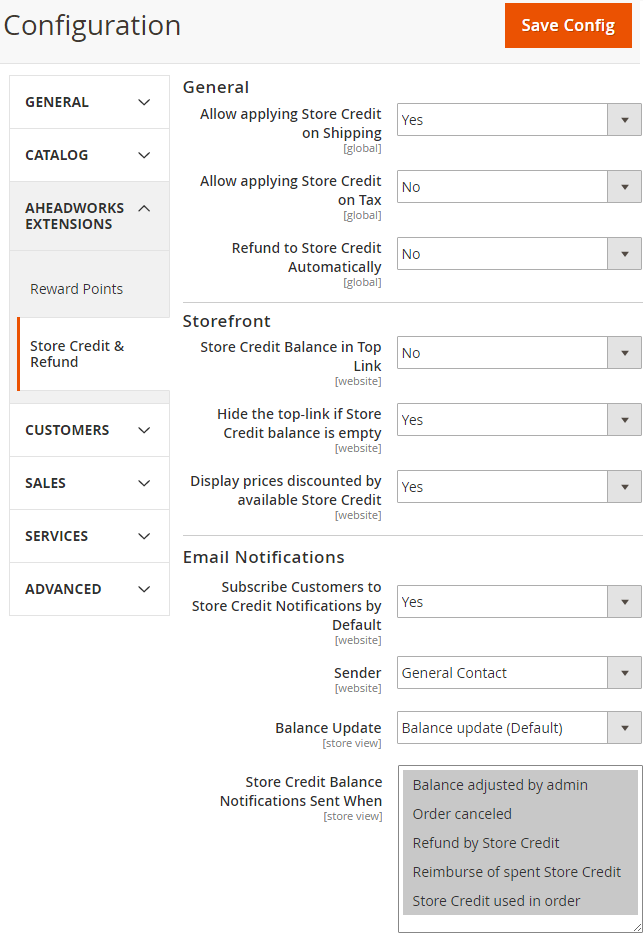 Extension General Settings
The last section of the extension's general settings is
Email Notifications
. This block allows you to set up and configure store credit email notifications starting with the email notifications automation function. You can also specify the general sender contact and choose the events for such notifications.
Transactions
The
transaction grid
is the main workplace provided by the extension for Magento admins. Here they can track, manage and add new store credits. The grid displays the next information: customer's name and email, comments for customers and for admins, balances and balance changes, transaction dates, website and notification statuses. The Comment to Customer option contains detailed information on the transaction with order and credit memo numbers.
In order to increase or reduce certain store credit balances you need to create a new transaction. The new transaction window contains only few configuration options:


Website. You can select a website you need to apply the transaction to;


Balance adjustment value. This option allows you to specify the store credit value you'd like to add or withdraw;


Comment (visible for customer). You can add comments visible for customers and explaining the update of the balance;


Comment (visible for admin only). The comments visible for admins are used to inform other backend users on the reasons of the transaction or you can just leave some notes there;


Customers. The last configuration option allows you to select customers for the transaction. You can select any number of them, so the option also supports mass actions in this way.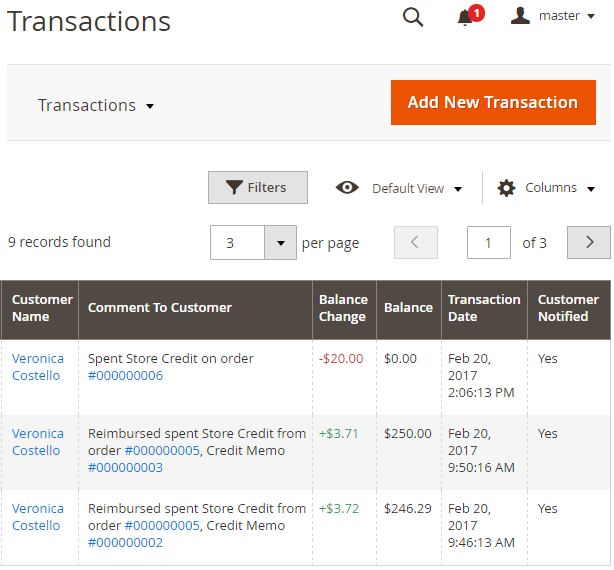 Transactions Grid
Customers
The Customers grid
tracks transactions by customers
and defines if the entire provision of store credits follows your original intention. Divided by customers the grid displays customers' lifetime sales, current customer balances, total amounts of earned and spent store credits, and balance update notifications.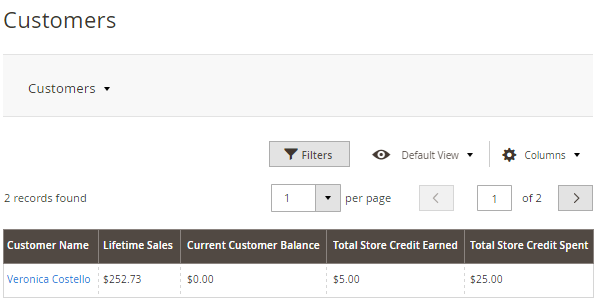 Customers Grid
Additional Features
Backend Orders with Store Credits
Creating a new order from the backend you can use store credits as a payment method.
Unit Tests
The Store Credit and Refund extension is extensively covered with unit tests passing all Magento static tests.
Store Credits on Frontend
Purchases with Store Credits
We have already mentioned that customers can be notified on their current store credit balances throughout the entire store, including via top links or product page notes. As soon as a customer adds products to his cart and proceeds to checkout he can
use store credits as a payment method
applied to all the products in his cart.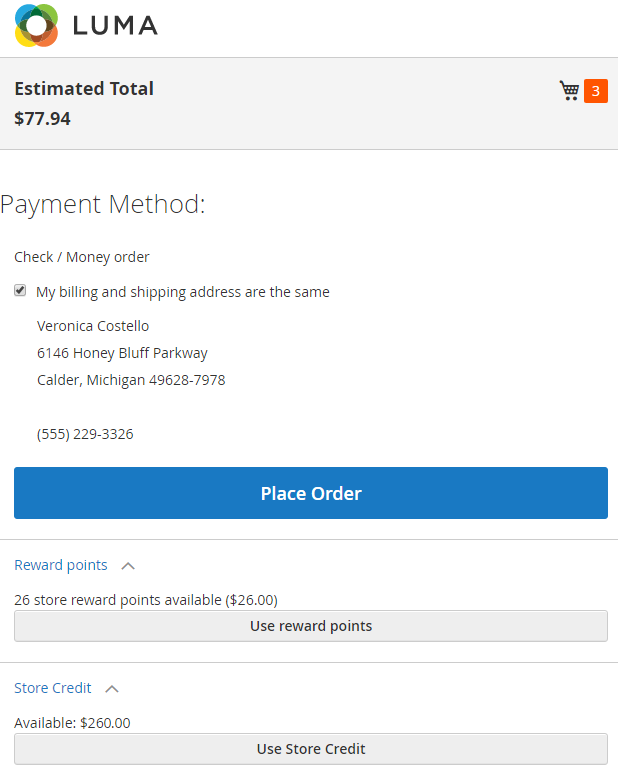 Store Credits on Checkout (Mobile view)
Store Credits in Customers' Accounts
Customers are also able to plan their purchases with store credits easily. They can track the
whole detailed transactions histories
in their Customer Accounts, including the information regarding current balances, balance changes, and detailed comments on the transactions. Moreover, they can enter the orders and credit memos related to corresponding transactions immediately.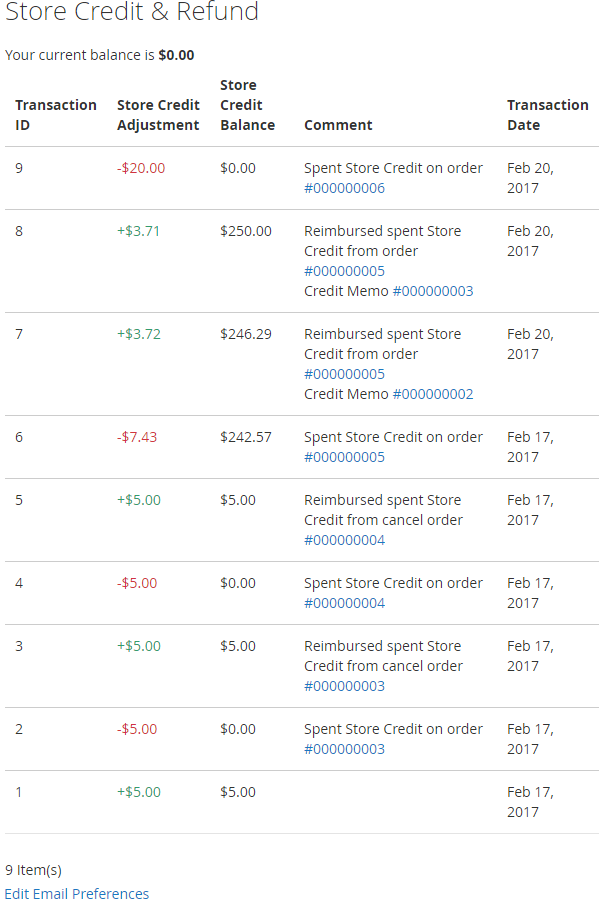 Store Credits in Customer Accounts
Conclusion
The functionality provided by the
Store Credit and Refund extension for Magento 2
enables customers to conveniently use store credits for their purchases including for
tax and shipment payments
. The provided detailed information allows them to track the entire history of transactions and plan store credit purchases knowingly.
Magento admins, meanwhile, have all the chances to
use store credit beneficially either for product refunds or as some kinds of rewards
 for their most active and regular customers.
The module is an
internal part of our Small Business Kit
and currently is available at only $79. All the details on the extension's functionality are available on the
product page
of the extension. You can also try it in action in our
frontend
and
backend demo
stores.