The ultimate goal of any online store is a simple, fast, smooth shopping process, and great customers' experience, as a result.
A lot of tiny and significant improvements of web store functionality aim to bring customers to the checkout and order completion naturally.
However,
things change
 when you sell to not only the local community of your town or, perhaps, national customers, but to international visitors, as well. In this case,
multiple obstacles appear
, from the language and currency to cultural differences, which are able to negate all your seemingly successful initiatives.
Note: 13% of customers abandon their carts because of the prices presented in foreign currencies. Source: Statista.

But, the
automatic Geo IP localization functionality
is able to put dedicated Magento store views in front of you customers right away. The whole process is absolutely invisible for your customers, and it seems that they do not even leave their national internet area, and the store owner is, perhaps, their close neighbor.
So, if you sell products to several customer groups originating from different locations, you need a small still highly
valuable Magento extension
from our partners –
GeoIP Redirect
.
Configuration
The configuration of the extension is
simple and intuitive
.

Geo IP Extension Configuration
Main Functionality
Using the Geo IP Localization functionality the module
automatically sends visitors to proper stores
based on their country origin. Magento admins are able to specify one or several countries for any store view depending on the country similarities or other particular reasons.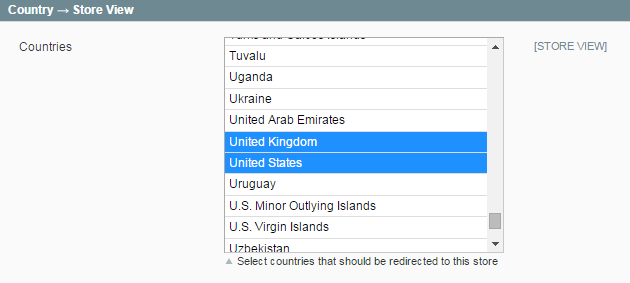 Store Views Countries Selection
The module contains a
free version
of the MaxiMind GeoIP data file. But if you need more precise geo targeting, you can purchase the Maximid GeoIP subscription package and replace the included free data file with the last one. Or you can specify the new file location in the provided Database path field.
Features
Automatically Displays the National Currency
This feature allows you to
assign necessary currencies to certain countries
.

Currency to Countries Assignment
Automatically Sends Visitors from Unsupported Countries to Dedicated URLs
Using this functionality you can send visitors from the selected countries to specific
URLs containing some dedicated information
about particular service and delivery terms in that regions.

URLs to Countries Assignment
Provides Restrictions (both Whitelists and Blacklists)
The module includes the whitelists and blacklists functionality and allows you to either
include or exclude certain URLs
from the localization process.
By default, the whitelist allows redirects of all store areas, while the blacklist has several restrictions, including commonly used search engines (e.g. Google bot, MSN bot, etc.) and certain Magento functionality.
Geo Targeting Typical Applications
Geo targeting is widely used in ecommerce
and allows merchants to provide customers from different countries with excellent shopping experience.
Dedicated stores
deliver customers a tailored content
, which takes into account cultural peculiarities of different nations. The language they speak, the currency they pay in, and the taxes specific to one or another country – all this makes your store
closer to visitors
and puts you on a par with local and familiar stores.
Using the geographical targeting you can
provide customers with only relevant information
regarding the nearest to their location physical stores and distribution warehouses. You can also differentiate certain prices, shipping terms and make specific offers for customers originating from definite locations.
So, if you need more information regarding the GeoIP Redirect Magento extension, you can visit the
module's page
in our store, or try the extension in action in our
demo store
.
If you have some questions about this Magento extension, share them in the comments below, please.
Subscribe to our
RSS
.