We are hardly billionaires here, but we definitely know how to grow the company to a well-to-do business: hire the team of professionals and cultivate their desire to master skills and jump higher. Eventually, it pays.
Let's give salutations to our developers,
Ilia Sokolov, Sergey Ostapchik, Michael Valushko
, for achieving the statuses of
Magento Certified Developer Plus and Zend PHP 5.3 Certified Engineers
!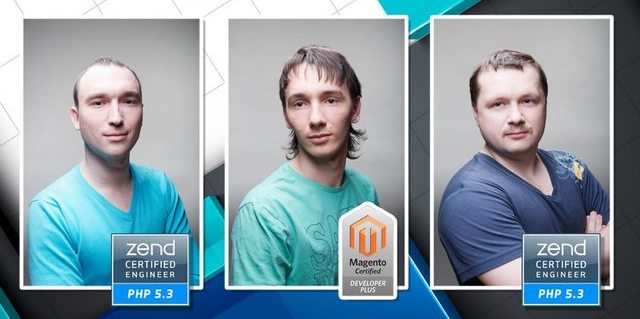 Starting from the left are Ilia, Sergey and Michael
I believe there are a bunch of developers among our readers who are also pursuing the goal of becoming certified Magento or Zend PHP engineers. That's what our guys have to say them about the certification process and how useful certificates might be.
Expect Questions with Tricks
Ilia Sokolov, Zend PHP 5.3 Certified Developer
, "This certification is a qualification exam meaning that whoever passes it can proudly call himself a PHP master. Examinees with high scores receive the certificate testifying that they are engineers recognized by Zend Technologies company.
It's difficult to define how long you should work to become familiar with PHP
, since programming in PHP and dealing with various tasks, a coder constantly discovers new solutions. If we talk about the certification preparation, it took a month for me.
Keep in mind that Zend Technologies provide materials to get acquainted with certification requirements - short and concise notes about its structure. Info about the Zend PHP 5.3 Certification is available
here
. To download the Zend PHP Certification Study Guide, register on Zend official
website
.

I have ambivalent impression about questions
. Some of them were outrageously simple while others included "tricks", let alone they were rarely used in daily practice.
I am very happy I am now a certified PHP engineer. Preparing for the certification, I have adopted certain skills I will surely apply."
Real Preparation Lasts Years
Sergey Ostapchik, Magento Certified Developer Plus
, "I wouldn't say it was hard to pass the exam. I had been preparing myself for it since I started coding for Magento (in my case one year and a half).
The test is not about facts to memorize,
so you'd better learn Magento architecture and system functionality as a whole.

The certificate gives me a feeling that I am on a new level of Magento extension development, it obviously increases my self-esteem and respect of colleagues. From a programmer's viewpoint,
Magento is a very 'pure' system with clear structuring tools.
This fact and understanding that trade is my cup of tea motivate me to simplify and automate processes related to Magento development."
Certificate Benefits Are Overestimated
Michael Valushko, Zend PHP 5.3 Certified Developer
, "I don't think that certification was that easy. There were questions about documentation and no one usually learns it because documentation is always at hand.
As for me,
I spent 4 days to prepare for the test
: read the second edition of the Zend PHP Certification Study Guide mostly. It is not very useful in terms of knowledge, but is good for a general idea about the exam.
To my mind, benefits of the certificate are largely overestimated. The scheme "if you remember details by heart - you'll pass " works quite well.
As far as I know, the Zend PHP Certification is not in high demand in Belarus.
In the US, however, it helps getting a job anywhere you want.
Freelancers will also take advantage of it."
Our developers share different opinions regarding certificate ability to check real knowledge decently. Have you already passed any of these certifications? Are you planning to do it someday? Do you believe in the power of certificates? We would like to hear from you in the comments!