In accordance with the ecommerce etiquette, rewards points are a compulsory element of any online store.
Not only made to observe traditions reward points are able to
motivate additional sales
and even take part in transactional processes, including refunds. The next version of our Reward Points extension for Magento 2 allows you that thing and even more to make rewarding closely intertwined with the sales mechanism.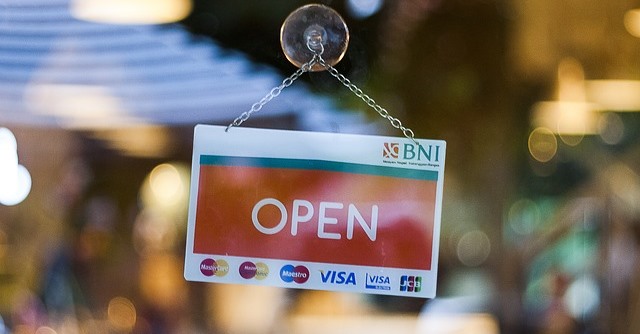 Today we present you
Reward Points 1.1
that received a lot of
enhancements
that significantly extended its scope of competence.
Reward Points 1.1 for Magento 2
Refunds with Points
This function is extremely valuable for any digital store as it brings
two obvious advantages
. First of all, it allows you to get rid of unwanted money transfers often entailing additional costs. The second and, possibly, more advantageous benefit is that you can retain customers this way and get more sales.
If the setting option
'Refund to Reward Points Automatically'
is enabled each new credit memo page appears with the Refund to Reward Points checkbox. The box is checked and prefilled by default, so you have nothing to do, if reward point based refunds are usual in your store. Still, traditional refunds are also possible, if you uncheck the box before you save the related credit memo.
You can also
partially refund
orders with reward points if you specify their number applied to this order in the nearby text field.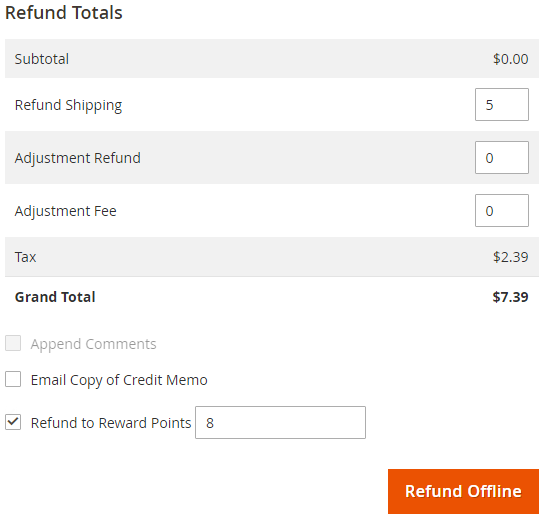 Updated Credit Memo Page
Spent Points are Returned Automatically for Refunded Orders
As far as refunds are usual in any online store they naturally affect the orders involving reward points. And, if the number of such orders is significant, it becomes difficult to track them and
return spent points to customers
manually. Reward Points 1.1 allows you to automate this activity in just one simple step.
If you need to enable this functionality, select 'Yes' in the '
Reimburse Points Spent on Refunded Order' drop-down
of the extension settings. That's all! If a customer used points during the checkout, he gets them back as soon as the order is refunded.
Revoke the Points Earned within Refunded Orders
Reward Points 1.1 allows you to individually make decisions about the points earned via subsequently refunded orders. The most obvious decision here is likely to revoke the previously received amount, but if you'd like to promote upcoming purchases, you can leave them on customer balances.
For the purpose you just need to set up the corresponding value for the
'Cancel points earned on refunded order'
settings option.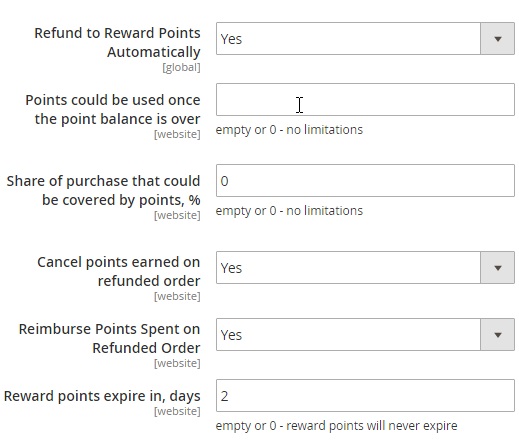 New Setting Options
Minimum Balance to Use Points
In order to limit the quantity of orders with points and simplify their processing you can determine the
minimum balance of points valid to be applied
during the checkout. The 'Points could be used once the point balance is over...' option of the extension settings allows you to determine the required threshold. If the option is provided as '0', no limitations are applied.
Share of a Purchase Allowed to be Covered with Points
In order to streamline and regulate your everyday cash flow you can
limit the share of a purchase that can be paid by points
. For the purpose you need to determine the limitation you need using the 'Share of purchase that could be covered by points, %' option.
'Customer' Grid Enhancements
The backend Customers grid obtained two new columns:
Balance Update Notifications (status)
and
Points Expiration Notifications (status)
. The columns show whether a customer is subscribed to balance update and/or points expiration notifications.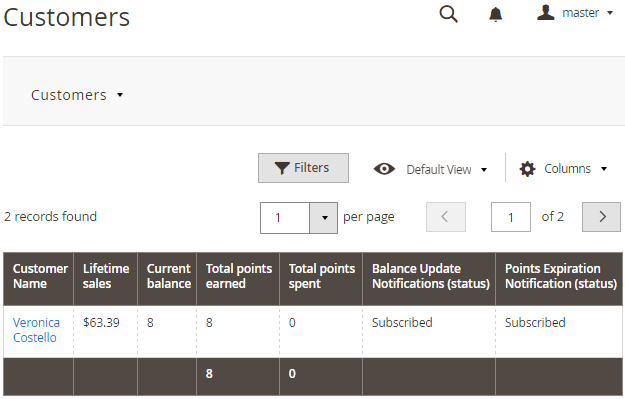 Updated Customers Grid
If you need to estimate total spending of points for a definite group of customers or all the customers within a certain period you can view it in the newly added
resulting row
summarizing earned and spent points by customers.
'Transactions' Grid Enhancements
Reward Points also obtained an improved Transactions grid with
additional and some hidden by default columns
.
The new
Balance 
column allows you to track customer balances after the transaction at a glance. Using the 'From-to' types of filters available for Balance and Balance Change parameters you can also precisely narrow down the range of displayed transactions.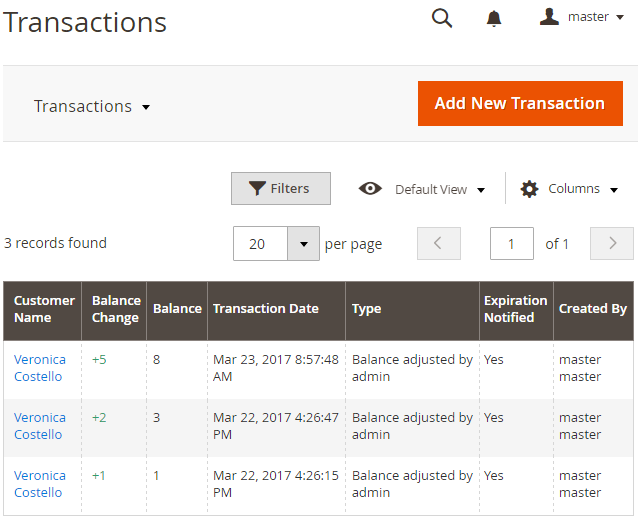 Updated Transactions Grid
From now on, Magento store owners can also track the owner of each transaction in the
'Created by' column
if the transaction is initiated by a certain backend admin.
Some columns of the Transaction grid are hidden by default in order to streamline the general view and simplify the perception of information.
Email Notifications
Reward Points 1.1 is equipped with a sophisticated email notification system:


Magento admins are able to set up sender contacts for their emails;


They can subscribe customers to reward point notifications;


Admins are able to choose balance update email templates;


They can define triggering events for balance update notifications, including 'Balance adjusted by admin', 'Order canceled', 'Refund by reward points', 'Review approved by admin' 'Newsletter signup', 'Points spent on an order', 'Points rewarded for product share', etc.


Admins have an opportunity to choose point expiration templates;


And, set up expiration reminder timing.


All sent emails contain 'unsubscribe' links leading to subscription status update notifications on website homepages. Also, customers are able to manage their notification subscriptions in their accounts:
My Account -> Newsletter Subscriptions.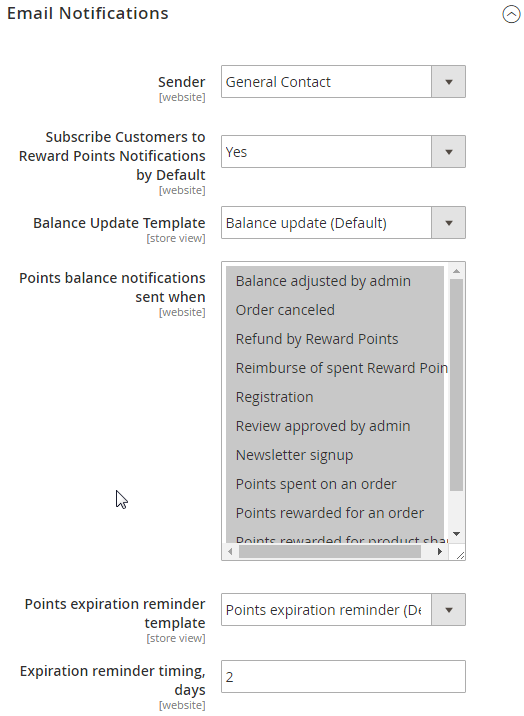 Email Notification Settings
Reward Points Usage Flexibility
This version of the extension also has some frontend enhancements. The customers who have a chance to pay with reward points are able to cancel their usage, if necessary, right on the shopping cart or checkout pages.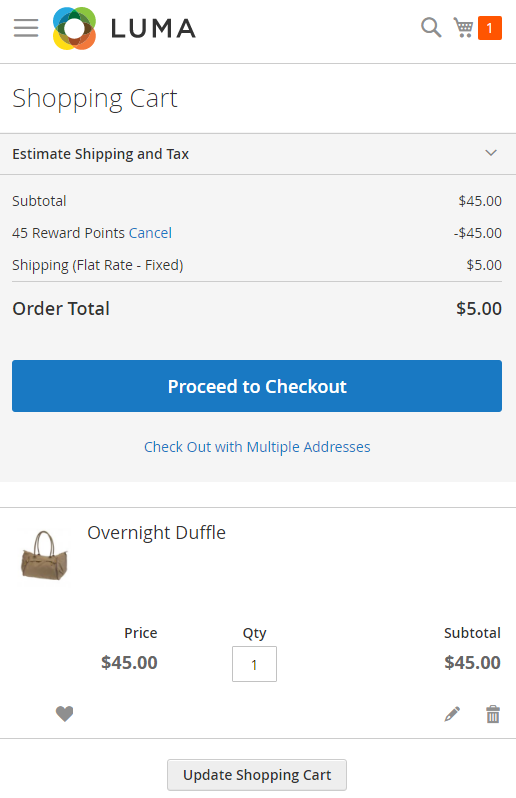 Reward Points Usage Cancellation (Shopping Cart Mobile View) 
Refactoring and Unit Tests
Reward Points 1.1 contains several
refactored frontend and backend elements
, including the balance top link, internal extension's menu, and customer comments section of the Transaction grid. We've also reworked and updated its unit tests.
Service Contracts Based Architecture
Reward Points 1.1 is based on service contracts and allows you to integrate it with third-party Magento extensions and solutions easily. Further development of necessary interfaces is able to introduce absolutely new and unique areas of implementation for the extension, e.g. offline payments with points via POS systems.
Conclusion
The current version of the extension further improves its functionality and allows you to
use reward points almost anywhere within the shopping process
.
Rewards Points 1.1 for Magento 2
provides admins with additional management opportunities that make rewarding beneficial and streamlined for both store owners and customers. Merchants are able to build and tune truly beneficial loyalty programs, while customers always stay updated on all point spendings, earnings, and other balance updates.
The latest version of the extension is available for purchasing and update in our
Magento 2 store
. You can also try it in action in our
demo stores
or get more detailed information from the
extension's User Manual
.