Editor's note:
Actually all the purchases we make during our lives may be considered as repeated ones. The SARP 2.0 Magento extension makes recurring purchases available for your customers and allows them to subscribe to products and get them on a regular basis.
New
Subscriptions and Recurring Payments 2.0
has numerous features providing excellent functionality for subscriptions and recurring payments management. It's a new generation of our Subscriptions and Recurring Payment extension, which uses native business logic of payments methods and allows you to bring your subscription program to a totally new level.
Note:
SARP 2.0 is not compatible with the previous SARP versions. The module supports PayPal Website Payments Pro and Authorize.net ARB payment methods only.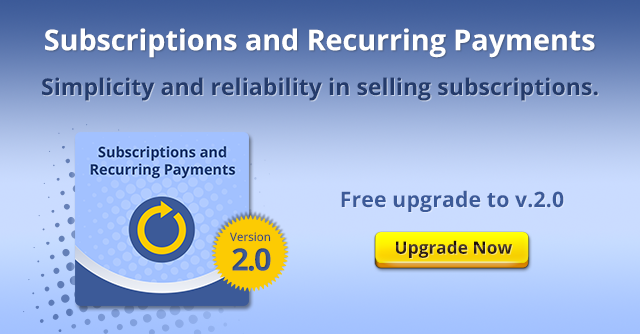 SARP 2.0 features in brief:


Main payment methods support


The SARP 2.0 extension supports 
PayPal Website Payments Pro and Authorize.Net ARB
 payment methods. All the payments are processed on the payment gateway side and customers can experience all the advantages of their business logic. Each website within one Magento installation has its own subscription engine which is configured in main settings.



All Magento product types support


SARP 2.0 supports all Magento product types that can be sold as subscriptions: simple, downloadable, configurable, grouped, virtual, bundle.


Subscription engine specific options


You can settle trial periods for your subscriptions or set up an initial fee* for starting with new subscriptions.

You can establish different prices for different subscription periods, including trial prices or prices for long-term cooperation.


Manage subscription start day


You can choose payment start date for any subscription type: the last day of each month, purchase date, certain date of a month or just let your customers define this parameter.



Customizable subscription periods


Admins can determine minimal subscription intervals: day, week*, fortnight*, month and year or set up three days or two weeks or any other quantity of time units as minimal intervals. Infinite subscription type allows customers to get products within an indefinitely long term.

*PayPal only


"Only subscription" option


You can specify the products, which can be purchased only via subscription.


Recurring profile statistics in the admin area


Admins can check subscriptions-related information such as customer's name, date of payment, start date, subscription's status (active, suspended, canceled, reactivated, expired) from the backend.


Subscriptions in My Account


Customers can check the status of their subscriptions in My Account area.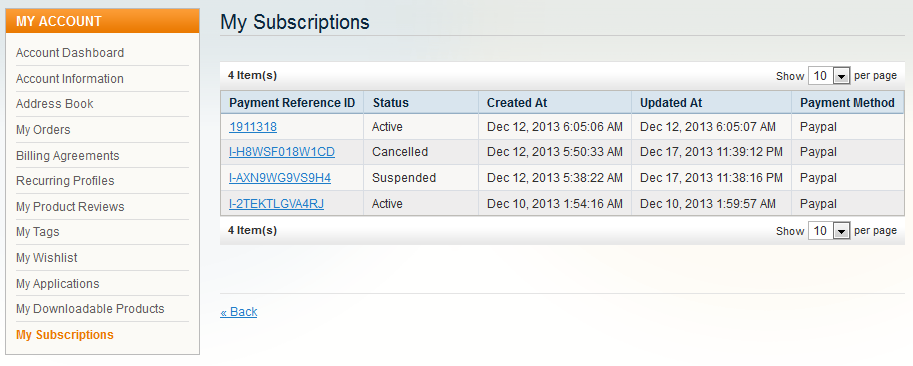 Selling subscriptions is beneficial both for merchants and customers. Buyers are spared from the necessity to perform repetitive purchases of the same goods and merchants are sure about their future sales volume.
SARP 2.0
provides exceptional simplicity and reliability for customers processing recurring purchases and gives merchants numerous options for configuration. It ensures transparency of subscriptions' status and functioning.