Continue the word chain: Southeastern Europe, Romania, Transylvania, computer geeks… Right, Cluj-Napoca.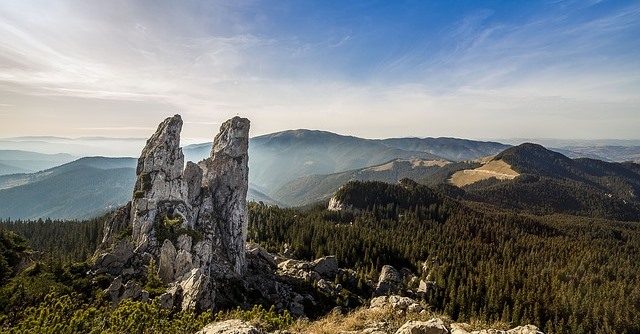 Cluj-Napoca is considered to be the 
Romanian's technopolis
hosting multiple successful IT companies, including Magento-oriented inhabitants. So, it is no wonder that Meet Magento Romania is helding here for the second time.
aheadWorks traditionally offers you to save using the 
coupon code
provided by the organizers of Meet Magento Romania 2015. Keep calm and stay till the end. :)
Meet Magento Romania 2015
This year it's going to be a
two-day conference
and organizers expect to involve
50% more participants
than in 2014 both from Romania and world-wide. It's a great number, especially when we take into account that the first edition attracted 300+ attendees.
Venue
Meet Magento Romania 2015
is going to continue for two days, October 2-3. The venue is changing this year and now it is a five-star accommodation.
Grand Hotel Italia
is going to be an excellent placement for multiple speakers and attendees of MM15RO. The hotel provides great meeting facilities with free Wi-Fi and parking. As a tourist destination the hotel is positively reviewed by most visitors and seems to be able to comfortably host all Meet Magento Romania attendees.
The hotel stands
4 km
from the center of Cluj and in
20 minutes
from the Cluj Napoka International Airport. Made in the Italian style it features spacious and bright interiors referring to the late 19
th
early 20
th
centuries.
Local Speakers and Companies
The whole Magento community is composed of multiple local leaders and enthusiasts, who develop and push it forward. Each local Meet Magento event is organized and held by
real people and companies
. So, Meet Magento Romania 2015 is a great occasion to highlight domestic IT companies, which organize, sponsor, and stow it with content. Below are presented local IT community speakers and their companies.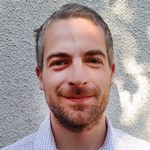 BOBY BEJENARU
SOFTWARE ARCHITECT, EVOZON
 Presentation: Load spikes reduced to normal: The full tech stack of our FPC.
Evozon (Platinum Sponsor)
Evozon is a software development and consulting services company. From the head office in Romania Evozon offers custom software solutions, business analysis, project management and quality assurance across the widest possible range of technologies and platforms.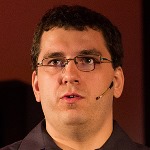 VLAD STANESCU
CEO, FOUNDER, MINDMAGNET 
MindMagnet (Organier and Silver Sponsor)
MindMagent is a proud organizer of Meet Magento Romania. The
secret to their successful projects is the team
. Their services: design and usability, custom web applications, Magento development, iOS & Android applications.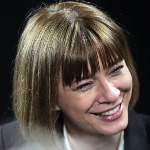 ELIZA ROGALSKI
FOUNDING PARTNER, ROGALSKI DAMASCHIN PUBLIC RELATIONS
Rogalski Damaschin (Speaker)
The true value of a PR consultant, such as Rogalski Damascus, lies in the balance between the interests of society and the clients they work for. They like to find
solutions, where no one sees a solution
.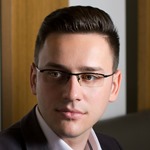 CALIN BIRIS
FOUNDING PARTNER, LOOPAA
 Presentation: Guerrilla marketing tactics (RO)
LooPaa (Speaker)
LooPaa is a
playhouse for a bunch of marketing and advertising addicts
cycling through euphoria and withdrawal. And, there are always newer and newer ways for them to get their fix. Today it's social media marketing.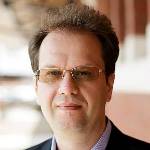 LIVIU TALOI
CO-FOUNDER, ECOMPEDIA
 Presentation: Sexy analytics for amazing software people
ECOMPedia (Speaker)
ecompedia.ro is a
site, where you can ask questions
of all kinds on electronic commerce, and the team of specialists or other online store owners can come to help, sharing FREE recommendations, examples or even constructive criticism.
Party404
Meet Magento Romania is a great occasion to meet multiple software engineers and project managers engaged in local IT community. Party 404, which is the part of the conference, is the
biggest IT geek party in Transylvania
, organized by local developers accessible for Meet Magento Romania attendees.
This year it will take place in
Club Midi, October 2
and expects over 850 people. Take your chance to meet friends and have tons of fun, since all MM15RO participants have the free access there.
Tickets
The
current price
of event tickets is €85 and €65 for groups of 4 and more. It includes the two-day access to workshops, drinks, snacks, coffee, lunch for the first day, and access to the after party event (Party 404).
Discount
Our readers have an excellent opportunity to save. Exclusively for you we offer a coupon code provided by the organizers of the conference. The coupon code 
mm15roahw
provides you with the
25% discount on any regular or bulk tickets
. Use it to visit beautiful Cluj-Napoca, meet friends and get new business ideas.
Conclusion
Meet Magento constantly discover new countries and gains a foothold almost everywhere it taps. Romania is one of them, where Magento conferences promise to be
regularly successful and popular
.
Each local event has its own specific features, but all they are inevitably based on a substantial local Magento community and this year
we also expect some new comers
, in particular Athens, Tokyo, Buenos Aires, and Prague. Stay tuned.
Add your comments below, please.