Free shipping has became a compulsory shopping condition for both local and global retail online stores. According to Marketingland.com, at least 9 of 10 customers say that free shipping is the main reason to purchase online.
However, we all know that free shipping costs anyway just being transferred to final prices of products. The logic of this transfer may differ considerably from one retailer to another, still the availability of free shipping depending on order amounts is often considered to be quite justified and fair grounding.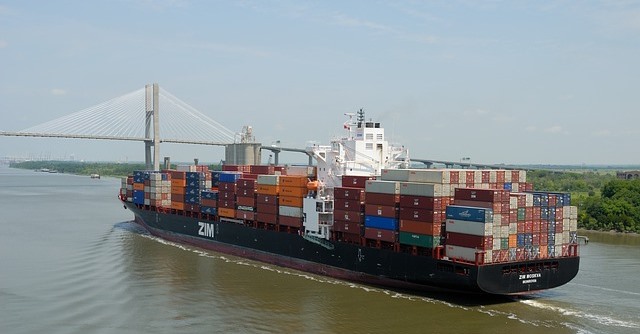 This way, the customers busy with their purchases in your store need to know the values of their shopping carts and future orders to reach the benchmark required to get free shipping. And, the
Free Shipping Bar extension for Magento 2
provides them with this opportunity throughout the entire in-store journey.
Free Shipping Bar
is a Small Business Kit extension and is offered to our customers just at $79, the same as any other modules of the set.
Free Shipping Bar
Once installed and configured the extension is going to stay useful for your customers each time they enter your store, while the highly customisable design allows you to make
bars unobtrusive and pointful
.
Backend
The module doesn't require any other configuration except general settings. Of course, initial setting may take some time, but then you can just forget about the extension as it
operates fully independently
.
The Settings section of the extension consists of five smaller areas: general settings, Where to display, Content, Design, and Preview.
General Settings
The general settings procedure includes enabling the extension, choosing required customer groups, and specifying free shipping goals. Free shipping goals determine the monetary threshold to be achieved by customers in order to obtain free shipping.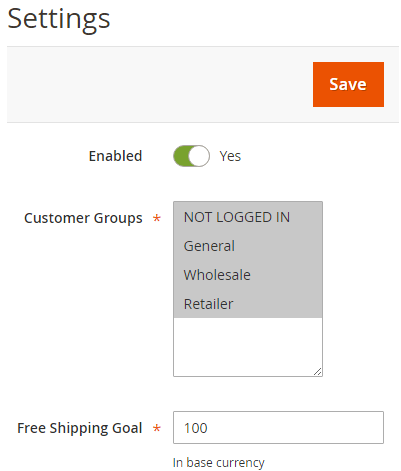 General Settings
Where to Display
Next, you need to determine the
pages suitable for shipping bar displays
, e.g. all pages, catalog or product pages, shopping carts, checkout or all of them simultaneously. The module also asks about layout positions allowing you to choose among some predefined options, including page top, page bottom, content top and bottom, etc. You can also set up delays for bar displays in seconds or enter 0, if no delay is required.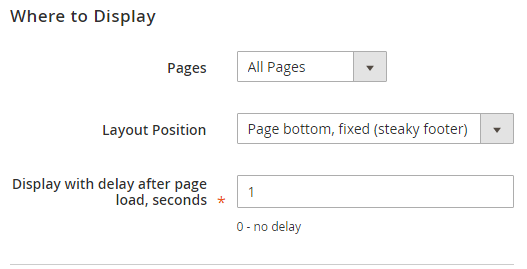 Where to Display Area
Content
Not only showing the free shipping goal the module also allows you to motivate customers to pack their carts with more products or consider some upsales. In fact, you can display
three different notifications
on free shipping bars.
The first one, for example, may notify customers on the beneficial availability to get products for a certain amount and get shipping for free. This content is suitable for the customers with empty carts. If a customer already has some products added, the notification is changed motivating him to add some products to the cart to get free shipping. And, if the monetary value of the cart is enough, the bar may congratulate a customer on this great result.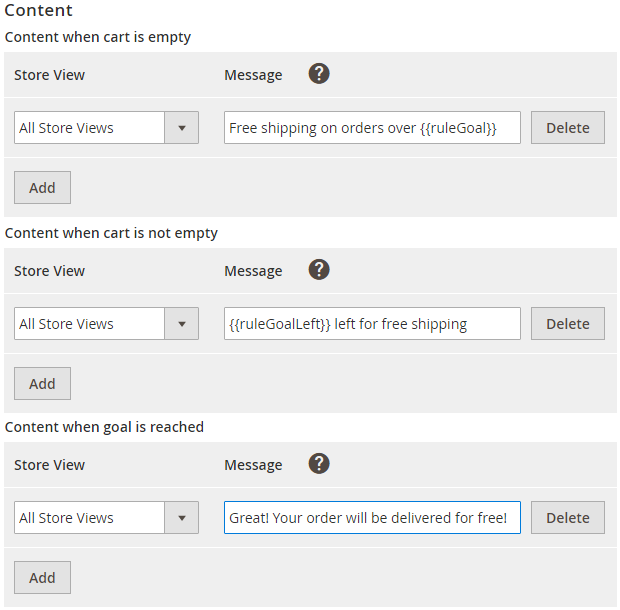 Content Settings
The message fields support Magento variables so each
customer receives personalized messages automatically
. You can also differentiate bars for store views, e.g. use suitable languages for certain locales.
Design
Attractive and unobtrusive design
of free shipping bars is settled from the Design configuration area. In order to gently notify customers on the opportunity to benefit from free shipping you can take advantage of versatile fonts, font sizes, weights, and colors. The font colors of goals may differ from the accompanying text and you can also easily paint own bar backgrounds.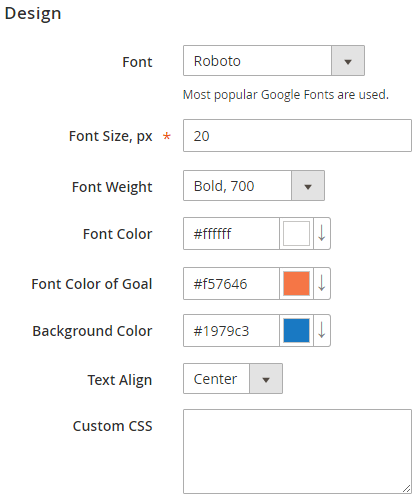 Free Shipping Bar Design Settings
In addition to the predefined design options the module supports CSS, so you can take advantage of really creative and original free shipping bars.
Preview
The last configuration section provides you with a chance to
recheck the content
without any distracting interface elements.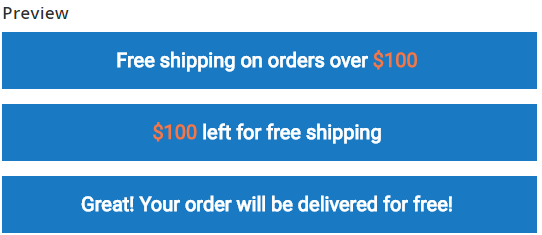 Preview Section
That's all! As soon as the configuration process is finished you can reward yourself with some rest and enjoy the result. And, we should also mention that the Free Shipping Bar extension
passes Magento 2 static test requirements
as far as the code of the extension has been properly tested by our developers.
Frontend
The result of the provided above configuration becomes
visible on the frontend
immediately. Depending on store pages, selected layouts and design your customers will see some neat and natural notifications explaining them how to get the free shipping option for their products.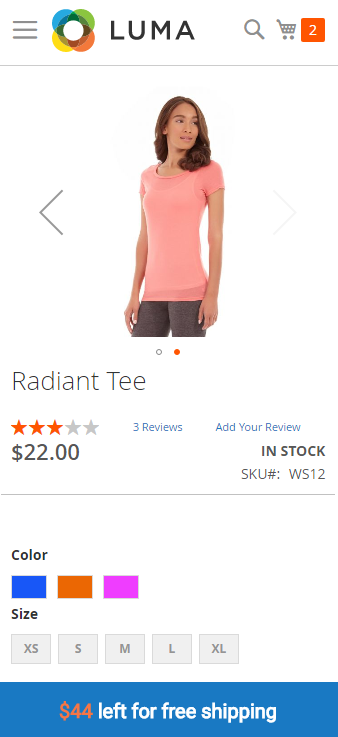 Free Shipping Bar on Frontend (Mobile view)
Conclusion
The
Free Shipping Bar extension for Magento 2
is an effective way to motivate customers to purchase more from you in order to ensure free shipping for their products. The module is included into our Small Business Kit and provided at only $79 for all Aheadworks customers.
If you'd like to
purchase this extension
or get some additional information on the provided functionality, please visit  the module's 
product page
. You can also refer to the
technical documentation
or try it in action in our
demo stores
.