Five days left until
Meet Magento Germany
in Leipzig! It's likely you started preparing yourself for the meetup (at least mentally), so the closer the due date is the more excited you get about meeting old friends, drinking German bear and listening to Magento presentations, of course.
Even though we can't chill with you there (by the way, get used to saying '
Prost!
' billions of times in Germany), we, nonetheless, want to be sure you'll have a lot of fun during the event. So we came up with a
GAME QUEST
for all Meet Magento De participants.
As a motivation for you to play with aheadWorks, we'll reward with
$100
discount on our products everyone who completes the game and finds out a magic coupon word. So you'll have fun, get acquainted with peer participants, stretch your brain and finally obtain
$100 gift discount code
. Damn easy, right?
Rules of the Game
When you enter the Westin Hotel on June 3, event organizers will give you bags with sponsor advertising materials. At this point you need to open the bag and pick up the
aheadWorks flyer
(see the samples below).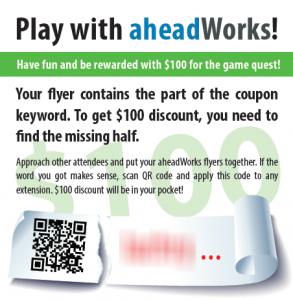 Put together
Your flyer will contain
the part of the magic coupon keyword
(either the first or the second piece), so you should find the missing half to get $100 discount. How to do it?


Approach other attendees and put your aheadWorks flyers together.


If the word you got makes sense, scan QR code.


Apply this coupon code to any extension. $100 will be in your pocket!*


For example, you may get the flyer with the '
nir …
' word part. When you detect the other flyer with the '
… vana
' half, you can build the whole word '
nirvana
' and it will become $100 coupon to apply via QR code.
I won't tell you how many meaningful words you can compose (
hint: not more that 10
). But I assure you I beat my brains out to make up decent words and cause you break a sweat. ;)
Good luck and enjoy the game!
*Both you and your comrade can use the same code.