Are you ready for the coming burst of positive emotions, inspiration, and creative Imagination?
Imagine 2014
is almost here and we have already turned our heads to marvelous Las Vegas standing a bit excited in anticipation of this greatest Magento event of the year.
aheadWorks is delighted to be a part of this grandiose event and would like to welcome our partners, customers, and all attendees of Imagine 2014.
We are traditional participants and sponsors of Imagine events. This year we are pleased to invite you to our lounge in the Marketplace, where you can contact us anytime within working hours starting from the very
Marketplace Grand Opening, May 12, and 3:00 p.m.
and discuss your questions and ideas, share information, or just say "Hi".
We could also catch up at 
PreImagine 2014
and
the Official Imagine Preconference Party by Levementum
with those, who arrive early, or
at
 Magento Industry Partner Program – Panel Discussion, and Partner Reception
meetings.
Our Imagine 2014 Team

Artyom Rabzonov, CEO and co-founder.
Artyom is keen to tell you about aheadWorks' Product Strategy, and provide detailed information about our solutions, including
aheadMetrics
.

Alexander Galtsow, VP Partnership and Communications.
 Direct your questions regarding the benefits and opportunities of our
Partner Program
 to Alexander.  He'd also gladly discuss any other possible options to join our close-knit team for mutual collaboration.
Apart from the warm reception by our guys, you have some more reasons to meet aheadWorks team:


Discuss multiple opportunities for successful product distribution;


Discover our most recent plans for further product development and creation of new extension functionality;


Discuss media partnership and plentiful options for mutual creation and promotion of Magento-related content;


Consider the advantages of aheadWorks Magento referral program and much more.


Note:
We'll closely follow our team during the event and provide you with their breaking news via twitter. So, stay connected. :)
More Magento Events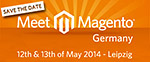 This year multiple Magento extensions are so tightly scheduled that some remarkable events are held at the same time.
MM DE 2014
will also hold May, 12-13. We sincerely regret that can't attend it, but hope it will be fabulous, as usual.
Just few names of prominent speakers, such like
Vinai Kopp, Rico Neitzel, Kuba Zwolinski, Sylvain Raye,
make us believe that the conference will gain a true success and favor of the European Magento Community.
Everyone still can purchase their
tickets
and enjoy the conference, Leipzig, and Magento.