Today, large web store owners strive to expand the network of their stores and enter the new niches of the market by creating multiple websites, stores, and store views.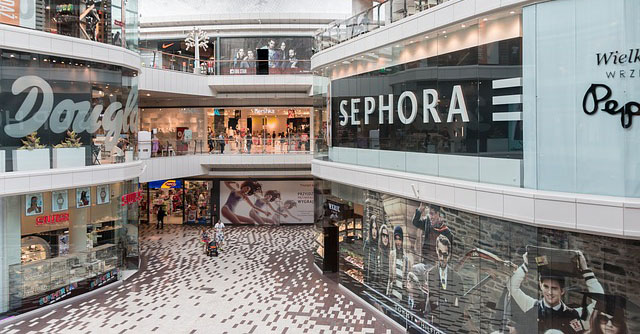 In this article, we will consider the major benefits of having a web store hierarchy of multiple websites, stores, and store views on Magento 2 for online merchants. But first, we will learn about the peculiarities of each level of this hierarchy.
What is a Web Store Hierarchy?
In general, the hierarchy of any Magento 2 web store can be organized in the following way: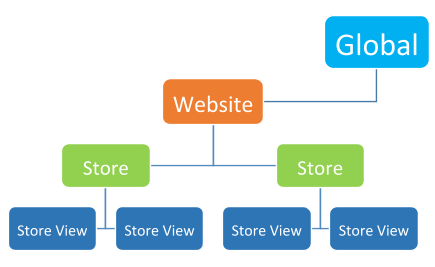 By default,
every Magento 2 installation
has one website, one store, and one store view. Still, online merchants can add any number of websites, stores, and store views and, thus, organize
a more complex hierarchy
of their web stores.
Let's consider the levels of this hierarchy in more detail.
Global
Global refers to the Magento 2 settings for the website that is created
by default
after the installation is completed. Those settings include inventory, prices, and other parameters that are initially specified by a merchant and then used for stores and store views.
Website
A website is
the basis of a web store
. From the same website, an online merchant can manage several stores. For different websites, Magento 2 merchants can create individual customer bases or, inversely, organize a universal base for all websites depending on their business goals. Default currency options, product prices, tax rules, shipping methods, and the like are also managed
at the website level
.
In addition, Magento 2 merchants can set up multiple websites with different domain names and IP addresses. This is reasonable when a merchant wants to create
several stores for one website
with, say, individual checkout processes. In this case, each store should have its own domain, IP address, and security certificate.
Store
All stores
that belong to one website have the same IP address, domain name, security certificate, checkout process, the same customer accounts, currency options, product prices, root categories, etc. In addition, all stores within a website can share the same product catalog or have individual product catalogs or even particular product lines.
Product catalog diversification among different stores is reasonable when the same business sells, say, clothes and electronics, in other words, products that relate to
completely different industries
.
Note that different stores within one website can also have separate root categories, which suggests creating individual menus and design for each store.
Store View
Store views relate to the different ways of
visual representation
of the same store.
As a rule, store views are used by large online businesses that sell products worldwide. Creating multiple store views can be beneficial for the situation when a merchant wants to sell products for various audience segments depending on the following criteria:


Languages;


Currency Options;


Product Prices;


Tax Rules;


Shipping Options;


Payment Options.


Managing those options in the format of several store views of one store is
easier and
more financially reasonable
than creating several retail websites with individual tax rules, shipping, payment options, etc., which means creating the whole new web store hierarchy. However, this variant does not suggests using different web technologies for different store views.
In case one website has
several store views
, the default currency, as well as tax rules, shipping options, etc., is set at the website level, while their alternative options can be managed at the store view level.
Note that all store views within one website share
the same
root category.
Store view diversification can be used when a merchant wants to introduce special offers for
particular audience segments
, including holiday and seasonal product sales. For example, the Thanksgiving Day is celebrated mainly in the United States and Canada, while in many other regions, people do not celebrate this holiday.
Let's consider the advantages of having a complex web store hierarchy in more detail.
The Major Benefits of a Complex Web Store Hierarchy
SEO & Affiliate Marketing Improvements
Having different websites with different domain names, a business will occupy more segments in search. With such domain names as, say, mysite.uk, mysite.us, and the like, a website might rank on
several language markets
simultaneously.
Being ranked in the corresponding search results, each domain will attract the required targeted traffic. In other words, a particular language domain will be visible to the people from the corresponding geographical location.
Affiliate marketing is another aspect of internet promotion that should be considered here. A website that contains several affiliate links to different sites can drive
more traffic
to them, thus, improving conversion rates of a business.
Price Variation
Another factor that should be considered by online merchants who organize their internet presence at the international level is
customer demand
. In different regions, people might have different expectations for the products they want to buy in a web store. These expectations depend largely on the
average salaries
in each particular region.
Keeping this in mind, store owners should not provide the universal prices for their products in all stores. Instead, they can consider creating several websites or store views within one website that will offer products at the prices depending on the average purchasing ability in particular regions.
Product Assortment & Shipping Options Differentiation
As we said earlier, thanks to complex web store hierarchy, online merchants can create different stores with different product lines.
In some regions, people just do not want or cannot afford to buy particular products, so it might be wise to offer those customers some specific product assortments different from other regions.
Product assortment differentiation is also important for online businesses in terms of
delivery services
provided in a particular web store.
For example, Amazon cannot ship particular products outside the U.S. That is why the company decided to set up
different language versions
of its site with different product assortments, available shipping methods, and checkout processes. Thus, the corresponding version of the site is displayed for those customers who live in those regions where the products offered can be shipped to.
Localized Content
Using different localized versions of the same website, merchants can provide specific
usability features
for their customers depending on their region. Those features include the possibility to change the language of a site, choose the appropriate currency (we will talk about this a bit later), and even view
location-based content
and promotional offers depending on user IPs.
In addition, the localization of store views means
the accommodation of all terminology differences
that exist between various language markets. For example, the "sweater" in the American English relates to the item that is called "jumper" or "pullover" in the British English. The same "jumper" word in the USA relates to a sleeveless dress, which is usually worn over a shirt, blouse, or a sweater. In Britain, in turn, this word relates to the kind of clothing which is used to cover arms and torso.
Undoubtedly, store merchants should keep this factor in mind when creating stores and store views for different locations. Still, there might be
much more cultural differences
, including the way people prefer to browse through a site (menus that should be organized either vertically or horizontally), color symbolism, etc. For example, in Japan, the yellow color is associated with wealth and bravery, while in China, it symbolizes profligacy.
Users in different locations might also deal with
slow connection issues
. In this case, online merchants should consider creating "lite" versions of their websites.
Currencies & Payment Options Diversification
Different currencies and payment methods, such as PayPal, Braintree, and the like, might not be preferred or even
not accessible
in some regions. For example, in Germany and India, people prefer to pay with debit cards rather than use credit cards or pay by cash. PayPal, for example, is available in each American state, but it is not supported in, say, Pakistan. The same goes for currencies.
Still, adding all existing payment options and currencies to one store means that the customers will be offered with too much choice of options, which they do not actually need. This, in turn, might affect
the conversion rates
of the store. That's why it's important to add only appropriate payment and currency options for each particular website or store view.
Complex Web Store Hierarchy Examples
GaitLine
GaitLine is the Magento based Norwegian web store that sells sports footwear. Currently, the store has one website with six stores and six store views. All the stores have the English interface and the same features, but different currencies: USD (the United States), DKK (Denmark), GBP (United Kingdom), NOK (Norway), SEK (Sweden), and EUR (EU). This way, by switching between stores, visitors switch between
different currencies
.
Nordstrom
Nordstrom is the American chain of clothing and accessories stores with
a strong online presence
. For the lower price segment, the brand created the Nordstrom Rack website. Though both websites represent the same brand, while, in fact, they are separate stores. As a result, Nordstrom Rack offers products at discounted prices that are poorly sold in the Nordstrom store as well as outdated products, which contributes to
a wider audience reach
.
Unilever
Unilever is the international company that sells consumer goods. Since the company partners with numerous brands that offer their products worldwide, each brand has different region-specific versions of their sites. With such solution, the company managed to create an individual content for each particular region.
Conclusion
With the properly organized hierarchy of websites, stores, and store views, online merchants can cover numerous customer segments and effectively adjust to the needs of each particular domain. Moreover, the reasonable implementation of it broadens the internet promotion opportunities for e-commerce businesses.
For the detailed information about the complex web store hierarchy configuration in Magento 2, read the official
User Guide
.