Reward Points for Magento 2
Improve retention and increase revenue by offering benefits to new and regular customers.
Reward customers with points on special occasions

Add benefit points for registration, newsletter subscription, product reviews, and other activities

Inform customers about point expiration dates

Show the number of points customers can get for buying products

Benefit from integration with M2 Smart One Step Checkout, M2 B2B Company Accounts, M2 Advanced Reviews

,

ConnectPOS
Current extension version: 1.8.5 | Compatibility: Open Source 2.3.7-p3+, 2.4.0 - 2.4.4; Commerce 2.3.7-p3+, 2.4.0 - 2.4.4
License:
Starting At
Special Price
$319.00
$319.00

30-DAY MONEY BACK

FREE INSTALLATION
30-DAY FREE SUPPORT

LIFETIME RIGHT TO USE
Reward Points Gallery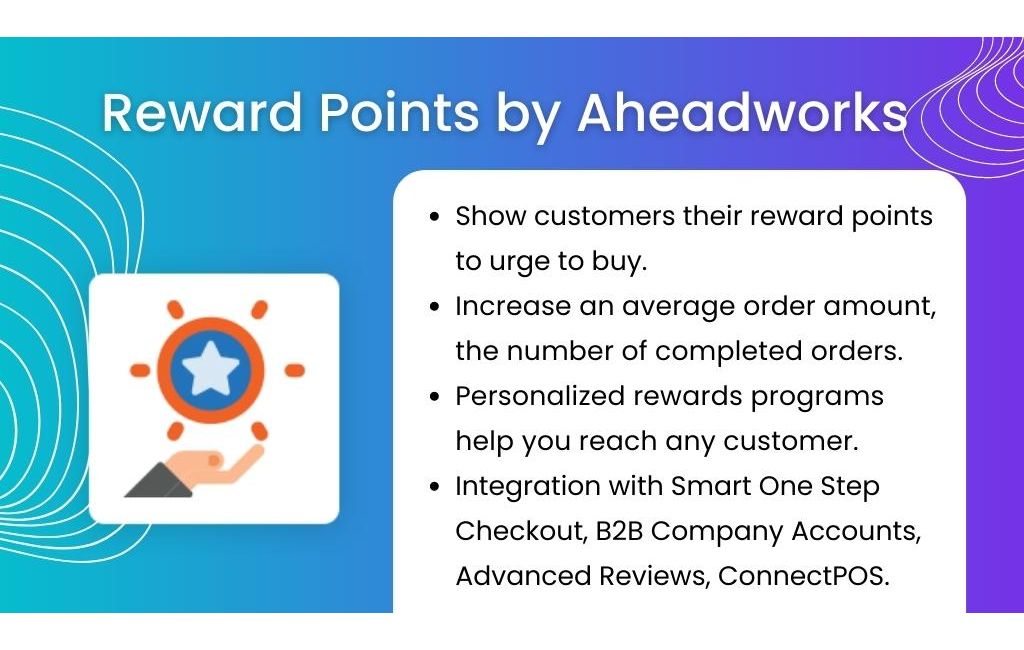 It's common knowledge that long-lasting relationships with customers contribute to significant revenue increases. Aiming at forming a loyal customer base, merchants are in constant search of efficient motivation strategies that are meant to reward customers, who make frequent purchases. It is vital for every e-commerce business to obtain a flexible tool that establishes a reward program, meeting customers' needs. Otherwise, users may drop out again and again.
Magento 2 Reward Points gives you the ability to implement custom reward programs that drive customer engagement and promote customer loyalty. Store admin can configure multiple rules with flexible settings to ensure all customers feel appreciated and valued. This way you will be able to award customers with bonuses for a wide range of transactions and activities. Stimulate repetitive purchases by specifying reward points expiration period. Use the rewarding system as an effective tool for product promotions. 
Gain customer loyalty with a smart reward program
Grow a loyal community and increase customer engagement with an automatic reward system! Specify a custom set of points earning and spending rates and for each selected customer group. Keep real money within the store by employing points as an in-store currency. Track transactions to customer point balance to analyze customer behavior and apply updates to your reward mechanism.
Turn visitors into buyers
Show benefits of shopping
Design promotions
Analyze customer behavior
Manage rules easily
ConnectPOS
Turn visitors into buyers
Turn visitors into buyers
Guide customers along with their shopping experience, clearly stating the activity and the number of points they are to receive or spend. Give points to customers on every one of the following occasions: customer birthday, product purchase, registration, newsletter subscription, product review submission, etc. The Admin can add points balance announcements and promo text to product pages to keep customers informed about the rewarding conditions.
Show benefits of shopping
Show benefits of shopping
Win customers back and stimulate them to come to your store more often by ensuring them that buying is beneficial. It is helpful to configure an option to show prices discounted by the number of points available to сustomer. What's more, you can let customers enter the number of points they'd like to spend during checkout.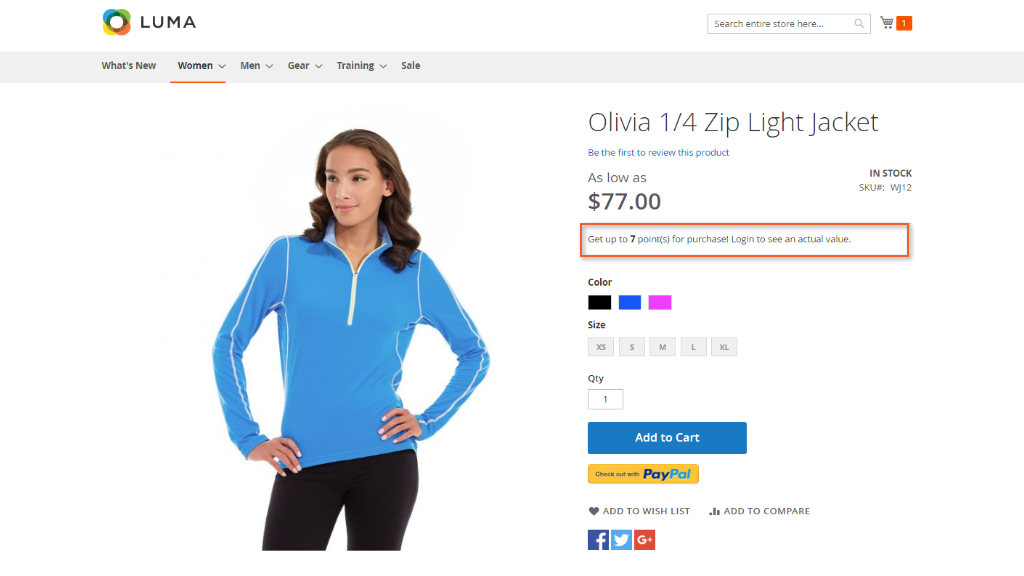 Design promotions
Perform outstanding marketing campaigns by offering reward points for particular products or categories. Decide which items can be discounted and which not by excluding products and categories from the points campaign. Configure multiple earning rates for various customer groups with different lifetime sales to make sure your motivation strategy correlates with the Reward Program terms.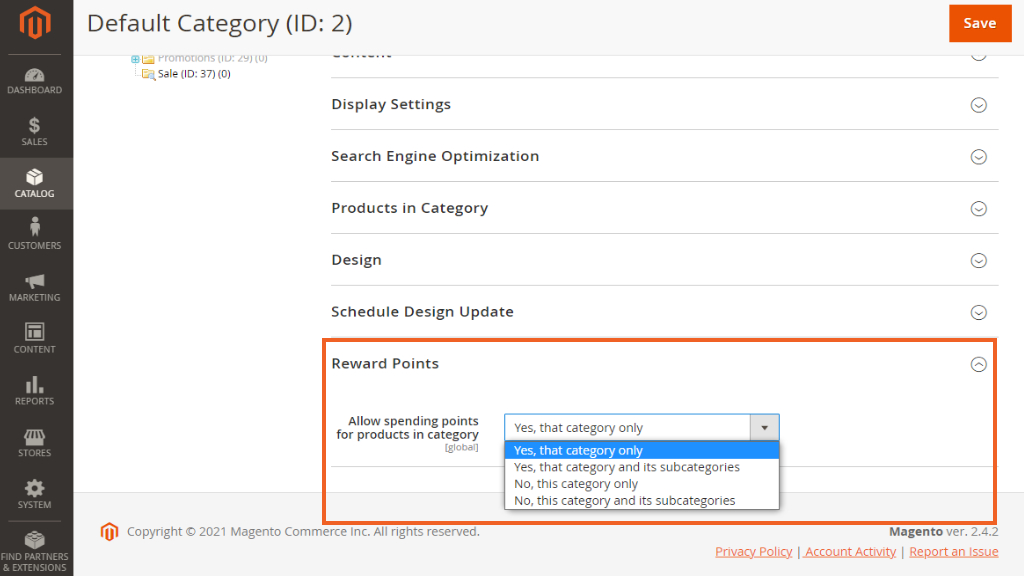 Analyze customer behavior
Analyze customer behavior
Have all the significant metrics at your disposal gathered in one grid. Monitor transactions with reward points and analyze shifts in customer behavior to adapt your sales strategies. Have control of the reward points amount of each customer as it is possible to view transactions history, check the points available to a user, and edit points balance in the Reward Points tab on the backend customer page.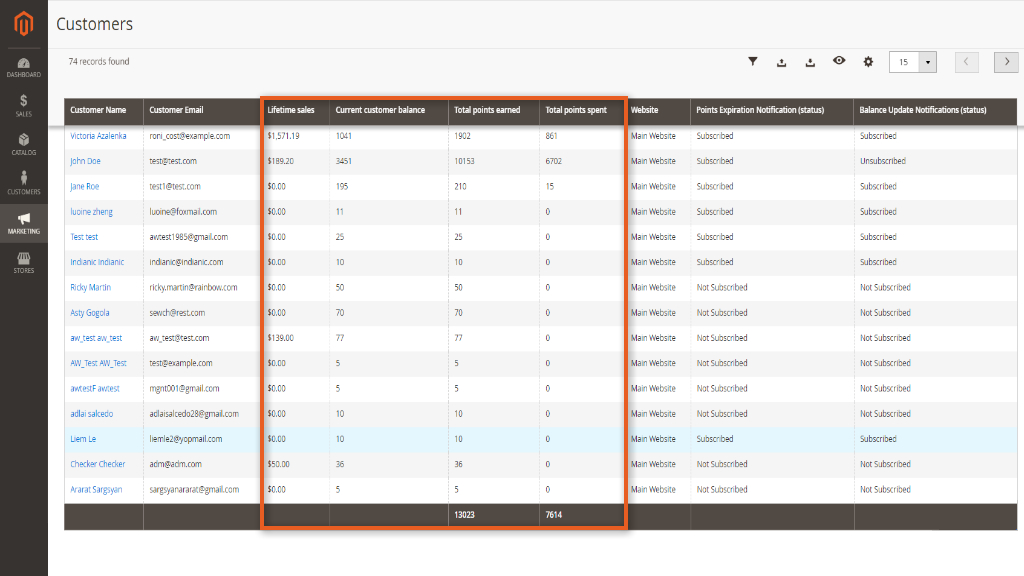 Manage rules easily
The Admin can set multiple points earning and spending rates which are dependent on customer groups, customer lifetime sales, and other parameters. Additionally, the Admin can define limitations for points usage, enable automatic refunds into points, promote reward programs by email, and more.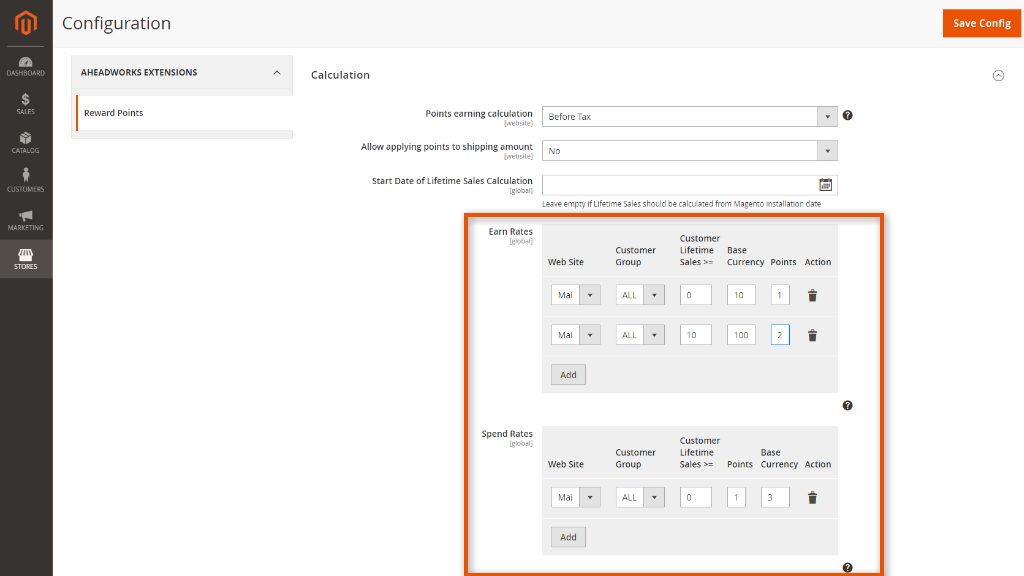 ConnectPOS
Benefit from a seamless omnichannel shopping experience and allow using points both in physical and e-stores to always hold actual data on the reward points balance of the customer and to keep track of their lifetime sales.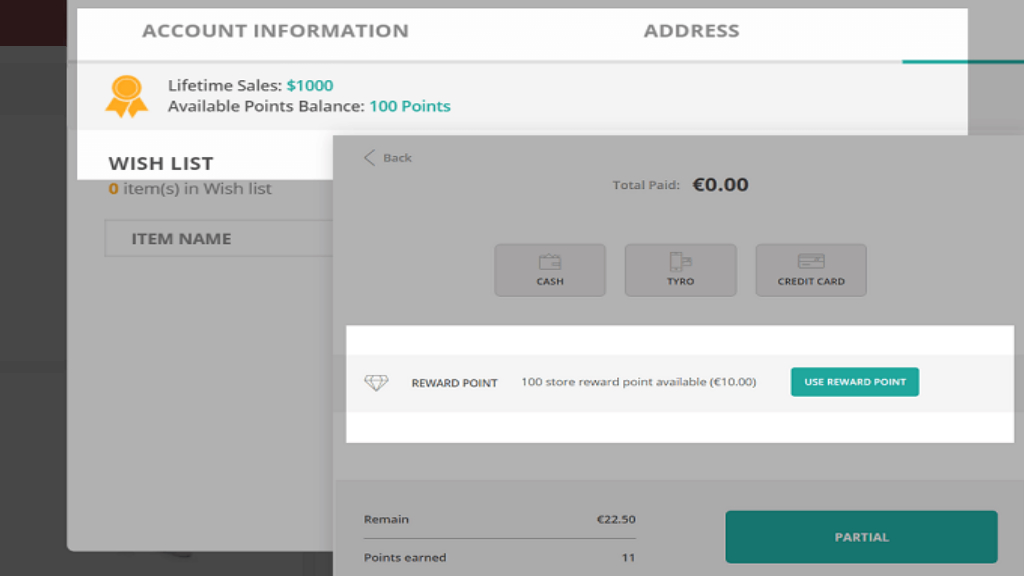 Refund orders into points
Define if refunds are to be done into points.
Enable or restrict points application for some products,  categories; decide when to apply points: before or after tax.
Define the minimum points balance available for use and set limits on point awards given on certain occasions.
Cancel points earned on refunded order
Define if points are to be deducted from the points balance of customers when their order is refunded.
Reimburse points spent on refunded order
Define if points that a customer spent on an order are to be automatically added to the balance when the order is refunded.
Define the time (in days), during which earned points are available to customers.
Monitor transactions with points, track changes to customer balances, and analyze the totals of earned and spent points.
Set up the percentage of the price, shipping, and taxes that can be covered with points.
Edit customer's points balance from the backend.
Export/import points balance
Export or import point balance as the .xml or .csv files.
Send email notifications to customers on updates to points balance, points expiration.
Customers can get reward points for each new product review submission.
Allow customers to use points when purchasing subscriptions.
Reward points are earned from all the purchases that are made by company users.  The points are stored in the company wallet and can be redistributed by the company admin.
1.8.5

Released 10.06.2022
+ Compatibility with Magento 2.4.4
* Fixed issue with installation for Magento 2.4.4
* Fixed issue with creating a transaction in Admin for Magento 2.4.4
* Fixed issue with creating the Order by Admin for Magento 2.4.4

1.8.4

Released 06.04.2022
+Declarative schema upgrade

1.8.3

Released 18.02.2022
*Customer can apply Reward Points to Subscription even if this feature is disabled
*Expiration reminder cron job fails
*Fixed issue with the link to the configuration page

1.8.2

Released 06.08.2021
+Integration with 2.0.0 OSC
*Validation message covers reward points field on OneStepCheckout page

1.8.1

Released 02.03.2021
+ An option to let customers enter points amount they'd like to spend on checkout
+ "Reward Points" tab has been added to the customer page on backend
+ Refactoring of the points applying process on frontend

1.7.2

Released 22.10.2020
* Fixes related to cron jobs work


1.7.1

Released 31.08.2020
+ Points for birthdays
+ Added option to set 'Start Date of Lifetime Sales calculation'
+ Compatibility with Magento 2.4

1.6.2

Released 12.08.2020
* Refunding via points is disabled for Guest customers.
* Fixed issues with data displaying in the Rules grid.
* Fixed issues with sorting data in the Rules grid.

1.6.1

Released 27.04.2020
* Code improvements for easier integration with the other extensions

1.6.0

Released 29.03.2019
+ Option for admin to apply points in backend
+ Integration with Advanced Reviews 1.1.0

1.5.0

Released 10.01.2019
+ Earning Rules
+ Promo text for Earning Rules
* Magento 2.3 compatibility
* Applied Points amount is incorrect when you have more than 2 items in the cart
* Minor translation improvements


1.4.4

Released 21.11.2018
+ Reward program explainer page (per-store within website)
* Magento 2.2.6 compatibility
* Fixed issue when the transaction status doesn't change to 'expired'
* Fixed filters in the 'Customers' grid
* Fixed installation issue
* "Monthly share points" are not reset after a month
* Incorrect share-URL creation when the order item is edited
* Fixed issue when the module affects the Newsletter Subscriptions page in the customer dashboard
* Fixed issue with bulk notification sending

1.4.3

Released 24.01.2018
* "Comment to Customer" is not visible on the frontend after new transaction's creating
* Points are shown on Cart page after canceling
* Magento integrations tests issue

1.4.2

Released 02.11.2017
* Multiple-customer transactions issue
* 'Spent reward points on order %order_id' string issue
* Magento 2.2 compatibility adjustments

1.4.1

Released 08.09.2017
* Namespace for ImportValidatorException

1.4.0

Released 04.09.2017
+ Data export tool for M2 points
+ Data import tool for M2 points
* Reward points are not given for review
* Wrong expiration date in email template
* Checkout notice adjustments
* Added 'Customer Email' column to the Customers grid
* Changed option description: Display prices discounted by available points
* Discount for the available points missing from product pages


1.3.1

Released 14.06.2017
* 'Request does not match any route' error on checkout (+solution)
* Cant' add Transaction on multi-store

1.3.0

+ A possibility to apply points before or after tax and on shipping amount
* Product page message adjustment
* Lifetime sales becomes negative if native discount covers Shipping in order

1.2.0

+ Invitation to subscribe to newsletter
+ Invitation to register
* Incompatibility with AW_StoreCredit: SC subscription block doesn't appear at "Newsletter Subscription" page


1.1.0

Released 29.03.2017
+ Email Notifications
+ Minimum balance value to use points
+ Add "Remove Points" action to Shopping Cart
+ Refund by Points
+ Admin column in the Transactions grid
+ Reworked unit tests for Points v1.1.0
+ Customers Grid: Add total statistics
+ Transactions Grid: add column with Balance after transaction
+ Customers grid: Notifications status columns
+ Reimburse points spent on refunded order
+ Cancel points earned on refunded order
+ Share of purchase that could be covered by points
* Refactoring of points balance top link (FPC)
* Refactor inner menu to fit standards
* Refactoring customer comments
* Hide some columns by default

1.0.0

Initial release 13.12.2016
+ Earn points for purchases
+ Earn points for registration
+ Earn points for newsletter subscription
+ Earn points for product review
+ Earn points for sharing products to social networks
+ Spend earned points on checkout
+ Tier Rates - customer lifetime sales can be used to define earn&spend rates
+ Points can expire
+ An option to disallow usage of points on products from selected categories
+ Backend: List of transactions in admin panel
+ Backend: Admin can create transactions with custom expiration date from admin panel
+ Backend: Statistics - list of all customers, their total lifetime sales, current points balance, total points earned & used.
+ Storefront: Top link to Reward Points with current customer balance
+ Storefront: Customer Account > Reward Points
+ Storefront: CMS page with Reward Points program
+ Storefront: Invitation to place an order at shopping cart page
+ Storefront: Points discount block at product page
+ Unit Tests Included
We would like to reward customer $20 credit for every $100 purchase. There will be no cap or limit on the rewards. We also would like to enable the "credit/reward" to be redeemable at a future range of dates. What would be the best way to set this up with your module?
Question by: Julia Gorobets on Apr 28, 2022, 11:46 AM
It is required to configure and add the Earn rate in Admin > Stores > Confgiurtaions > AHEADWORKS EXTENSIONS > Reward Points and set up the Base Currency/ Points rate to 10/ 2 accordingly for your scenario.
Also, please configure a Spent rate and make sure that no limitations are set for the Minimum points balance and the Share of purchase.
We also would like to enable the "credit/reward" to be redeemable at a future range of dates.
Currently, there is the possibility to set only the dynamic expiration date for reward points earned.
However, store admin can always manually adjust (withdraw/add) points on customers balances in bulk using transactions: Marketing > Transactions > Add New Transaction button and there is the option to set the expiration date for the points added: Expire in X days, or Expire on Ecat Date
Additionally, it is possible to restrict points spending on a category level using the following instructions of User guide:
https://aheadworks.com/resources/points-and-rewards/user-manual-points-and-rewards#:~:text=New%20Transaction%20page.-,Exceptions,-Along%20with%20the
Also, reward points can not be applied storewide if there is no Spent rate added.
Out of the box, there is no possibility to disable/ enable points spending on a scheduled basis.
Answer by: Julia Gorobets (Admin) on Apr 29, 2022, 11:38 AM