Quick Order by SKU for Magento 2
Streamline bulk orders by collecting and adding SKUs straight to Cart.
Quick Order list to receive multiple products by their SKUs
Search autocomplete by SKU and Product Name
On-the-fly product configuration and quantity updating
SKU import with a CSV-file
Customer group restriction to Quick Order
Compatibility with Company Accounts and Cart to Quote
Current extension version: 1.1.4 | Compatibility: Open Source 2.4.0 - 2.4.5; Commerce 2.4.0 - 2.4.5
License:
Starting At
Special Price
$149.00
$149.00

30-DAY MONEY BACK

FREE INSTALLATION

30-DAY FREE SUPPORT

LIFETIME RIGHT TO USE
Quick Order by SKU Gallery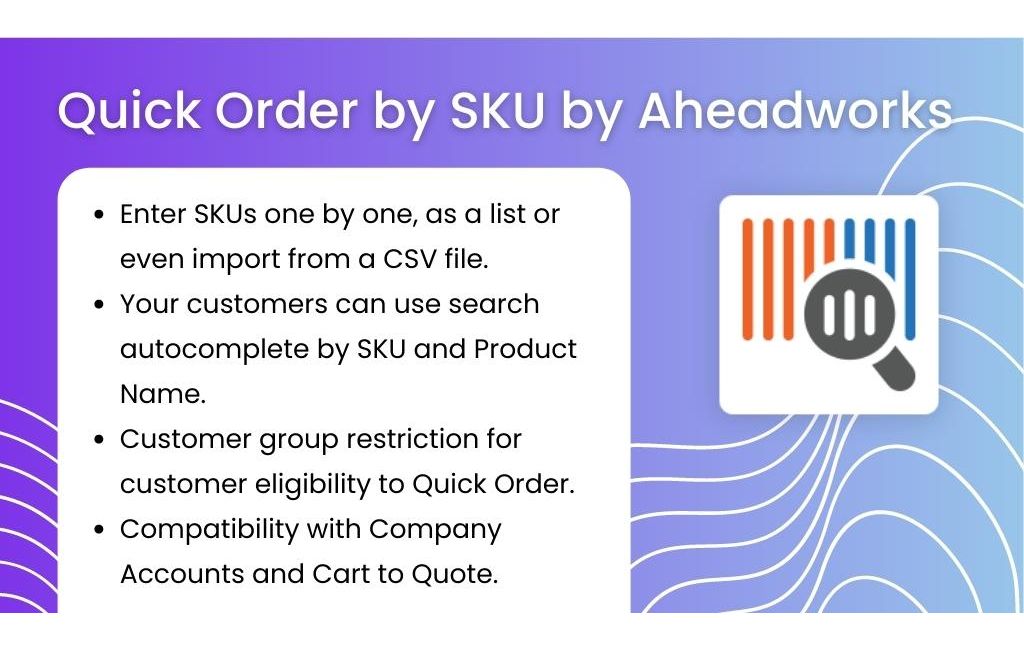 Quick Order by SKU extension Business Value
Time is money. The Quick Order by SKU extension for Magento 2 helps your customers save a great deal of time when shopping online and turn it into money for you. Retailers, wholesale customers and other B2B partners normally buy in bulk, and it is common for them to keep SKUs of previously bought items within their ERPs. It takes now only to copy-paste those SKUs into Quick Order and get the cart complete in a few clicks, visiting no product page, but at the same time being able to easily configure products should need be. Meant for B2B partners, Quick Order by SKU is surprisingly scalable to any size of business.
How Quick Order by SKU for Magento 2 Works
Let selected customers populate Quick Order Lists by inserting or importing SKUs, configure the products which require to do so, update the quantities and shape up ready-for-checkout carts - all in a few steps!
Search Autocomplete
SKU Import
Configuring Products
Search Autocomplete
Start typing in either a name or SKU of a product, and the system will suggest you options, which match the query, so that you never lose on a purchase.
SKU Import
Import SKUs from a CSV file where data is arranged in a simple table, easily retrievable from any ERP system or Microsoft Excel spreadsheet. Customers can later add products to the quick order list by entering their SKUs individually or in bulk.
Configuring Products
Products with options are to be configured before they travel to Cart. When added via an individual SKU, a popup will prompt to configure the product. When imported - watch for the Configure active link and the corresponding message next to the product.
Magento 2 Quick Order by SKU Detailed Feature List
On-the-fly Product Configuration
1.1.4

Released 03.06.2022
+ Compatibility with Magento 2.4.4
* Fixed issue with adding a product to the Quick Order list for Magento 2.4.4

1.1.3

Released 03.03.2022
+Declarative schema upgrade

1.1.2

Released 27.08.2021
*Fixed issue with GraphQL dependency

1.1.1

Released 27.08.2021
+Selected customizable options are displayed in the Product Name column

1.1.0

Released 07.05.2021
+ Add products automatically to the order
+ Hide qty input
+ GraphQL support
* Fixed issue with Order Totals
* Fix issues with MSI functionality
* Fixed issue with multicurrency support
* Fixed issue with incorrect product availability validation for multiple SKUs import




1.0.4

Released 28.01.2021
* Fixed issue with search autocomplete keyboard navigation

1.0.3

Released 22.10.2020 + Magento 2.4 compatibility * Improved compatibility with Aheadworks Easy Reorder, B2B Requisition List * Minor UI adjustments * Fixed issue with images for child products


1.0.1

Released 08.04.2020
* Minor UI/UX adjustments
* Translation improvements

1.0.0

Released 02.04.2020
* Initial release
Does your Quick Order Extension offer the ability to use the native Magento Ship to Multiple Addresses feature as well?
Question by: Dave Christy on Sep 15, 2021, 6:22 PM
Yes, it offers the ability to use the native Magento Ship.
Answer by: Julia Gorobets (Admin) on Apr 21, 2022, 8:11 AM