B2B Cart to Quote for Magento 2
Negotiate requests for quotation with customers you trust and reach best win-to-win deals.
Creating requests for quote either on the back- or front-end
Multiple products per quote
Quote List alike a Shopping Cart
Alternating cession of control over a quote
Discount as a %, decrement or new total of the quotation bundle
Auto-approval of quotes
Integration with M2 Company Accounts and M2 Sales Representative
Current extension version: 1.5.0 | Compatibility: CE 2.3.X - 2.4.X EE 2.3.X - 2.4.X

45-DAY MONEY BACK

FREE INSTALLATION

90-DAY FREE SUPPORT

FREE LIFETIME UPDATES
Cart to Quote Gallery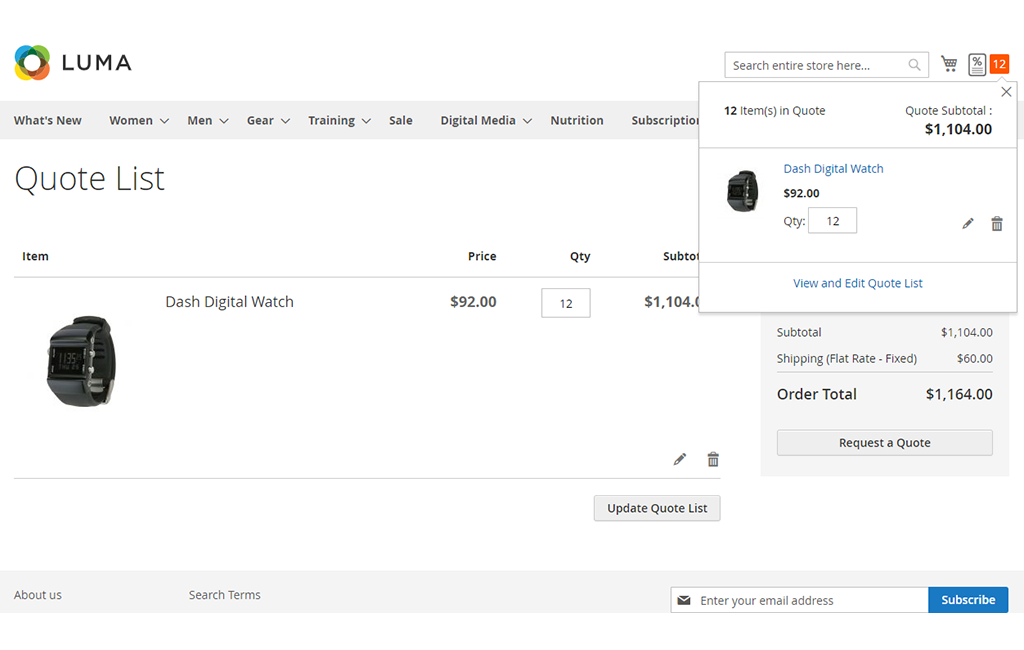 Give Chance to Negotiate to Your Loyal and Credible Magento 2 Customers
The Cart to Quote module from Aheadworks, an essential request-for-quote extension, is to support business negotiations, typical for the B2B scenarios, though frequent within the B2C too. The module facilitates customers' strive to get the precise and quantifiable product at the lowest possible price, as well as merchants' aspirations for higher profits, faster and larger sales. Furthermore, negotiations let parties experience the flexibility, generosity, and appreciation of each other, even if you are two big e-biz companies.
Merchant can enable or disable quoting for any customer groups selected in configurations. By selecting the Not Logged-in customers group, the Add to Quote button becomes available not only for registered users, but also for guests of the website. Visitors of the website can follow the same process as registered customers. After a guest submits a quote, further negotiations take place via email.
How Magento 2 Cart To Quote Works
Cart to Quote
Quote List to Quote
Statuses and updates
Quote to Cart
Discount calculator
Easy quote management
Quote to Order
Auto-approval of quotes
Cart to Quote
Add products to cart and convert it into a quotation. Write a covering letter, suggest details and attach files, if need be. Once submitted the quote is not available for altering, not until the reply comes. 
Quote List to Quote
Due configuration arranged on the backend, customers will be able to add products from category and product pages to Quote List in the same fashion as to Cart, and have the former detached from the latter.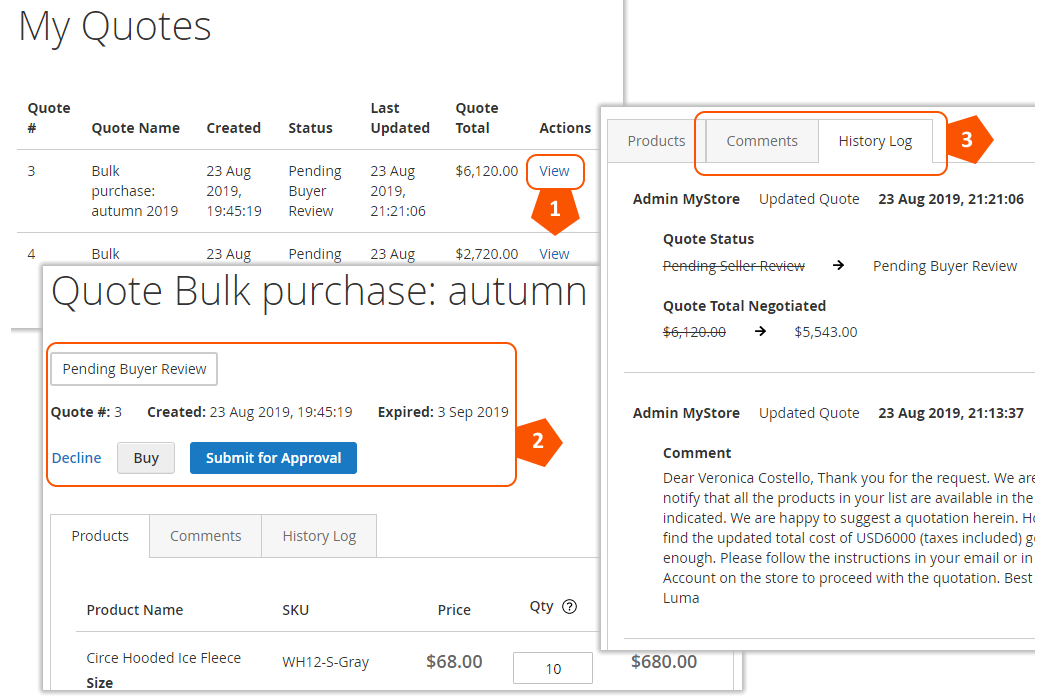 Statuses and updates
Check the status of current quotations, the comments to and history of negotiations of each listed quote. Decline, Buy (convert to cart) or suggest a counter-offer - all on the My Account page.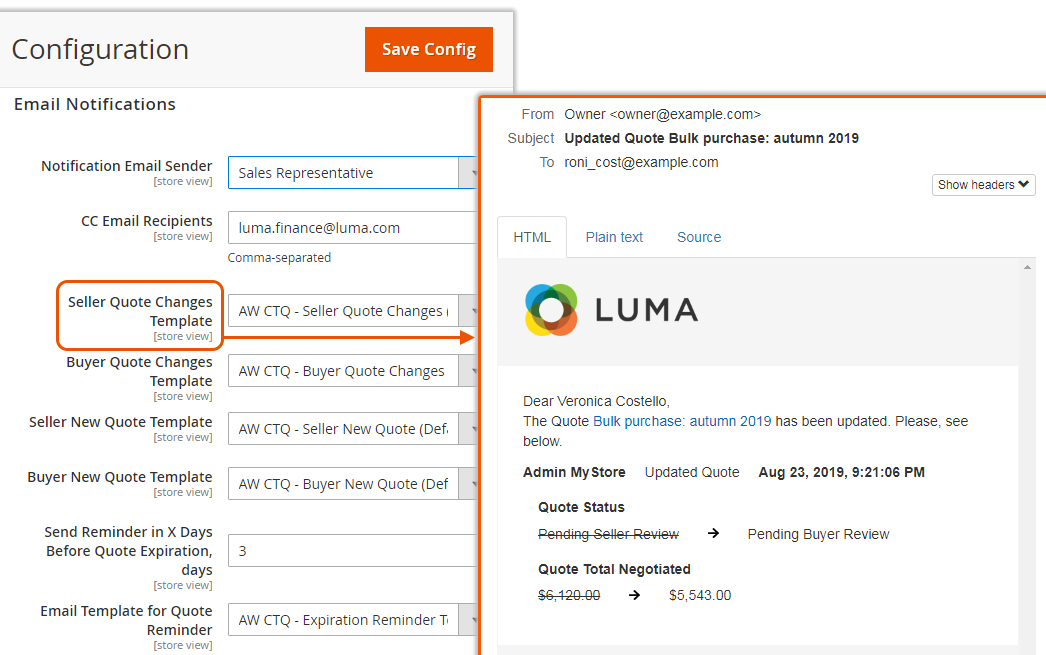 Quote to Cart
On approval of the quotation request by the admin, shoppers will see a corresponding quote status in My Quotes. They will then be able to turn the quote into cart and complete the purchase with the discount given.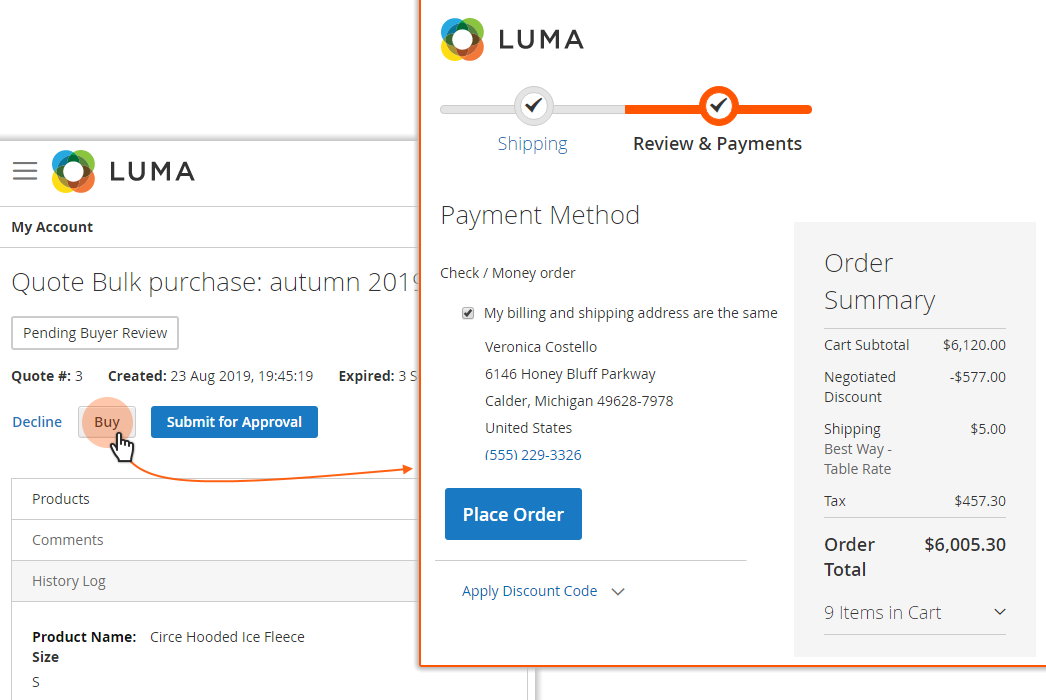 Discount calculator
Alter the quotation, so that it is both profitable for you and lucrative for the customer. Add products, change quantities; use %, numeric rebate or new total values to adjust the discount.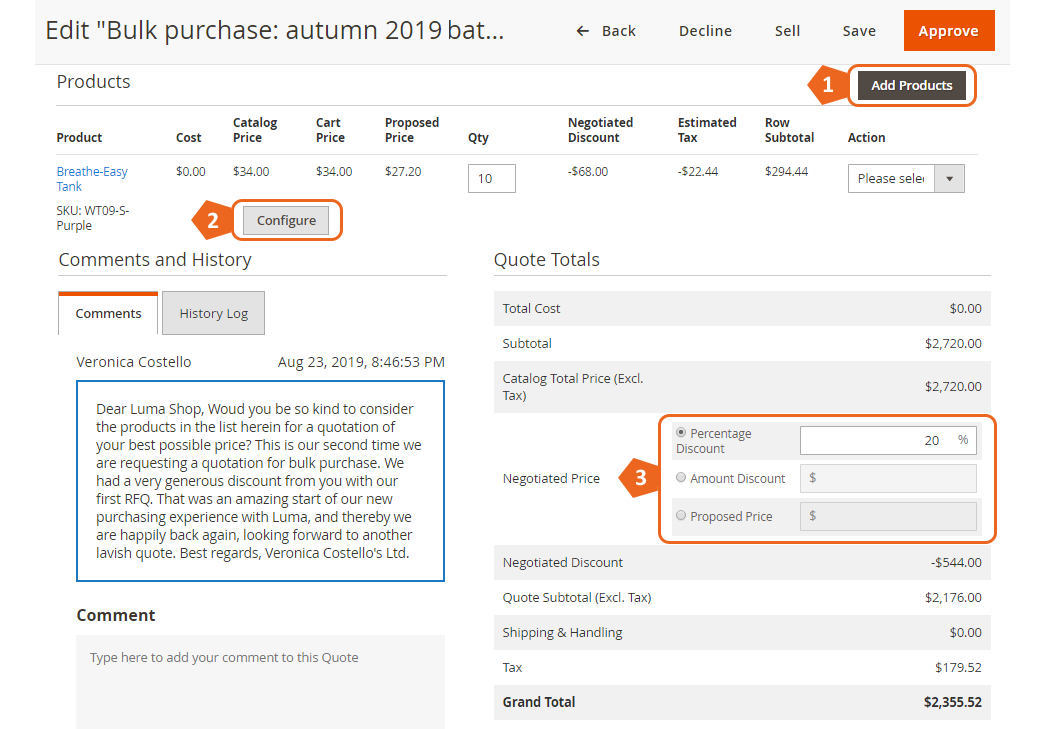 Easy quote management
Get a relevant status assigned to the quotation automatically on any updates to it made either by the admin or customer. Admins can set the expiration date and track changes to the quote.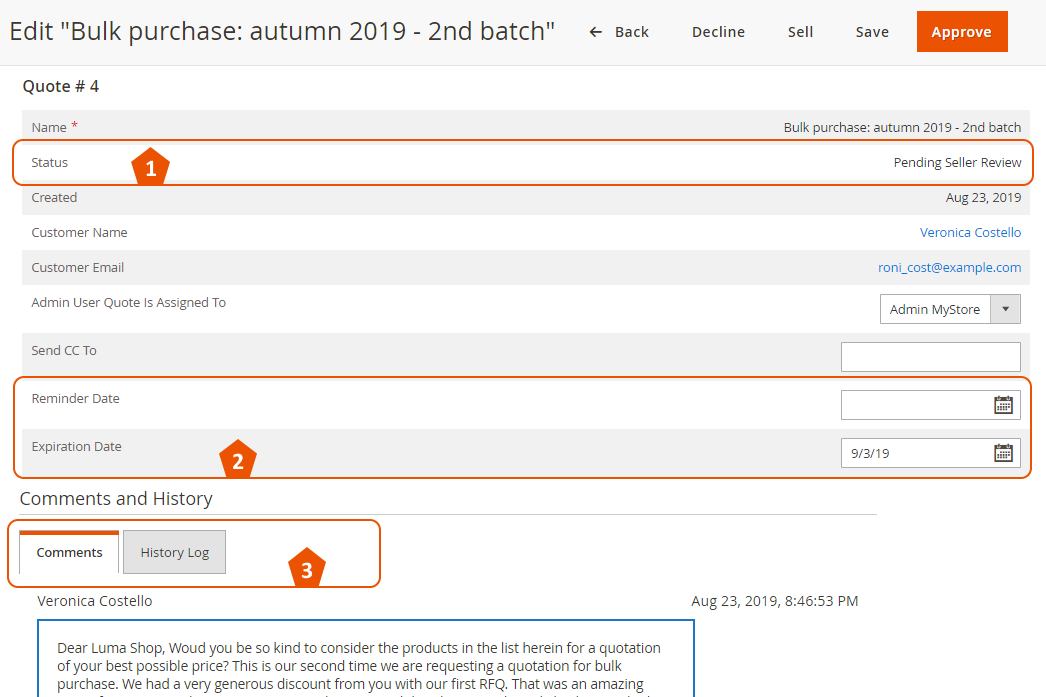 Quote to Order
Get each "sold" from the backend quotation automatically converted to an order with a discounted price. This is when Admin is redirected to the relevant "Create New Order" page to finalize the deal.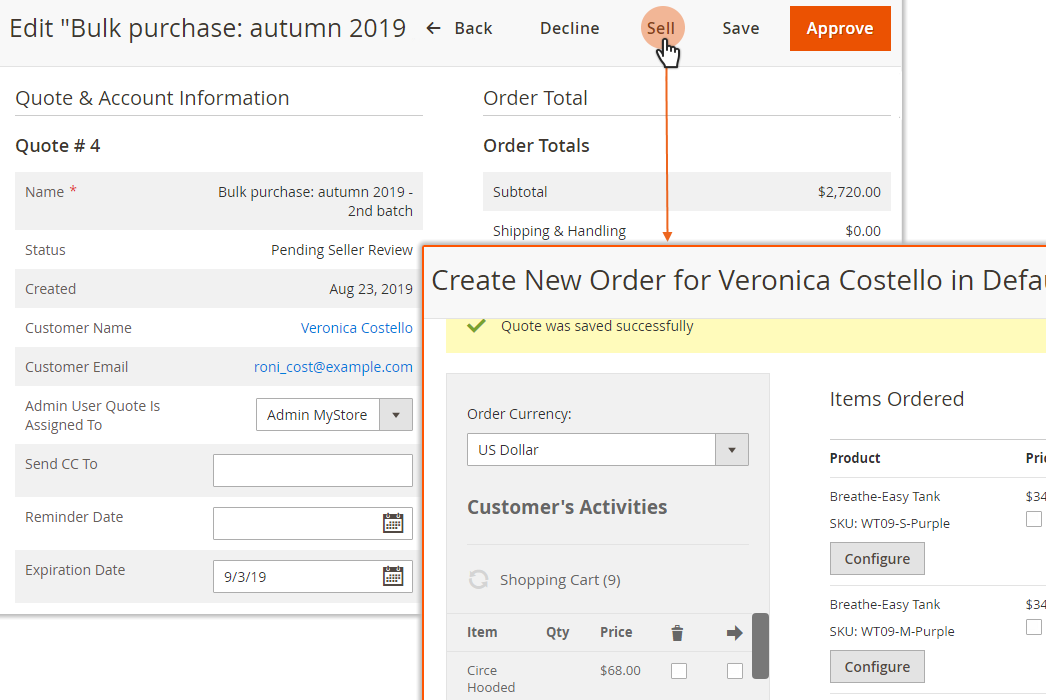 Auto-approval of quotes
Enable the Quote Auto-Approval function and type-in a cover message to support customer notification. The quote will receive "Accepted" status, no discount implied, prompting the customer to either place an order against the quote or decline the offer.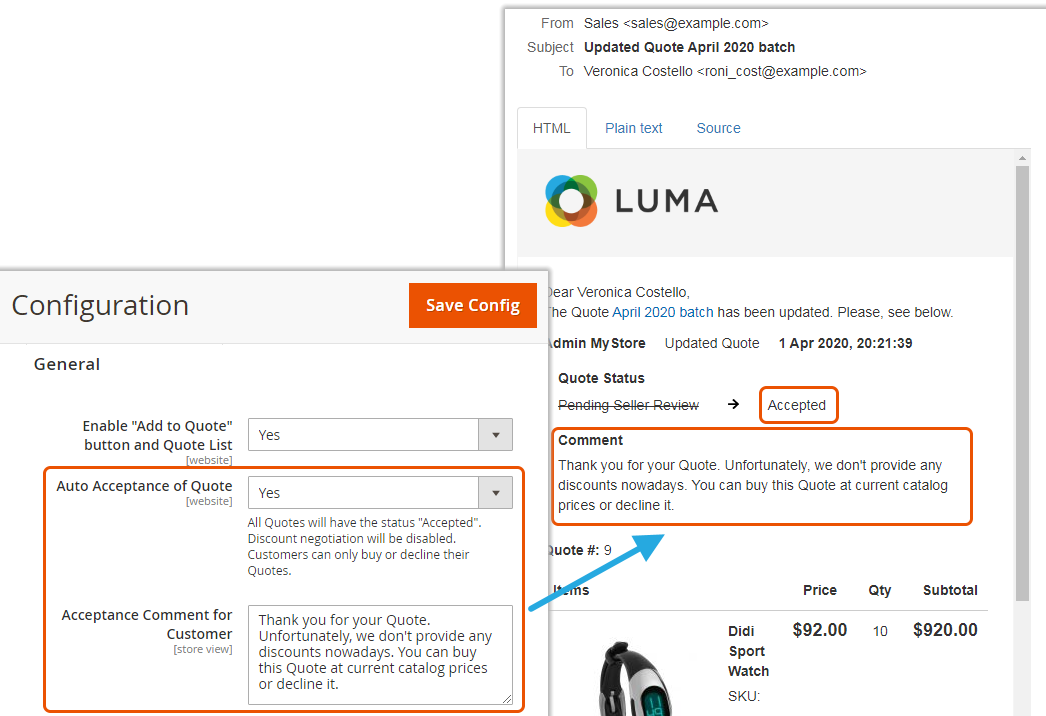 Magento 2 Quote Extension Detailed Feature List
1.5.0

Released 26.03.2021
+ Not logged-in customers can request quotes
* Error message is displayed when seller approves quote of deleted customer
* Quote can be sent when product is not available
* Inappropriate message is displayed when minimum order amount is set and quote is added to cart
* The Add to Quote button is displayed incorrectly when the screen is resized
* Quote items aren't shown in a new email based on default template
* It's impossible to convert a quote into an order and place it using PayPal
* When a user is deleted, an error is displayed during the modification of a quote
* Shipping is not displayed in quote emails




1.4.0

Released 26.10.2020
+ Added feature to display Company Name in quote
+ Improvement of quote doc. exported file
* Fixed issue with 'Quotes' grid filtering
* Minor UI adjustments
* Fixed issue with configurable products editing
* Improved compatibility with Aheadworks B2B Company Accounts
* Error occurs because of deprecated unparenthesized ternary operation

1.3.1

Released 01.04.2020
* Fixed issue when products from wishlist aren't added to quote list
* 'Add to Quote' button is not displayed at the edit page of the product in wishlist

1.3.0

Released 23.03.2020
+ Web API support
+ 'Auto-Acceptance of Quotes' option
+ 'Export of Quote(s) to .doc' feature on the frontend
+ Added Order ID information for Quote page (frontend&backend)
+ Sorting of quote items on frontend
* 'Quote list' is not cleared upon a click on 'Request a quote' button
* Error occurs after clicking 'Save items Order' button
* Fixed issue when bundle product is duplicated in quote



1.2.0

Released 04.02.2020
+ Option to set a discount per product
+ Option to add products to quote from product and category pages
+ Separate 'Quote list' functionality (mini-cart, 'Add to Quote button')
+ Added quick view of a quote to email notifications
+ Customer group is displayed on Quote Page in backend
* Error appears while trying to open not existing quote in Admin

1.1.0

Released 16.10.2019
+ Integration with Aheadworks Company Accounts

1.0.0

Released 12.09.2019
* Initial release