Improve customer service with flexible product return management.
Current extension version: 1.8.0 | Compatibility: Open Source 2.4.4 - 2.4.6; Commerce 2.4.4 - 2.4.6


License:
Starting At
Special Price
$229.00
$229.00

30-DAY MONEY BACK

FREE INSTALLATION

30-DAY FREE SUPPORT

LIFETIME RIGHT TO USE
RMA Gallery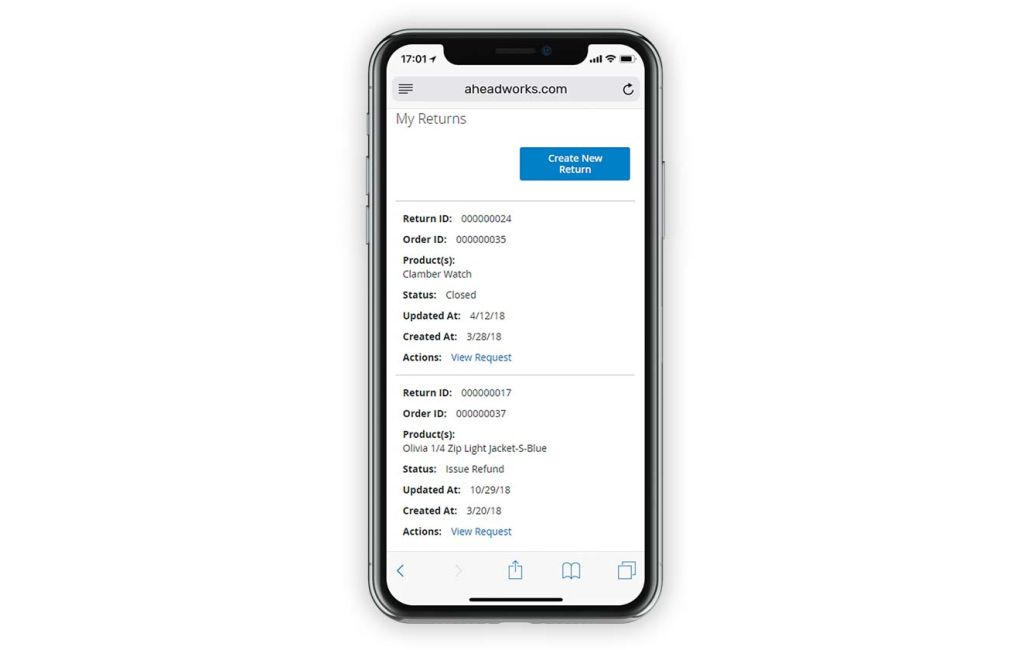 According to recent studies, 86% of online users pay a lot of attention to the return policy conditions while choosing a merchant. The return process should be easy and clear to encourage a potential buyer to make a purchase. Otherwise, customers become suspicious and hesitate to place an order.
Build a flexible return policy that meets both merchants' and customers' needs! Guaranteed that return requests can be raised any time, customers are more likely to make spontaneous and repetitive purchases. Achieve mutual agreement and establish trustful relationships thanks to customizable return forms and a transparent return process.
Speed up Processing and Negotiation of Returns
Arrange efficient return management with the Magento 2 RMA module! Let customers submit RMA requests and monitor them from their accounts. Discuss request specifics with customers and notify them about return status changes in the dedicated message thread. Add custom fields to the request form and get more detailed return info. Inform about request updates with email alerts and send canned responses while requests are processed.
Improved RMA Workflow
Effective Request Management
Up-to-date Information
Outstanding User Experience
Streamline RMA Management Through Automation Rules
Improved RMA Workflow
Reduce time spent on request processing with automated procedures that are triggered by specific actions tied to custom fields and request status. Another time-saver is canned responses that can be used for status updates and other simple messages sent to customers. These simple tools - automation and canned responses - help your team to manage requests much faster, thus taking your after-sale support to the next level.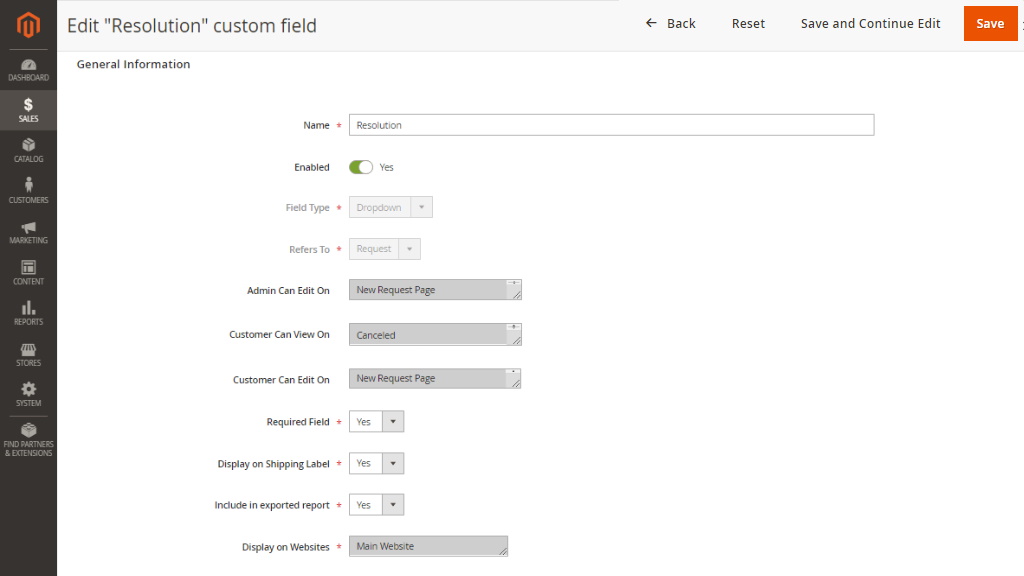 Effective Request Management
Effective Request Management
For multi-product requests, set the quantity to be returned and the reason for return per item. Communicate with requesters throughout the entire return process. Make your RMA request form more informative with custom fields. Collecting more information about the product and circumstances for return can save time on further negotiations. Moreover, this information will then help identify areas for improvement of your services.
Up-to-date Information
Keep everyone aware of any changes by configuring admin/customer email alerts. Adjust email templates and set them in accordance to return status. Along with defining templates for email notifications, you can edit the request thread's message to be displayed upon the request obtaining a particular status.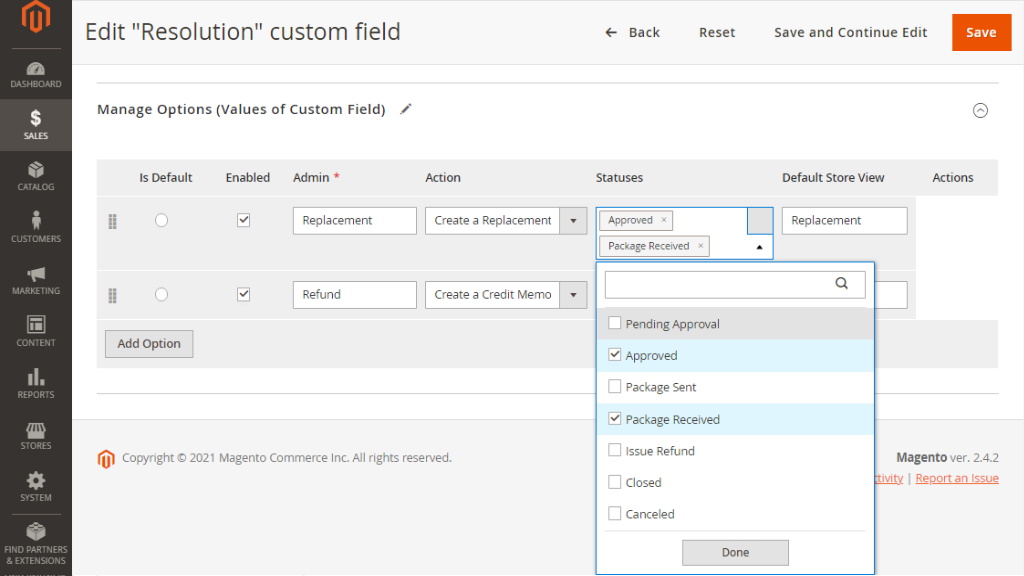 Outstanding User Experience
Outstanding User Experience
The whole request creation process is quick and simple. Users need to specify the return-related info and select the item(s) for return. To specify additional request details, your customers can use the provided message thread - the same one as in the admin area. Also, they can attach files (the supported formats are defined by the admin) to the thread. What's more, users can monitor all their return requests and create new ones from the separate 'My Returns' tab in their accounts. You can allow guest users to submit requests as well.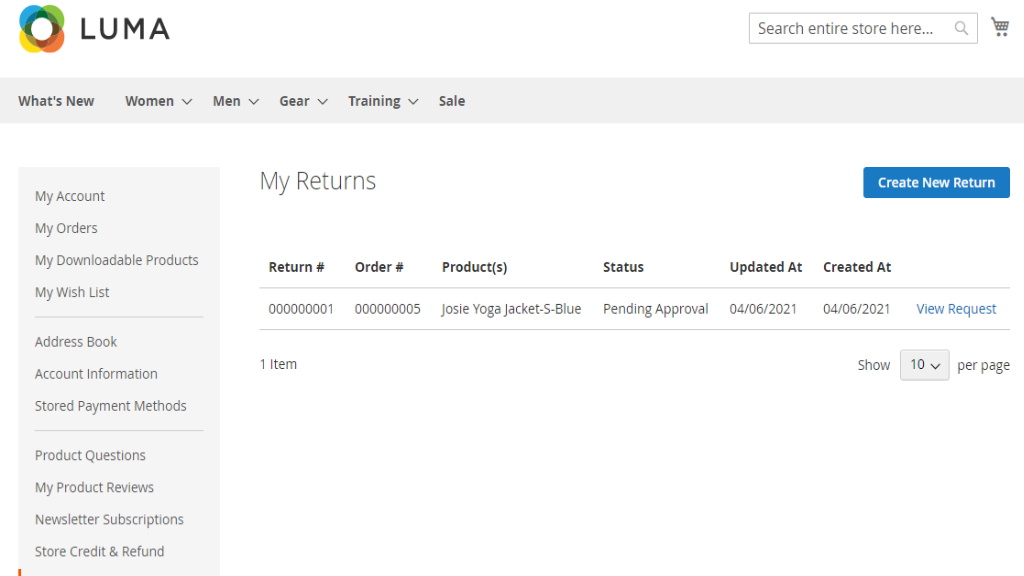 Streamline RMA Management Through Automation Rules
Streamline RMA Management Through Automation Rules
Automation Rule Management simplifies and expedites RMA management by automating repetitive tasks based on predefined conditions, allowing you to focus on more strategic aspects of your business.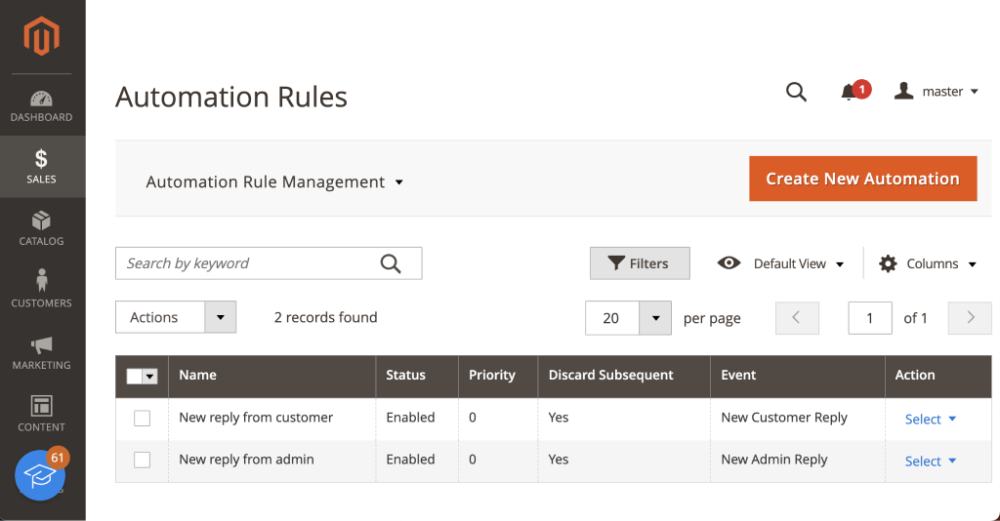 Monitor and create RMA requests both in the backend and frontend.
Store admin can approve requests manually or automatically by configuring the corresponding option in the module settings. 
4 field types are available for custom fields, including Dropdown and Multiselect; fields can be set as Required.
Label printing is available from the backend so that you can use the label for working with warehouses.
Benefit from the ability to switch statuses in a non-linear order.
Assign priority to statuses in your store so you can sort statuses according to their priority and see the sequence of your RMA stages.
Define how many days after placing the order the customer can ask for the return.
Make it possible for customers to attach files to their return requests. Specify the maximum size of the uploaded files in megabytes and available file extensions.
RMA Text Blocks and Policy
Configure where to display the CMS blocks in the RMA form on the frontend.
M2 Coupon Code Generator integration
Provide customers with coupon codes instead of refunds or replacements.
Export all the necessary data as CSV/Excel.
An M1-M2 migration tool is ready to help you with the migration process (see the user manual for details).
1.8.0

Released 08.09.2023
+ Automations notifications
* Fixed issue when trying to open a downloadable file from the RMA Request
* Fixed issue in the admin panel when creating RMA request
* Fixed issue with primary key
* Fixed issue with displaying RMA information in the email

1.7.1

Released 29.03.2023
+ Compatibility with Magento 2.4.6
* Fixed issue with rendering the 'Select Order to Create RMA' table If a customer has many orders
* Fixed issue when switching to the "My Returns" tab for Magento 2.4.6

1.7.0

Released 28.09.2022
+ Making request without attaching it to an order
+ Print RMA labels with RMA History included
+ Web API update
* Fixed issue with displaying products in the created request

1.6.2

Released 07.07.2022
* Fixed issue with installing Sample data

1.6.1

Released 09.06.2022
+ Compatibility with Magento 2.4.4
* Fixed issue with module installation for Magento 2.4.4

1.6.0

Released 09.06.2022
+ Added the date of the order in the RMA overview
+ Added Custom field that would allow customers to upload (and see) images
+ Provided management options to select when option type becomes mandatory to fill in
+ Separate management for the same items in the order with different return reasons
+ Custom field specification dependencies
+ Reporting functionality

1.5.2

Released 28.03.2022
+Declarative schema upgrade

1.5.1

Released 18.02.2022
*Fixed issue with coupon code generator rule selector

1.5.0

Released 08.09.2021
+Integration with Help Desk Ultimate

1.4.11

Released 28.06.2021
* Improved compatibility with M2 Company Accounts

1.4.10

Released 08.02.2021
* Data is not filtered in 'Text Field' Custom Field
* Page breakes if the 'Custom Field' filter is used on Manage RMA
* Dates are wrong on the Request page after the interface locale has been changed
* Refund and Reorder buttons aren't shown on the Request page
* Return request isn't created after creating a "multiselect" custom field
* Back button isn't displayed on the Request page
* Minor design issues for iPad tablet view has been fixed

1.4.9

Released 17.08.2020
* Error appears during compilation (Magento v.2.3.4 )
* Magento 2.4 compatibility fixes
* Fixed issue with wrong dates in RMA comments on locale change
* Emails are sent in default locale language only
* Composer installation issue
* Error occurs when CSV is exported
* Fixed issue with request creation if there is "Text area" custom field
* Redirection to 'Manage RMA' page after cliking 'Save and Continue Edit' button


1.4.8

Released 14.02.2020
* Error appears while clicking "Edit" option for address changing (Magento v. 2.3.4)
* Minor design improvements

1.4.7

Released 31.01.2020
* Improved compatibility for Magento Open Source v.2.3.2
* Error occurs during compilation


1.4.6

Released 20.01.2020
* Fix issue for Magento Marketplace

1.4.5

Released 09.12.2019
* Fix for Magento Marketplace
* Fixed issue with Canned Responses status

1.4.4

Released 18.10.2019
* Error occurs on an attempt to open an order page
* Fixed issue with grids opening in Admin
* Error message appears on Refund/Replacement page if "Add Secret Key to URLs" is enabled


1.4.3

Released 09.10.2019
* Fix for Magento Marketplace

1.4.2

Released 02.10.2019
* Magento EQP tests fixes

1.4.1

Released 06.09.2019
* Error message appears when custom fields with types "Text Field, Text Area" are created
* Error message appears when only one status is enabled
* Wrong currency is displayed with multi-site setup
* The wrong email template is used while the multi-store view is activated
* "Here" e-mail link leads to Dashboard when "Secret Key to URLs" option is activated
* "Create New Return" link has a guest path when signed in customer clicks it
* Disabled statuses are displayed in "Actions" dropdown on "Manage RMA" page
* Fixed issue with columns' displacing
* Incorrect shipping total is applied when a new order is created
* Incorrect product qty is available to a request after refunding
* "Set to..." button remains to be dropdown when one status is available
* Fixed issue with 'Issue refund' status editing
* Order of statuses differs on "Manage Request", "New request" pages when priority is changed

1.4.0

Released 04.06.2019
+ Custom Statuses
+ Status Priority
+ Option to disable a status
+ Custom fields can be tied to actions
+ Non-linear workflow
+ RMA data export to CSV/Excel
+ Option to disable custom fields
+ Print RMA label from the backend
+ RMA Tab at backend customer page
+ Improved process of creating a replacement order for admin
+ A "Back" Button on Credit Memo page
+ Integration with Coupon Code Generator
+ Minor usability improvements
* Unnecessary commas in the address on frontend

1.3.1

Released 27.02.2019
+ Magento 2.3 compatibility
* Security improvement (removed serialize() and unserialize() functions from the code)
* MySQL errors when Magento tables have a prefix

1.3.0

Released 20.04.2018
+RMA requests creation from the backend
+Canned Responses functionality
+'Returns section' on the Order View page
+Internal notes for admins in the RMA thread
+'Create Credit Memo' and 'Return to Stock' options available from the RMA Request page
+RMA requests migration tool (M1>M2)
+Design improvements
+Extended API
*Fixed issue with the requests saved by admins
*Label PDF formatting issue
*Error appears in the console if RMA and ET are set

1.2.1

Released 08.11.2017
*Fixed issue with "setup:upgrade" command execution
*Stability and speed improvements
*Fixed issue with RMA request when custom fields are disabled

1.2.0

Released 01.11.2017
+ Web API support
+ RMA auto-approval
+Magento 2.2 compatibility
* Extension refactoring
* Design improvements
* Email template improvements
* Unit tests

1.1.0

Released 17.08.2017
* Incorrect behavior when email cannot be sent
* Translation issue
* Email template improvements
* Manage RMA order filter issue

1.0.5

Released 10.11.2016
+ Improved UX when create new request
+ Added ability to add values for system custom fields
+ Added ability to hide existing values of system custom fields
* Fixed issue when default value of custom fields was ignored
* Fixed security issues
* Fixed bug with mobile page view
* Fixed issue with data integrity when a customer deleted

1.0.4

Released 14.10.2016
* Magento 2.1 composer.json compatibility

1.0.3

Released 26.07.2016
* Namespace for LocalizedException class is not specified

1.0.2

Released 13.07.2016
* Stability and speed improvements

1.0.1

Released 15.04.2016
* Database tables with prefix issue

1.0.0

Initial release 27.04.2016
What are the different product types are supporting by this module?
Question by: Divya on Mar 8, 2021, 11:06 AM
Customers can create return requests for all types of products.
Answer by: Julia Gorobets (Admin) on Apr 21, 2022, 8:13 AM