In today's competitive landscape businesses must invest time and money into website design and content creation; each is essential to remaining competitive. Your website is the face of the brand, its main representative and sales tool; Hubspot claims  31% of surveyed people define the About Us page as one of the most important, while KoMarketing report figures reach 52%. In this article, we'll explore the essentials to create a well-positioned About Us page by answering the top 4 how-to questions.
The About Us page is the means of creating a stronger connection with customers by revealing your identity. What does it mean? It is a simple way to tell your customers who you are, what you do, and why they should do business with you. It's a sort of insight created especially for customers to get acquainted with the brand and people behind it. 
However, a blank and boring About Us page with the only contact section won't attract the shoppers, it's more likely about wasting an opportunity to gain the trust and love of your customers. That's why it's essential to build it wisely. You can include the following components there:
Your

story

. One of the most powerful initiatives seen in eCommerce Marketing today is storytelling. When people relate to a brand story and connect with it in some way, they are more likely to support the brand and recommend it to others. When writing your brand's story be sure to infuse human elements and personality into your brand's story. 

Your

values

and

mission

. The About Us page is an essential place to establish your business core values, and areas of focus, and expertise. 

Your business

identity

. Creating a unique identity is crucial in today's competitive eCommerce landscape. Establishing brand differentiators strengthens your brand, and helps build brand loyalty. 

Your business

personality

. Every business relies on dedicated teams to support the ongoing success, growth, and stability of the company. Consider showing the faces of those teams, it allows your brand to have its own persona and personality. your business to achieve a strong connection with your audience.

Your business

Core Values

. Share with your customers what you do, how you do it, who you serve. Include benefits of supporting your business; such as your support of humanitarian causes, philanthropy work, how your brand gives back to your local community, etc. 
In short, the About Us page allows visitors to connect with your brand, in a personal way that differentiates you from competitors. 
How to write an About Us page
No story will capture people's attention if written dull and unremarkable. As we have already determined, the About Us page should introduce the business story to the shoppers, so it should also be gripping and entertaining.
About Us story writing algorithm doesn't really differ from any other story. Three steps are only needed: preparation, writing, editing.
First of all, think about the goal, theme, and idea of your story (it's not so difficult, is it?). Then identify the protagonist. It can be the company itself, its workers, or its founder. The next step is identifying settings, i.e. time and place - according to genre law.
The outline of your story should contain 5 stages of the narrative pyramid, as follows:
Exposition; Introduce characters and settings.

Rising action; Introduce the problem coerces the characters to act.

Climax; Describe the obstacles the characters have to face.

Falling action; Describe the winning decisions, which help the protagonist to reach the desired goal.

Resolution; Here you can tell about the company's present and plans for the future.
Even a professional writer needs an outside perspective. The About Us page is a direct reflection of your brand, so it should receive a little extra attention. Give it to your teammates or professional editor, and don't be afraid to format it. Keep in mind, it is a food practice to make updates every six months or so to keep the page and content fresh, and up-to-date.
How to add an About Us page to your Shopify store
Shopify allows users to create simple About Us pages with its native functionality. Only a few steps are required:
Add a new page.

For it open Shopify admin >

Online Store

>

Pages

. There, find an

add page

button and click it.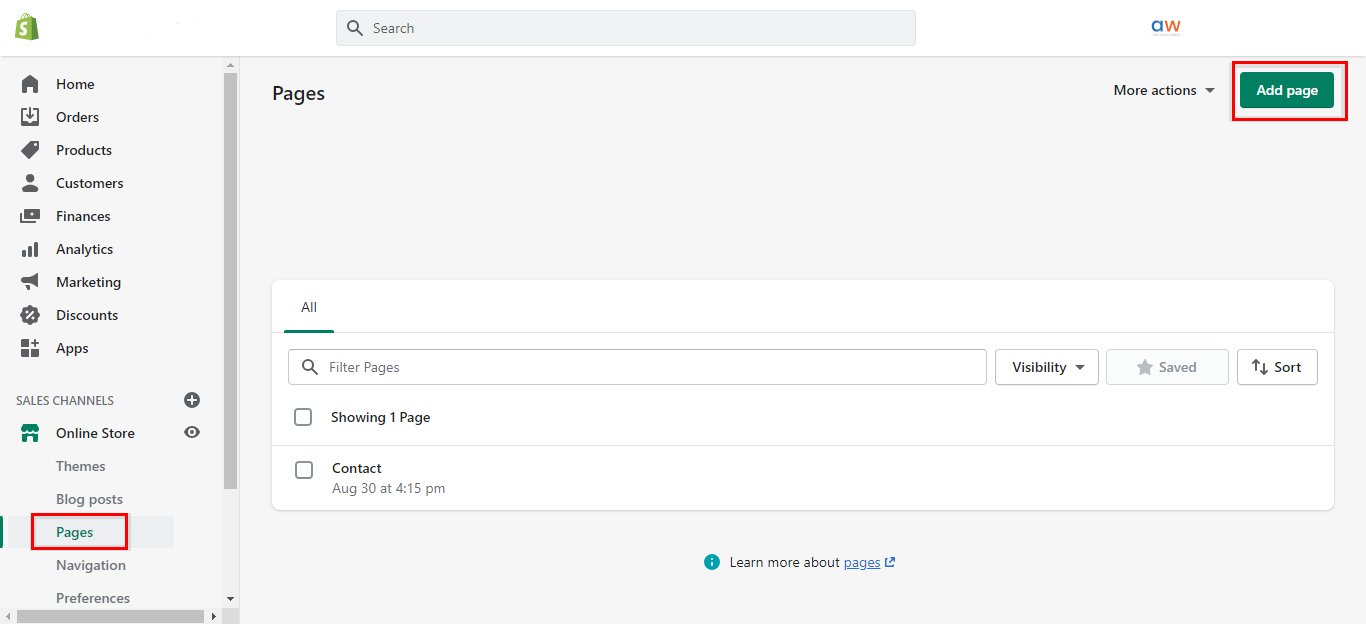 2. Write the content. The editor with basic functionality allows users to add a title, content, control the visibility, add theme template if available and determine search engine listing preview to edit meta content.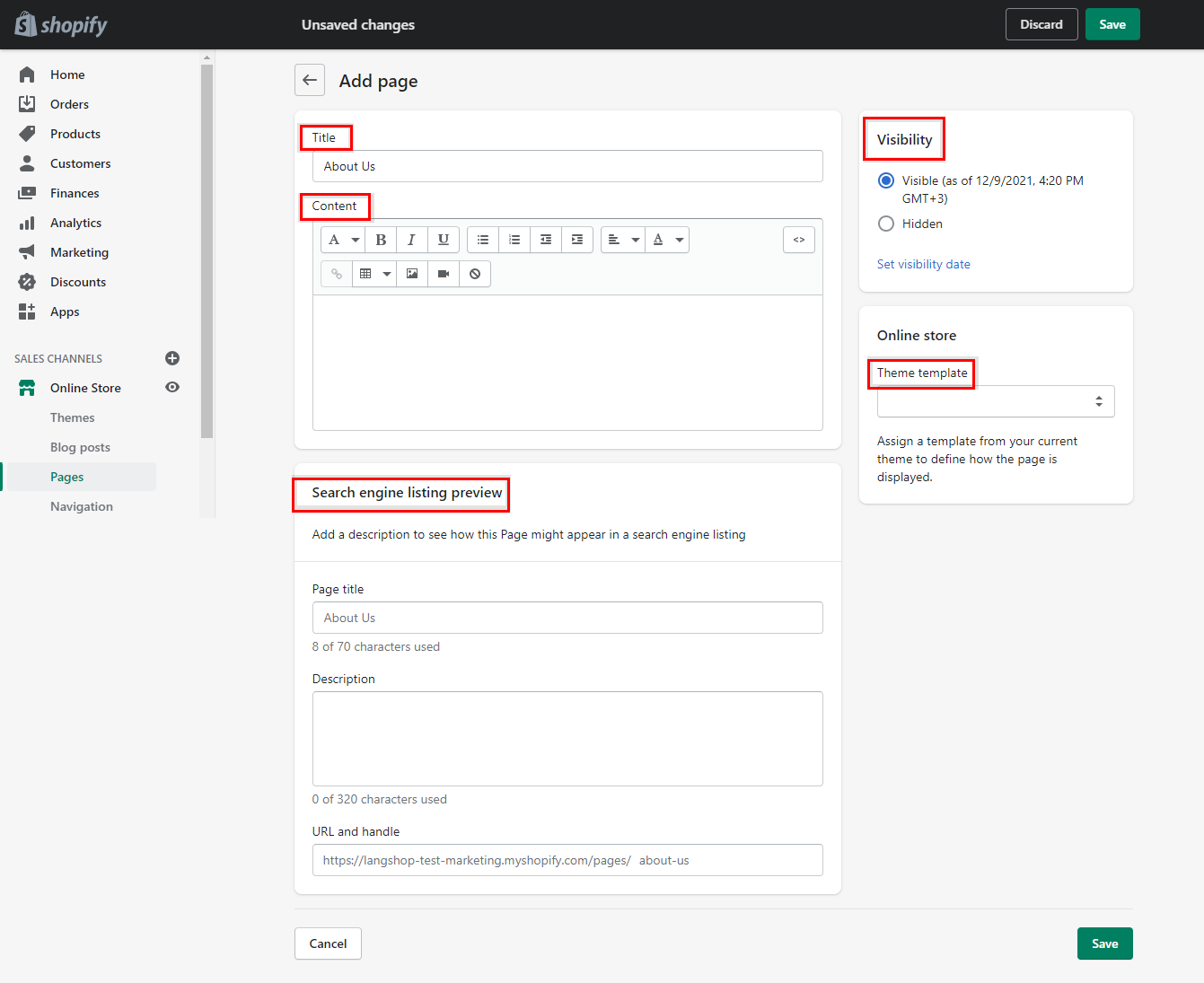 3. Add the page to the Shopify menu. For it open Shopify admin > Navigation. Here you'll find menus, or link lists, which help your customers navigate around your online store. Choose the menu you would like to add the About Us page to (usually it's the main menu, but you can choose any). On the menu page click Add menu item. In the appeared menu window fill in the name you want your page call and the link to the page: in our case, it'll be Pages > About us.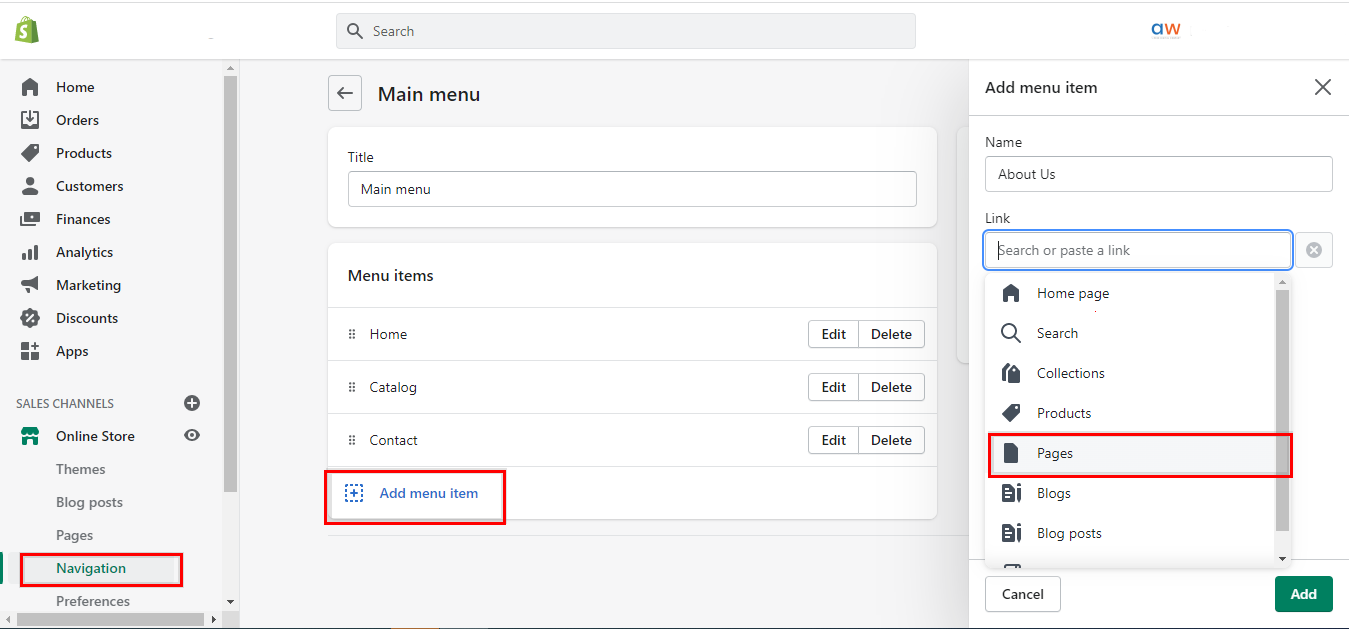 Click Add, then Save menu button to make it visible for your customers. A simple, a little bit blank About Us page is ready.
How to create an About Us page with Buildify
Those wishing to have a creative About Us page, which fits in website design and reflects brand identity needs more than Shopify native functionality. Buildify Page Builder is a perfect way out here. 
It's super easy to create a stunning About Us page with our drag-and-drop page builder. No coding skills are needed to add different content sections to your page. Simply dragging-and-dropping 80+ widgets it's possible to create catchy and fascinating pages in a few clicks. 
The premade templates, which are completely free for Buildify users will inspire you on turning a simple page into a piece of art. Absolutely intuitive design of the page builder saves your time and efforts significantly, so you could pay attention to something more interesting than coding.
Besides, 3 options of image dimensions (desktop, tablet, mobile) guarantee the complete responsiveness of the website content. You can check how the page looks on different devices and correct it effortlessly in one place. The preview mode allows you to see the results before publishing, in this way saving your time dramatically.
Still, if you want some code highlights to be implemented, the advanced settings feature gives full access to your site's source code. 
Nothing could be easier than creating a stunning website with Buildify. The About Us page is also not an exception.
Let's study the step-by-step algorithm of creating an About Us page with Buildify.
In Buildify admin click Pages > Add Page. Name it and tap the Create button.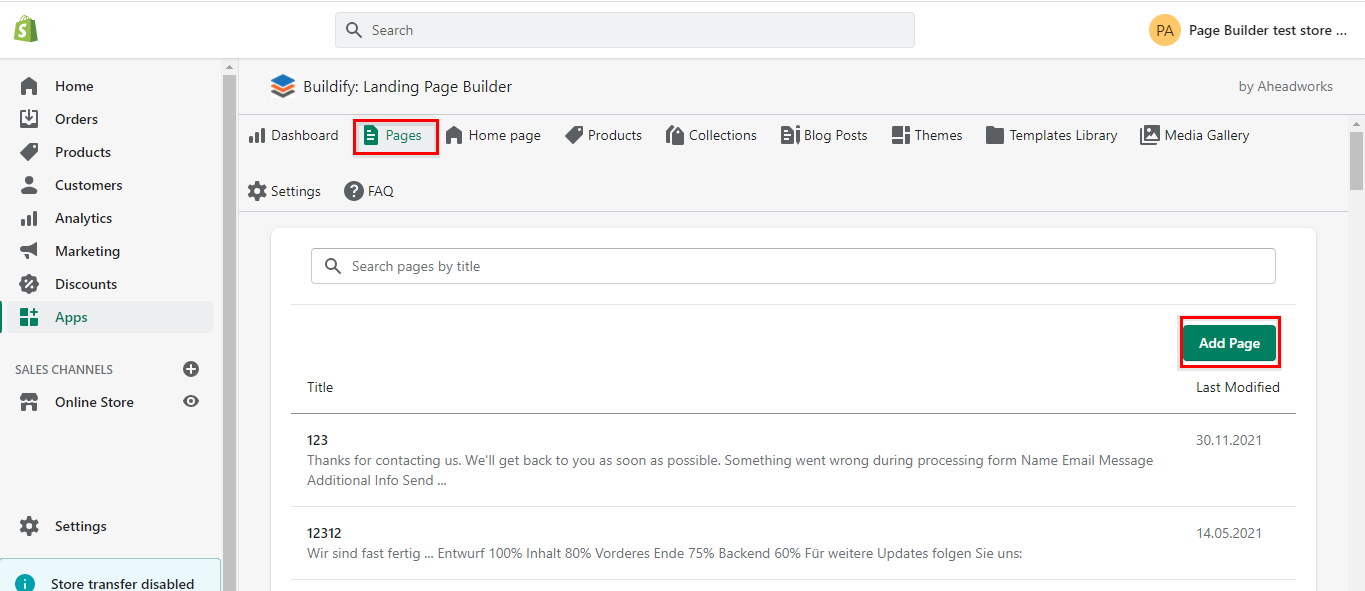 The Buildify menu appears. Here you can choose one of 50+ premade templates to start with or work with a blank page. Let us choose an Office template as an example.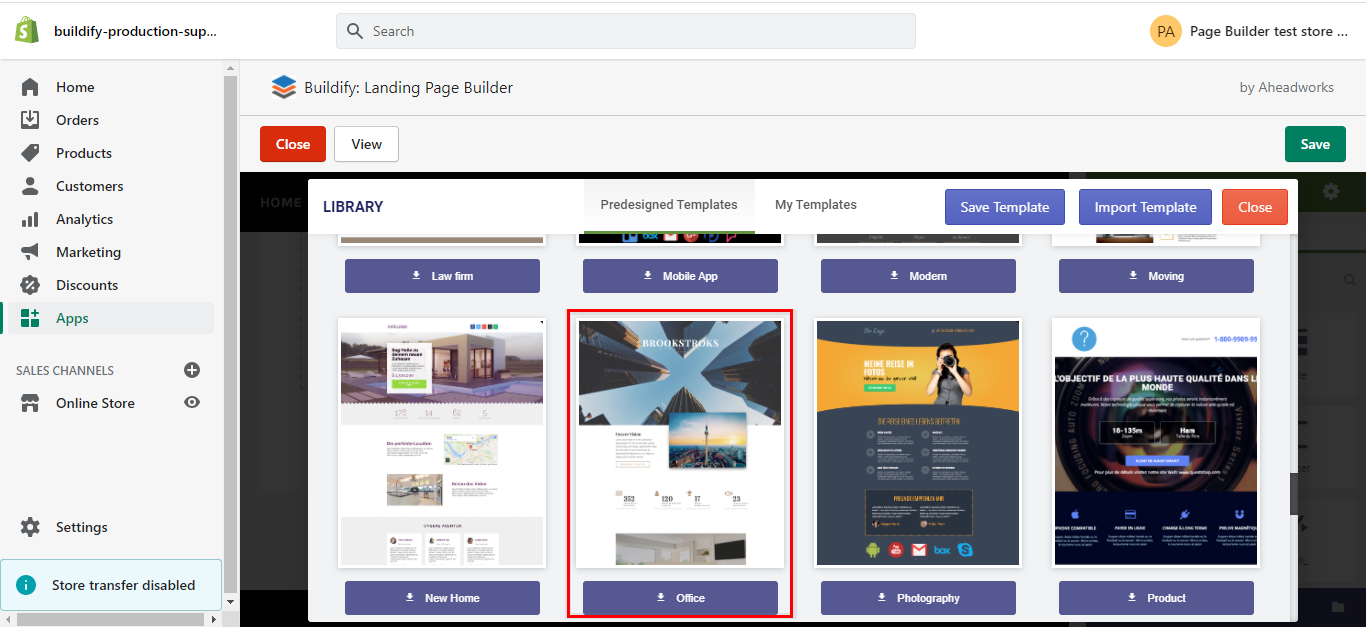 The template is a convenient way to design a page. Any of its sections can be edited or deleted, so you can achieve a perfect look of the About Us page.  
For our page, we'd like to add a team picture and a story. For it we click the picture we don't need and change it with our photo. Then we change the title and default content. Along with that, we change section position and width in section settings. The essential part of any online store page is the CTR button, as our template is lacking it, we drag-and-drop the social media widget and customize it with links to our social media.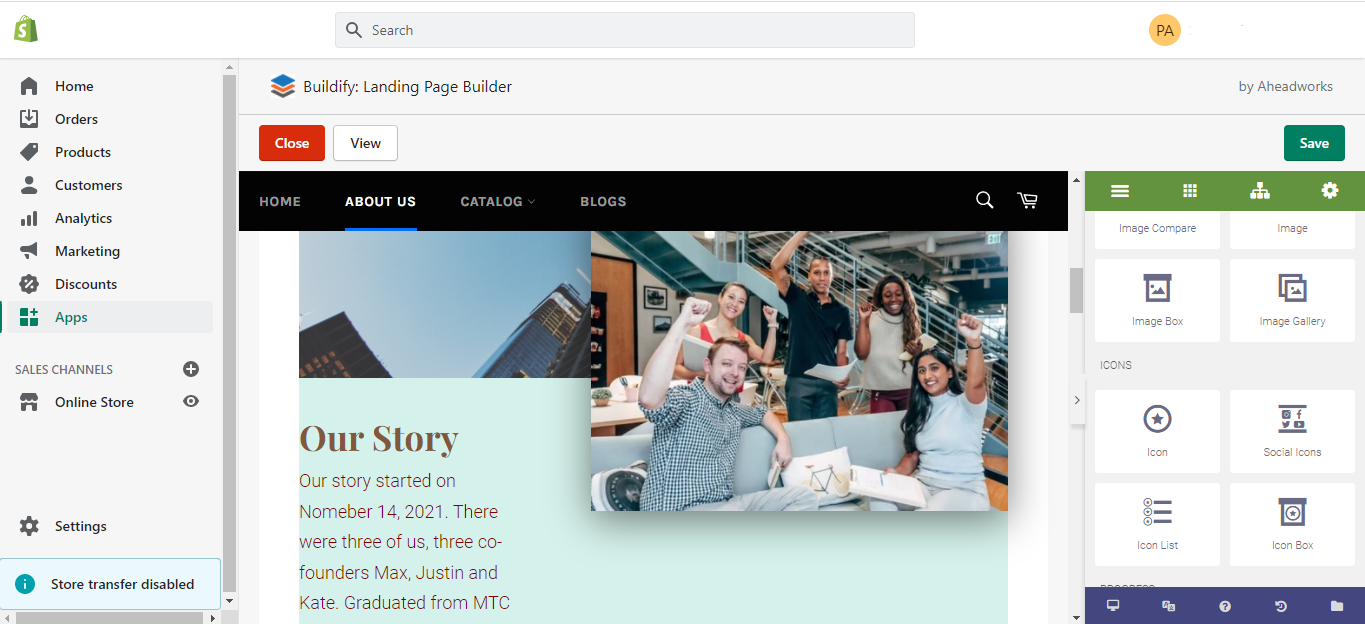 With our page builder, it's possible to create columns, tables, add images and videos, implement timers and slides in a few clicks. 
Play with different widgets until you find the perfect combination. And check the result with the responsive mode to be sure your content looks great on any device.
Though sometimes it seems that adding only contact information is enough for the About Us page, as it's the only thing people can go there for, it's a delusion. People are interested to hear your story, to get closer, and give your brand all their love. And you have what to tell them. 
Just take a moment to create the About Us page wisely and be sure it'll benefit you. And Buildify will help you with it.