The Blog extension by Aheadworks has proved that a full value Magento store is just impossible without an official blog section. It's a great opportunity to share with your customers important information, increase website quality, SERP rankings, and drive organic traffic. Blog is a powerful tool able to drive minds if managed right. The Aheadworks Blog for Magento 2 is a robust module chosen by thousands of Magento 2 merchants for its multiple features and clear customization options. 
Related Blog Posts and Products
The Blog for Magento 2 extension provides you with a unique functionality available for only deeply integrated Magento components joining the advantages of seemingly different areas - sales and content. It allows you to display related blog posts on product pages and related products in blog posts. There are two reasons to have this functionality in. First of all, if a potential customer is interested in a certain product, he can get information about it in your blog just in one click. And second, if a potential customer likes certain products described in blog posts he can easily purchase them from the related products blog.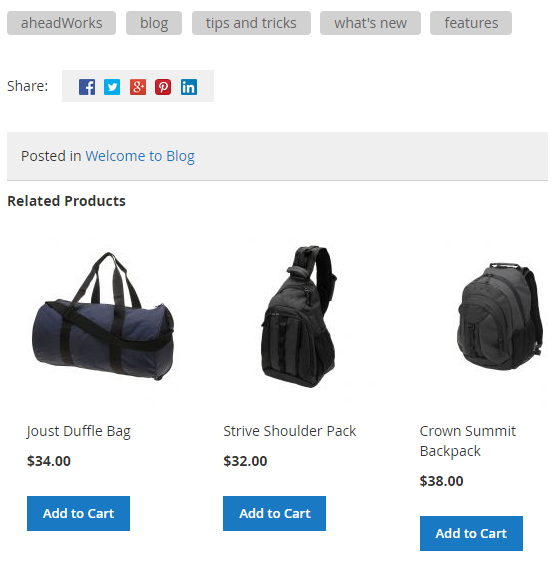 Related Products on Blog Post Pages
The connection between blog posts and products is established through the conditions available on the 'Edit Post' pages in the backend. Using different product attributes and their combinations you can determine the set of products to be displayed on post pages and position them within the current layout from the extension Configuration section. The configuration contains several positions and layout options. You can place the related products block either immediately beneath the post body or after all submitted comments. The layout with multiple rows unfolds the option of determining the maximum number of products presented and you can also display the 'Add to Cart button to those products as well.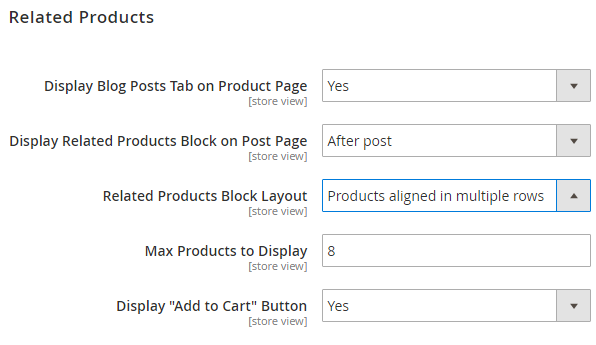 Related Posts on Product Pages
As soon as you define the set of related products on certain post pages, those related blog posts will appear on the corresponding product pages. You can enable this functionality from the 'Related Products' section during the extension configuration.
And if you are lost while looking for some advantageous connections between products and posts, below we present you some generic examples able perhaps to become triggering points for your inspiration.
Complicated products. Related posts on product pages are indispensable if you sell complex products that require detailed explanations. This way, customers are always able to refer to the tutorials published in your technical blog.

New arrivals. You will certainly want to present new arrivals to your customers and if the related blog post is unable to enumerate all the products of the new collection you can take advantage of the related products block.

Original items. If your catalog contains some original products, blog readers will certainly be interested to discover all their unique specifications in dedicated blog posts.

Selling a limited range of products. On the page of the blog post, you can explain sales conditions or discount terms and highlight the products falling within. And vise versa, customers can find out the terms following the blog post link from the product page, if necessary.
Related Posts on Post Pages
Along with the Related Products option, Related Posts can be shown on post pages. It leads to double profit for the business:
First of all, featured posts drive more traffic to your blog, in this way attracting potential customers to the website content and generating leads. 

When supplying the audience with full information about the products, services, company news, etc. businesses increase their service quality. Well-aware customers contact support more rarely and are more confident in their purchase and webstore itself.
Besides, with Magento 2 Blog 2.11 update store admins can pin featured posts at the top of the sidebar on the blog post and blog category on the storefront. It can drive even more traffic to the blog content and strengthen the connection with the customers.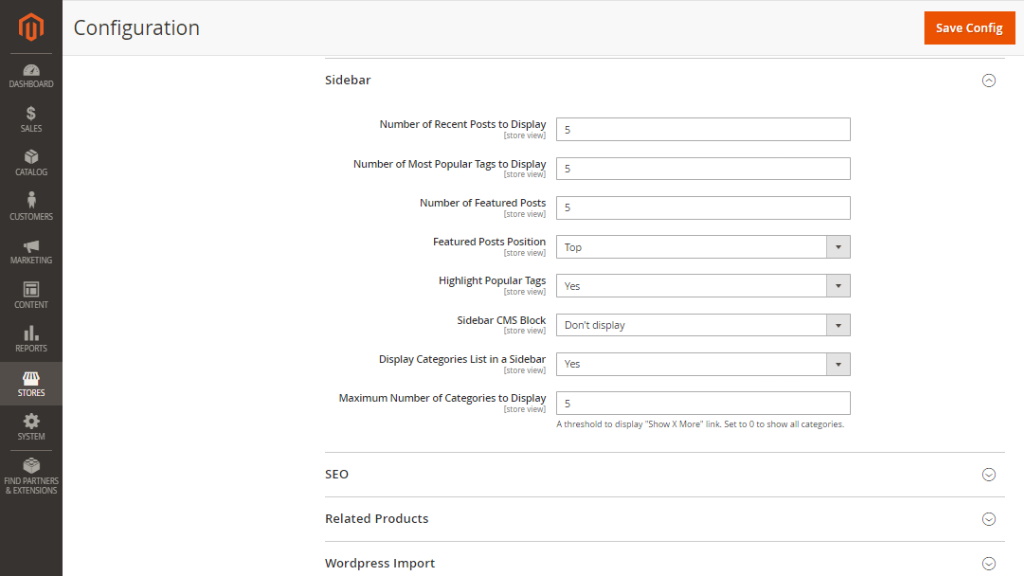 In this configuration section, you can also enable Recent Posts, one more widget to drive traffic to the blog content. It is displayed in the blog sidebar and contains the most relevant information to keep visitors aware of the latest company news, updates, etc. Its configuration setting allows store admins to define the number of recent posts to be displayed in the sidebar and enable or disable images in this section - all you need to make the blog page more informative and visually appealing.
Sometimes the available widgets in the extension are not enough to make the blog fully functional and appealing, or there's a lack of desired ones with some specific features or possibilities. Our developers have taken it into account and enabled merchants to add Magento widgets into blog pages to enhance the content. 
So you can add the Catalog Category link, Catalog Product link, and other Magento widgets without restrictions with the new update of the Magento 2 Blog extension.
The best way to increase the credibility of your content is by adding the author section. It's proven that people believe articles more if they see the author's personal information, including name, short bio, and picture. Besides, by adding links to social media, authors are more likely to increase their audience in social networks. Ultimately, why not follow a person who covers interesting and useful topics? 
However, some companies prefer to publish articles under unique business names. In this case, there's no point in the author section. Therefore Blog for Magento 2 extension makes it possible to disable the author section on the storefront to save your time and effort.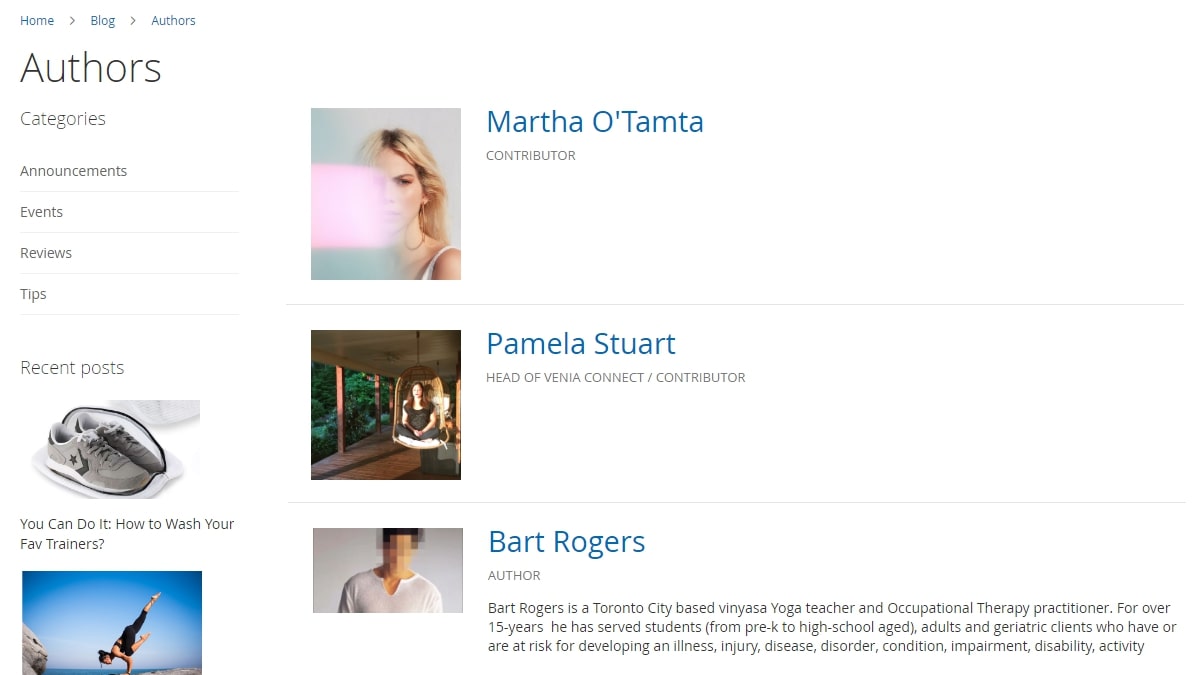 The Blog for Magento 2 extension also has import options, which can help marketers reduce manual work. It supports importing posts, categories, and authors via CSV.
For those who are still Magento 1 users and want to migrate to Magento 2, but are afraid to lose all useful articles and posts, Aheadworks Blog extension offers a migration tool.
The process of migration is described in the extension's dedicated tutorial and embraces several tools and instruments, including Magento Data Migration Tool and Aheadworks Blog Migration Distributive. The whole process is taking just several minutes as is described in our Video Guide. We advise you to walk through the process carefully and attentively to ensure a successful and effective procedure.
Aheadworks Blog Migration Video Guide
As a result of migration, you will be able to keep all the previously obtained SEO values untouchable due to the same URL structure or automatic 301 redirects.
The Blog for Magento 2 Extension is one of Aheadworks' very best extensions. Its features closely connect stores with corporate blogs and allow you to naturally include products with relevant content and vice versa. 
Manage your blog easily with our powerful Magento 2 Blog module!To learn more about Blog for Magento 2 visit the product page and user guide.