Many businesses are engaged either in B2C or in B2B spheres. By the way, there are companies who cover two segments, as they work both with B2C and B2B simultaneously. It's clear that such an approach complicates store operation because retailers and wholesalers purchase the products at different prices. More to that, the set of products available for purchasing can be different depending on who your customers are: retailers or wholesalers. It means that the definite customer segments are eligible to obtain only definite products.Note that customer segmentation doesn't limit to wholesalers or retailers. There are many other customer groups with specific trading conditions, however native Magento 2 provides limited functionality for restricting products by customer group. 
All the above mentioned issues have led to the necessity to manage the visibility of the specified store catalog elements based on shopper segments. The Сustomer Group Catalog Permissions extension provides control over the visibility of Magento 2 based website content for various customer groups thus to divide your store catalog between wholesalers, retailers, and many other relevant client segments.
What Makes the Extension Different:
Ability to divide a store catalog between

different customer groups

;
Hiding such catalog elements from specified customer groups as

categories

,

products

,

CMS Pages

both individually and in bulk;
Customer redirection set-up;
Customized message display

instead of hidden prices and/or add to cart buttons;
Ability to update/delete permissions

in bulk

.
Customer Group Catalog Permissions for Magento 2
The 'General Configuration'  block allows you to configure the visibility of any store catalog elements for the definite customer groups offering a rich functionality set. Thus, you can hide certain store catalog elements including categories, individual products, CMS pages from the particular customer groups or hide the whole catalog. Also, you can properly redirect your clients from the unavailable catalog elements to any desirable website page.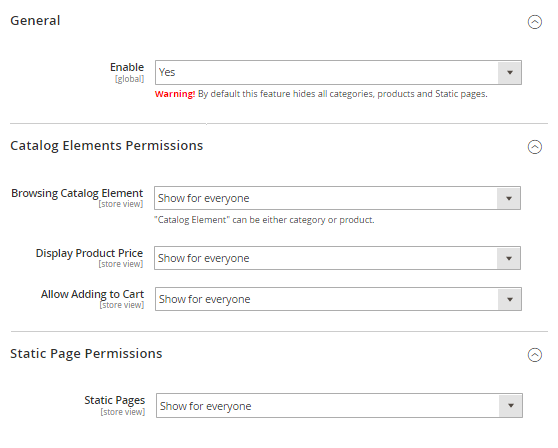 More to that, you can hide only prices and / or add to cart buttons in the entire store catalog and on any product pages as well as in other store blocks where the products can be (Wishlist, Products to Compare, Cart, Checkout, Cross-sale, On-sale, Up-sale, and others) from certain customer groups.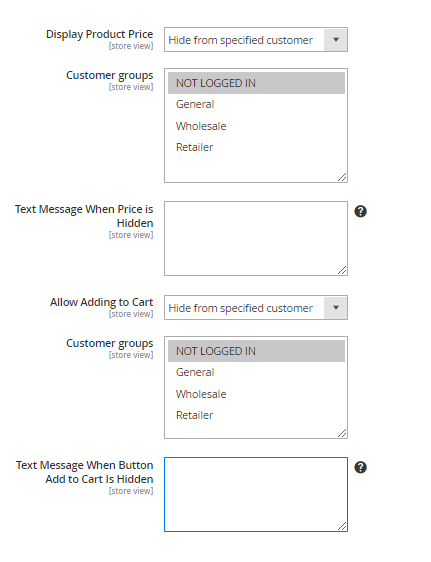 Customized Text Message Creating
In this block, you can configure the permissions individually for each category. You will see the fieldset where you can select the needed options for the category visibility. Then, if the category remains visible, you can manage the price and add to cart button visibility. If you want to hide one of these blocks, the system will offer you to replace it with a customized text message.
In this section, you can set the permissions for each individual product visibility. Just use the Edit mode of the product for which you want to assign the permissions and explore the Product Permissions Aheadworks setting tab. If you want to show the product, you can configure the price and add to cart button visibility on the chosen product page. If one of the blocks is hidden, you can also create and insert your own message. The module allows more than just to hide products for customer groups on Magento 2 stores, it enables you to configure page URLs instead of the hidden product, hide the price of the product and display customized text messages instead, etc.
In addition to the opportunity to set the permissions for such basic store catalog elements as categories and products, our module also allows you to assign permissions for any static pages. Just select the page you need in the grid, use the Edit mode and go to the Static Page Permissions by Aheadworks settings.
Update Permissions in Bulk
You are an owner of a major store. And you're most likely tired of hiding categories,  products, prices or add to cart buttons from the particular customer groups individually. Don't be so upset! It's actually not a problem. Our extension makes it fast and easy just in three steps.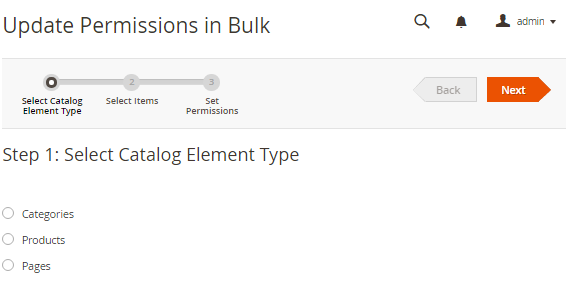 Update Permissions in Bulk
Delete Permissions in Bulk
Want to delete all the created permissions for certain categories, products, CMS pages at once without unnecessary clicks? You can make it using a two-step wizard. Just select the type of the catalog element, and then mark the categories, products, and CMS pages for which you want to delete all active permissions.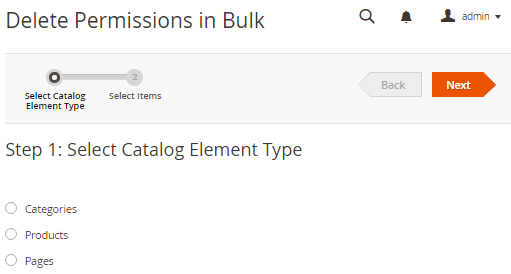 Delete Permissions in Bulk
For you, the Customer Group Catalog Permissions extension for Magento 2 provides the effective management of the store catalog element visibility thus to enable customized service and improved shopping experience.With our module, you will have the opportunity to arrange a clear connection with particular clients showing them exceptionally dedicated information. As a result, you can obtain the exclusive attention of your clients and increase customer value in a proactive way.
Find the Customer Group Catalog Permissions for Magento 2 module in our store.