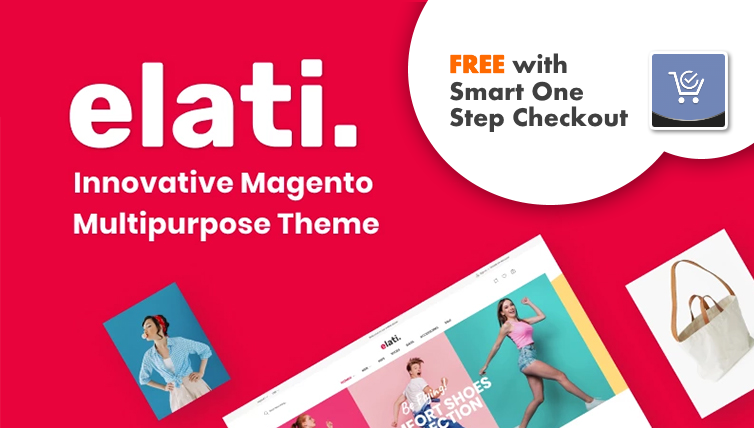 Aheadworks, TemplateMonster and Zemez have teamed up to bring an incredible deal to all M2 Merchants: free Magento 2 theme of 4 design options with any One Step Checkout purchase. ADDITIONALLY, we complement the bundle for free with Payment Restrictions, the new extension boasting spiraling popularity! Impressive, to say the least, our team debut is to power up your M2 stores with cutting-edge web-design and broad-spectrum functionality to stand beyond competition.
Whether you are migrating from M1 to M2, considering starting an eCommerce business powered by Magento or simply want to update your current M2 site, a new template will put you in the right direction. Reviewing from large pools of Magento theme stokers, even those most trusted, offering well rated templates can be risky. Thereby, we have come up with an all-in-one solution – a bundle of the elati. theme and One Step Checkout + Payment Restrictions, which will be available on the Aheadworks.com website for a limited time, starting now!
Choosing a Magento template – no knotty business!
Theme compatibility has always been one of the most crucial issues for customization of Magento stores. Requests on theme compatibility reach thousands of entries on popular web forums like Github and Magento Community on a regular basis. Undeniably, the multitudes of extensions and themes produced for Magento 2, though tested against some version of the platform, are rarely tested against one another. Even if attempted, variables would result in billions of test scenarios – next to impossible to accomplish. The only solution here is to find a trusted development team of both templates and extensions, or a venture of joint endeavours, like the one of Aheadworks with TemplateMonster and Zemez.
Thinking of an eCommerce shop as a mechanism to interact with customers, merchants usually increase functionality first. Typically UI/UX is a close second to core functionality; however, when approached as an afterthought merchants run the risk of having less than attractive websites. Striking a balance between the two can be challenging and time consuming. Elati theme has been designed and is now powered by Aheadworks extensions to help merchants achieve that balance, effortlessly.
Compatibility of a Magento 2 theme with the platform and the extensions to support it is of utmost importance for stable operation of a store. 
As we all know, from both the merchant and consumer perspective, checkout is the most important stage of shopping. Failures are not excused or tolerated at this crucial stage. So, needless to say the stability of a theme and M2 checkout is of utmost importance. Adding to the already substantial benefit of the elati theme One Step Checkout speeds up the checkout, making the process more user-friendly, and eliminates checkout friction that can otherwise hinder conversions.
The elati. Magento 2 theme +
The template web-design was initially created by Zemez for fashion online stores. To our jubilation, in collaboration we have extended it from apparel e-commerce to themes for handbags, sunglasses and jewelry online shops. At the same time, the highly adjustable elati. can be configured to serve a store of any merchandising purpose. At the moment the template suggests three completed layouts for the home page.
A collaboration of modern design and powerful functionality elati. blazes with the following features:
Full compatibility with Magento 2 platform
Faultless integration with M2 One Step Checkout and M2 Payment Restrictions from Aheadworks
4 topical skins
3 ready-made Homepage layouts
Retina ready, responsive cross-browser design
SEO and speed optimized
Mobile-friendly
Multi-language support

Let's review the core-elements of the elati. Magento 2 template:
Admin panel and theme color switcher
Contact and search forms
User registration and newsletter subscription options
Drop-down menu and commenting system
Ajax shopping cart and back to top button
Live search, and more.
Smart One Step Checkout +
A best-selling extension by Aheadworks introduces a highly configurable and performance-optimized Magento 2 checkout page, which allows customers to checkout in one step, their actions smartly analyzed for you to ensure exceptional user experience. The module may further be enhanced with Gift Card, Store Credit & Refund and Reward Points by Aheadworks.
One Step Checkout supports multiple payment methods, including those of Bambora APAC, Affirm, Amazon Pay, Paypal. The module allows fine tweaking of the checkout page, ensuring no distracting elements populate your custom design. On top of this, we have equipped the module with a set of built-in reports to facilitate data-driven decisions and improve checkout experience at the store.
| | |
| --- | --- |
| | Besides its immediate function, One Step Checkout provides performance statistics on checkout conversion and abandonment rates, total abandoned checkout and placed order revenues and checkout field completion. |
The use of the extension brings about a great many benefit in the end result into faster checkout, namely:
Customer can login on the checkout page
Existing customers are recognized by email address
Items in cart can be edited leaving no checkout
Filled-in fields are saved in case of unexpected page reloads 
Payment Restrictions  
M2 Payment Restrictions facilitates flawless and comfortable payment experience by specifying payment methods to be available at checkout, customer group restriction provided. The extension can be further integrated with Company Accounts, – this is where you are one step away to breakthrough into B2B eCommerce spending no fortune at start.
| | |
| --- | --- |
| | Payment is what consolidates the deal, it is when reciprocal trust is cemented, when both parties reach the climax of their business adventure. Facilitating flawless and comfortable payment experience is then the cornerstone of a successful online shop.  |
Simple, yet specialized, functionality of the module facilitates your fuss-free user-experience in the finest traditions of Aheadworks to effectively customer-center your store. Payment Restrictions features the following functionality:
Using all enabled in the store payment methods
Restriction of payment methods at checkout
Restriction specification against customer groups
Multi-selecting  groups
All Groups Select option
---
Smart development strategies and many years of Magento eCommerce experience allow us to design superior extension options for the enhancement of your Magento 2 stores. This exclusive, bundled offer is exemplary of our work and continued collaboration within the Magento community as a whole!