Birthdays, Christmas,Valentine's Day, Mother's and Father's Days - the list of holidays, when you usually give presents, is quite long. And, as an ordinary worker, we understand that sometimes you do not have enough time or desire to go shopping for gifts. In such cases, the gifts begin to feel more like a burden, and when you enter a store and have no clue what your co-worker Jim or great-uncle's wife Amy likes or needs, then shopping turns into a nightmare.
So, having been in this situation many times, I've decided that my accessories store will certainly offer gift certificates. The market offers a wide range of possibilities for adding gift cards for a Magento 2 store. But a wide selection makes the selection process confusing. So today, I want to share my personal experience in the world of gift vouchers and technologies, which will surely be helpful for dummies like me.
Native Magento 2 Gift Card functionality
I started my journey from native Magento features. For those, who don't want to read the whole article, I'll say upfront - as with many other native features, gift card functionality is quite limited on Magento 2. But if you need basic options with a strict common design, it may be a perfect match for you. As for me, I wanted something special and reflecting my store personality, but let's talk about it later.
So for creating a gift card in Magento Open Source you need to go 
Catalog > Products > Add Product > Gift Card. 
Here fill in the fields with the necessary information: its attribute set, name, SKU and type. What I liked about native functionality is that it allows store owners to create different gift cards: virtual, physical and combined. In this way, we can send our gift cards through email, or print and send them via post office.
Then you need to set fixed amounts of the card value or enable the Open Amount toggle to give customers the opportunity to define the value of the gift card themselves. 
When the basic settings are completed, scroll down to the Gift Card Information section to set its expiration date, choose email template, enable credit opportunity and allow customers to leave a message. Then complete the product information, click Enable Product and Save it. The basic gift card is ready!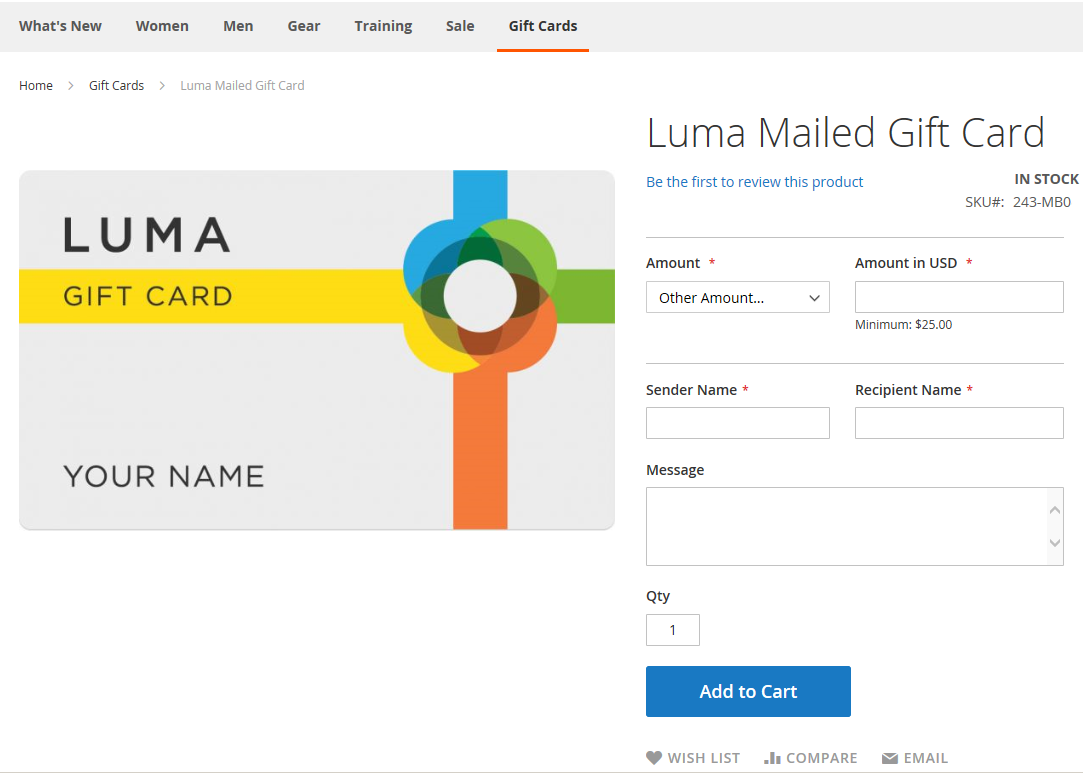 Gift Card extension for Magento 2
As I mentioned above, I wanted the gift certificates to reflect my brand and specify the holiday so it looked relevant and really festive. In search of an appropriate solution, on Magento Marketplace I found Aheadworks Gift Card for Magento 2. The extension had good reviews and all necessary features, including a convenient editor, ConnectPOS and import/export card codes options. 
Besides, I find a gift card pool to be a convenient way to manage gift cards of the same purpose, whether it is a specific holiday or similar price range. For example, one of my pools is For Loved Ones - the gift card code includes the words of love (to do so I generated codes in advance and imported them from the .csv file). The customers like that their beloved will find pleasant words when apply a gift card code at checkout. 
And finally, the favorite feature for our customers is the delivery date, which they use to set the day of celebration.
After the Gift Card module installation, you need to go 
Stores > Configuration > Aheadworks extensions > Gift Card. 
Here set the expiration date, your email address, the gift card code pattern and taxation preferences. I set these configurations once and still haven't changed.
To create a gift card you need to go 
Catalog > Gift Card by Aheadworks > Gift Card Products > Add Gift Card Product. 
Same as in native functionality, define attribute set, SKU, name and type (also virtual, physical or combined). Then define the gift card product description, its expiration date and if it belongs to any of the existing pools. 
In the Email Templates field, you can add different images to the templates for different occasions, and then define the amounts to which the gift card is available for purchase with or allow an open amount. I prefer the pricing options to start from $20, which is the minimal cost the gifts should have. 
And to complete the gift card customization you should decide if you want to allow the gift card delivery date (Believe me, your customers will thank you for this option!).
What a pleasure to see new customers coming to you for your beautiful gift certificates and becoming regular ones!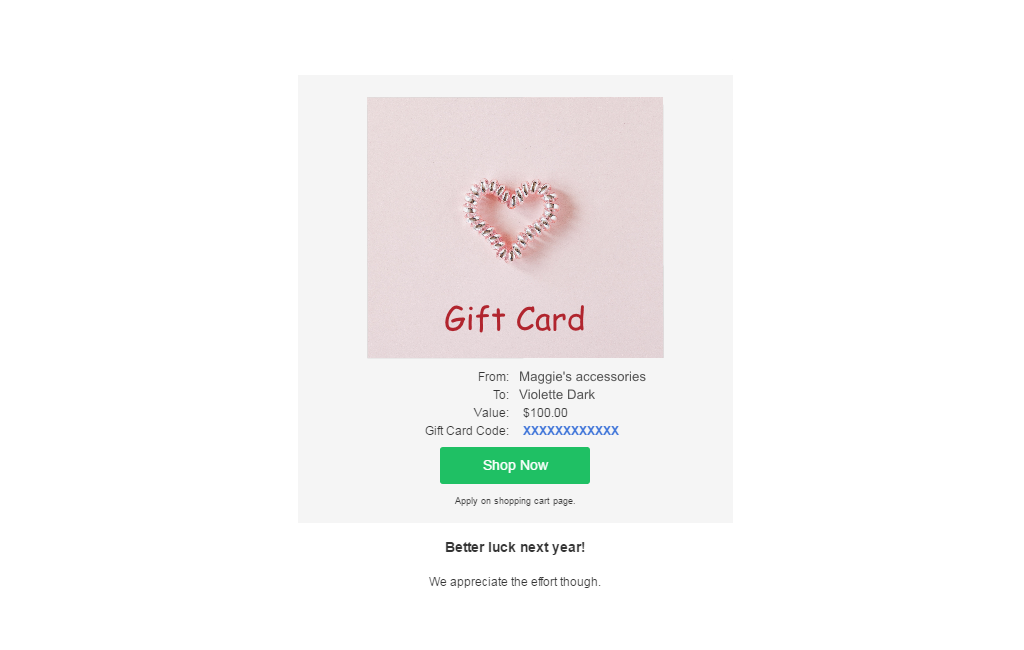 Final Thoughts (Aheadworks Team)
We are happy to see our clients becoming popular and successful like Margaret, the founder of Accessories, to create compelling gift vouchers, install our highly-functional Gift Card extension for Magento 2. Check the demo here.