Back in November of the last year, when Magento 2 was launched, it garnered a lot of excitement. And, in the next couple of months, the popularity and awareness of it increased manifold.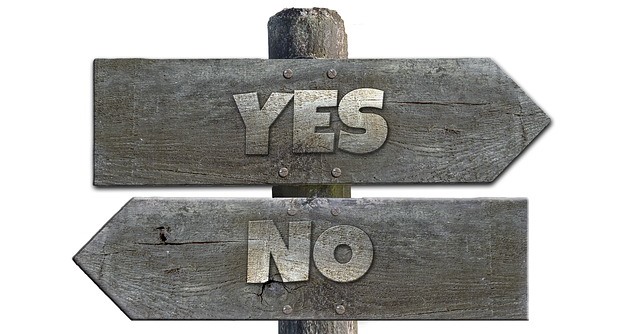 Many early adopters
have already started experiencing the benefits
by migrating to Magento 2, for example Venroy, a fashion portal that specialises in male beach resort wear.
"Magento 2 has played an important role in helping us reclaim our brand and reconnect with our customers. With a production schedule of only 8 weeks, we were able to use much of Magento's capabilities 'out of the box' to deliver a unique, mobile optimized brand experience. Magento has transformed our business and delivered exceptional results from the get go,"
said
Sean Venturi, co-founder of Venroy.
However, while a number of Magento 1 users migrated to Magento 2, others were happy to keep using Magento 1. And, those who heard about and plan to adopt the latest Magento 2 are
unsure
whether it is worth considering. The reason for this, as we can see it, is simple. Store owners are
not fully aware
of the Magento 2's potential and how to capitalise it to their advantage.
Quite clear, it is not about Magento 2. It happens to every new version of a product when it reaches the market and making the decision to switch to it is not an easy move. You need to analyse different features and benefits weighing them against the previous versions to make a correct decision.
That is a lot of work!
And, if you miss an important feature, you will eventually end up making a wrong decision. Can you afford that? Certainly, not.
So, to make your job easier,
we checked most important features of Magento 2
, used and compared them to Magento 1 to evaluate their benefits. Here is what we have found.
Improved Features and Benefits
Backend Admin for Non-Technical Users
In Magento 1, bulk-editing of your products involved a complex process. Also, the user experience of the admin interface was not well optimized for non-technical merchants. Magento 2 nullifies this problem. The admin interface has been improved, making it
easy for non-technical users
to accomplish more without recourse to their developers.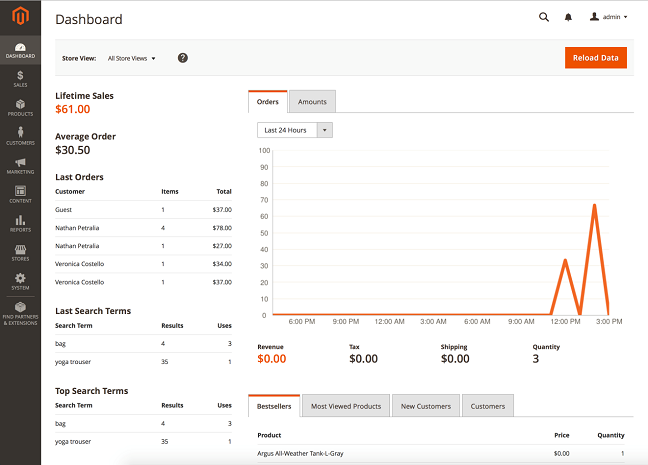 Magento 2 Backend
Here is a quick rundown of the improvements to the admin interface:


Optimized for a wide array of screen sizes, including iPads, touchscreen laptops and Android tablets;


Improved usability and modern flat design;


New data grids and easy column reordering that make the grids convenient for you personally;


Inclusion of filter breadcrumbs that enable you to identify all the filtering criteria, even if you use a lot of them at the same time;


New element types, including single- and multi-selectors in forms, advanced dynamic capabilities and live input data validation;


New product creation workflow, including reduced numbers of product templates from seven to four, which is enough for all types of online sellers. Also, it enables you to create configurable products at once. 


Faster Page Loading Speeds
The major downside of Magento 1 was its slow loading time compared to other eCommerce platforms. Magento 1 needed extensions, such as Varnish and Nexcess Turpentine, to optimize the caching speed. Magento 1 didn't contain those extensions by default and sometimes their integration required additional customization, time and money expenses.
Magento 2 has that part covered.  It comes with the
built-in support for Varnish caching and full-page cache component
. So, from the moment you embrace Magento 2, it will support caching out of the box. Moreover, internal caching means that your page load times will be cut down significantly, which will allow you to deliver your content to your customers and manage your backend environment quickly.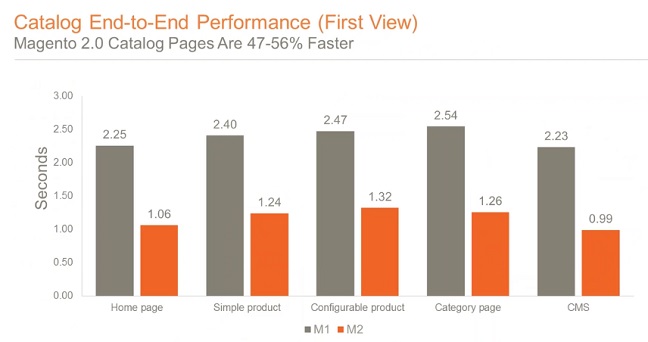 Magento 1 vs. Magento 2 Performance Testing
Source: Magento 2.0 GA Developer Webinar
And, shorter loading time also means a better user experience leading to higher conversion rates.
Support for Popular Payment Gateways
Another big advantage of Magento 2 is that it supports integration with
popular payment gateways
, which was not possible earlier. These gateways include:


PayPal,


Authorize.Net,


Braintree,


CyberSource (Enterprise Edition), and


World Pay (Enterprise Edition).


This helps you
incorporate various types of payment options
for your customers and provide them with better overall checkout experience. It also means that you no longer need to invest significant time in development, as these platforms are already supported.
Streamlined Checkout Process
The checkout process was slightly complex and time-consuming in the prvious version, but it has been simplified in Magento 2. Now, it
requires less customer information and steps
, and it is highly customisable.
When a customer goes to the checkout, he will be automatically brought to the guest checkout screen, where he just needs to enter his email address. If it matches an existing customer's email, he is provided with the option to check out faster with the saved information. 
Guests can quickly create accounts
from the order "Thank You" page with one click. Moreover, for new customers, billing address information is asked only when it is required by the payment method.
Overall, it
reduces the check-out time
, helps you cut down the number of abandoned carts, increase conversions and encourage repeat customers.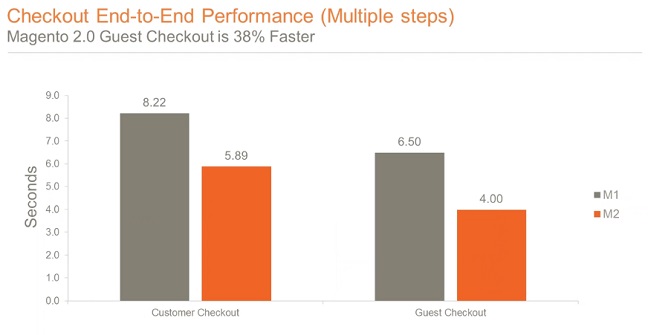 Magento 1 vs. Magento 2 Checkout Testing
Source: Magento 2.0 GA Developer Webinar
Better Testing Framework
If you have a large online presence and want to mitigate your risks or you have a complex eCommerce solution with a lot of moving parts, then it is mandatory to perform
regression testing
every time you roll out big updates. This way, you can ensure that no amendment is able to break your store down.
But, testing was a pain and very difficult in Magento 1. Magento 2 is a savior here. It comes with a
built-in testing framework
that reduces the effort needed to execute regression testing and facilitates functional testing. It also ensures that any functionality that has been added does not affect other features. The framework allows any site, regardless of its size, to run automated tests.
Creation of Multiple Databases (Enterprise Edition Only)
One of the problems with Magento 1 was that customers browsed and checked out products on
the same database
that your admin employees used.
So, if one area was overloaded, it could reduce performance of all the areas. For example, your customers could experience slower page load times when a large number of admins poked around Magento's interface. But, Magento 2 enables you to
create separate databases
:


Main (products and configuration settings);


Checkout;


Orders.


This ensures that both your admins and your customers will not disturb each other anymore.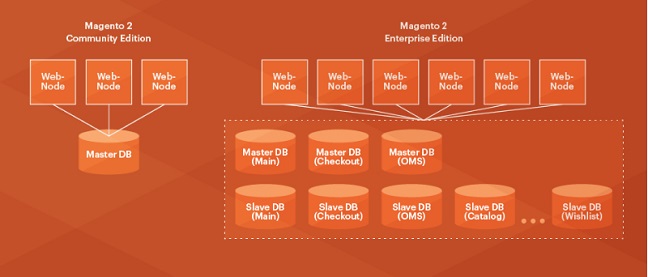 Magento 2 Separate Databases
Source: Magento 2.0 Developer Documentation
Other Important Features


Support for multiple languages and currencies;


Default JavaScript library;


Visual merchandiser;


Layered searching and navigation;


The ability to personalise content;


Component-orientated architecture;


The ability to make private sales;


Almost infinite levels of customization;


Helps you work with the global network of partners;


Enhanced tools for customer account management.


The Next Step
These features clearly demonstrate that Magento 2 is the
way forward
, if you want to offer a better user experience and increase conversions. So, should you switch or not?
Well, if you are looking for user-friendliness, speed, easy accessibility and versatility, then
without a doubt you should switch to Magento 2
. And, it is time to act now if you do not want to lose potential opportunities. This step certainly requires careful consideration, but you do not really need to worry when you are assisted by a team of experienced and results-driven Magento specialists.
This guest post is provided by Colourways.

With over 7 years in Magento commerce implementation, Colourways is one of the most experienced players on the global market. We specialise in customisation and re-development of Magento modules, tailored to the needs and requirements of our clients.Whether you plan to migrate your existing store to Magento 2, or build one from the ground up - we are here to help.