Mutual integration of online and physical stores today is absolutely common and requires merchants to settle the shopping experience within this business concept simply perfect.
Striving to provide only excellent services retailers closely integrate both channels and
build a holistic model of sales
 allowing customers to easily move between online and offline stores and vice versa.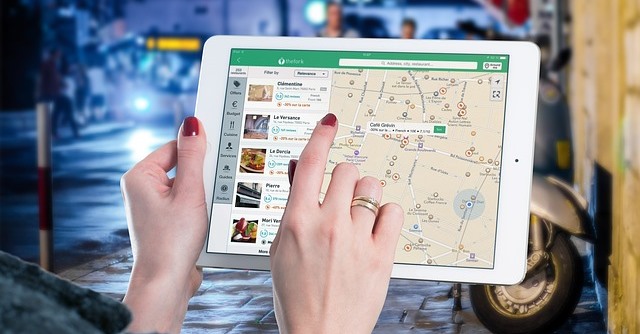 If this is just about your business, you certainly need the
Store Locator extension made for Magento 2 stores
. With this extension you can
offer customers freedom of choice
while they select most suitable locations of your physical stores, offices, service facilities and other outlets online. Rich-content descriptions are able to provide customers with all necessary information from working hours and contact information to store pictures and links to their web sites.
Similar software is
 widely used by globally leading companies
, including Apple, Walmart, UPS, etc. So, now our customers also have a chance to benefit from the same functionality since today we release the
Store Locator extension for Magento 2 stores
.
Store Locator Functionality
Store Locator for M2
helps customers find nearby locations in two ways: by addresses and radius searches. As far as the extension is integrated with Google Maps it provides the information clearly and via a familiar interface.
Fronted Features
Convenient Search Options
The module provides customers with two straightforward location search options:
Search by Distance and Search by Address
. The Search by Address option allows them to find store
locations near a certain address
. Customers just need to fill the address form and then get nearby suggestions.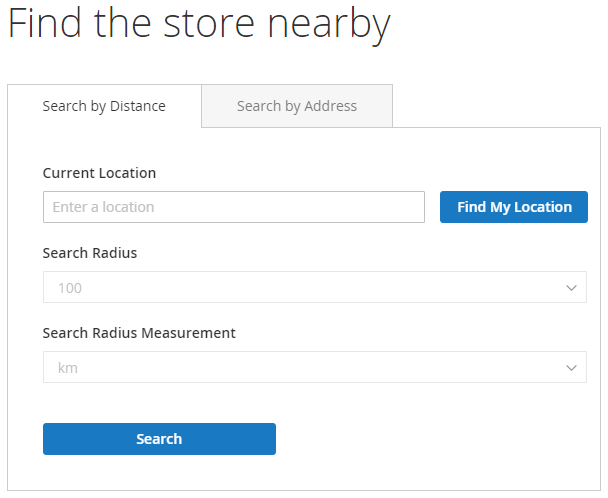 Store Locator Search Options
In the case someone does not know the address exactly, he can take advantage of the Search by Distance option (default). Here a customer needs to provide his current location and
search within a certain radius
to get some destination location suggestions. This option is more advantageous for new customers without specific preferences.

Note: Customers can inform Google about their current locations automatically using the Find My Location functionality.
Detailed Store Information
Immediately after Store Locator provides customers with location options, they can read
all the information
about these stores or offices, including pictures or links.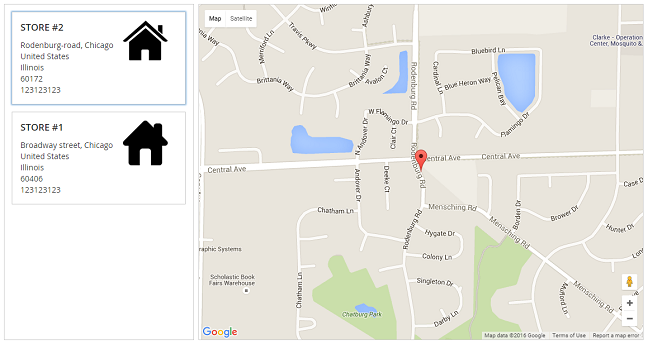 Locations Description and Google Map
Google Maps Based Visualization
Store Locator is
integrated with Google Maps
allowing customers to visualize location positions and identify most optimal ways to get there.
Backend Features
Store Location Setup and Management
Firstly, you need to add locations in the backend filling them with all necessary information. For that you need to follow
Content -> Store Locator by aheadWorks -> Locations
. The Locations grid allows you to either add new locations or manage existing ones.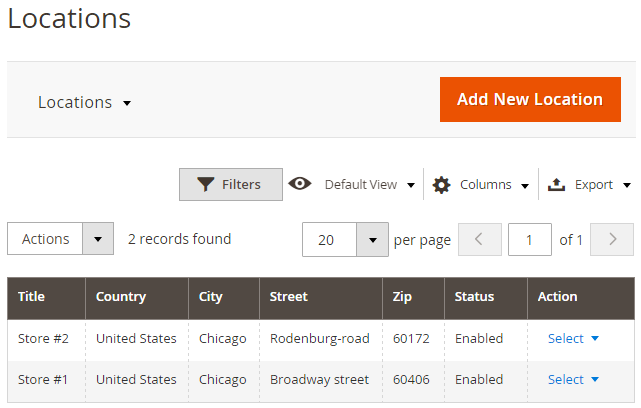 Locations Grid in Backend
The provided
functional opportunities
enable you to filter and sort locations, add new columns to the grid, fulfill mass actions (delete, enable, disable multiple existing locations) and export the content of the grid to the CSV or XML formats.
General Settings
As soon as you need to add a new location you should click the
Add New Location button
. Within the General Information section the location status, title, country, state, city, street, zip code, phone, store view, description, sort order, location and Google map marker image should be specified. Still, only four fields are must-have, while all the rest ones are just optional.
Google Maps Settings
If your do not have an official address yet or it is not recorded in the Google Maps data set, you can
add the marker using universal geographic coordinates
of latitude and longitude from the Google Maps Settings section.
Configuration
The
Configuration section
allows you to set up the basic behavior of the extension. From the General section you can enable the Store Locator page, define its title, URL key, enable the page link in top menu, specify the header CMS block, and fill the Google Maps API key.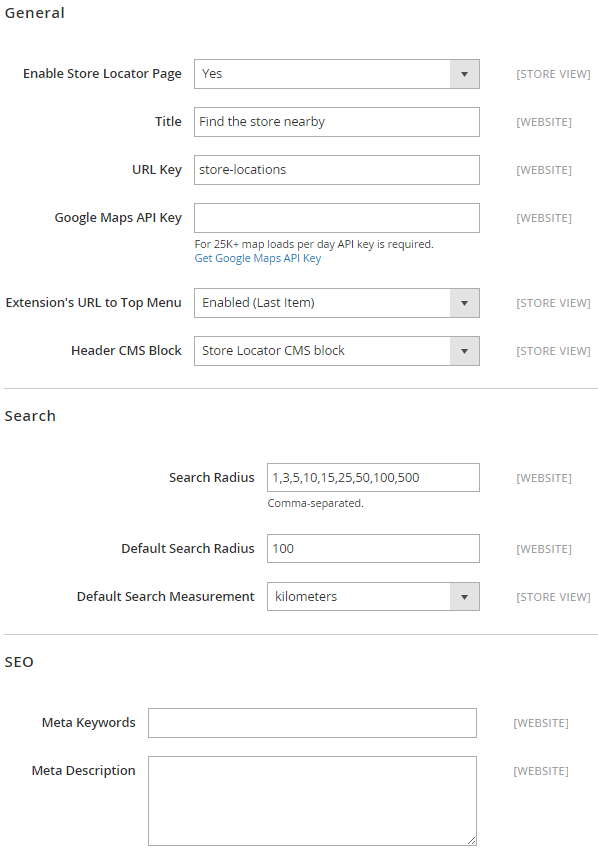 Store Locator Configuration Section
Next you need to specify
search radius options
, default search radius and distance measurement units. And, the last section is
SEO
, where you can add Meta tags (keywords and Description) to the Store Locator page.
Conclusion
As you can see, 
Store Locator
is a simple still valuable Magento 2 extension indispensable for omni-channel distributors, large B2B companies, or network retailers. You can try the above functionality in our
demos
and purchase this extension in our
Magento 2 store
.
Learn more from the Store Locator
Readme
.