More than 250,000 merchants are using Magento as their eCommerce platform. 
Are you one of them?
If you're! It's great to have you here.  
And if you've recently migrated to Magento, Welcome to the Tribe :)
Users when arriving on your eCommerce site mostly come with the intent of either checking your products/services or purchasing them. 
Your aim as a Merchant is to convince them to go ahead and make a purchase. 
In this journey of mapping, the conversion of a visitor into a shopper is referred to as conversion rate. 
The conversion rate in eCommerce is referred to as the rate at which users put items in their carts and complete the checkout process. 
Why Optimizing Checkout Store is Important?
According to Atwix, the pandemic period gave eCommerce 10 years worth of growth in just three months so to waste available opportunity due to inappropriate strategy or configurations is senseless. Atwix has provided the solution to the first issue with the help of Advanced Performance Audit. Considering the second issue, marketologists suppose that the most vulnerable part of webstore configurations is the checkout.
If you're not optimizing your store's checkout process, you might end with lower sales and poor revenue streams. 
From the experience of several eCommerce experts, the best bet to keep up with your conversion rate is effectively optimizing the Magento store checkout process.
You might ask why?
Online shopping is all about the convenience and quickness of making a purchase while being in one's comfort zone  
If the checkout process or experience of a user is filled with frustration, why would they want to come back for another purchase? Or maybe some will not complete the shopping process in question! 
You need to optimize every aspect of the purchasing journey, make it easier for the consumers to make them inclined to shop more and make purchases more often. 
Why do customers abandon their shopping cart?
Cart abandonment is widespread. 
You and I might have done the same thing many times. It's common to leave an eCommerce site without completing a purchase.  The reasons behind it can be distinct. 
Still, if you're looking for an answer to why people abandon shopping carts, here are a few reasons why:
Lack of payment options

Technical glitches 

Lack of trust towards the brand

Complexity 

High shipping costs 

Higher product price at checkout
Note: As per a study conducted by Baymard Institute, the average rate of cart abandonment is 68.8%. You must know, cart abandonment rate between 60% to 65% is expected to be good in the eCommerce industry. However, you must always target to decrease it.
How to optimize your checkout conversion rate?
To make your life easier, our team has researched and come up with some valuable insights around the checkout experience.
Here are five ways to improve your checkout conversion rate:
Most businesses regard sign-up requests as their primary way to grow customer databases. But do you acknowledge it can sometimes act against you?
Well, you heard it right. Forcing people to register on your website can easily bug them off if they are in a hurry to make a quick order.

To avoid this additional hassle, they might immediately decide to go on another website with faster order processing.  
Following this unimpressive interaction, they might not return to your website ever.   
But how would you build your database then? 
The easiest answer to this is requesting relevant contact information during the checkout process. This will serve both your purposes. Not only will you have a detailed database, but your customers will also have a choice. Amazing, isn't it?
This can also lead to them returning over and over again if you provide a remarkable shopping experience.
Way 2: Explore a Single-Page Checkout Process.
You might have noticed, most websites have a multi-page checkout process. This means while you add billing information on one page, you will have to redirect to another page for payment, and yet another for delivery mode. 
This multi-page approach is one reason why customers abandon their carts. Who would want to go through so many struggles anyway, right?
The solution to this comes in the form of single-page checkout in action. Herein, you will have all checkout functionality on one page that is easy to navigate. This can considerably reduce the chances of cart abandonment.
Even statistics advocates this approach. Single-page checkout is said to provide a conversion rate increase of up to 21.8%. 
Remarkable sales potential, isn't it?
Aheadworks is known to have a leading market extension for creating a single-page checkout.
Way 3: Avoid Unnecessary Fields in Checkout
If you are an online shopper, you might have certainly come across sites with unnecessary fields in the checkout section. And there are no brownie points for guessing fields such as product recommendations, surveys, etc. before finalizing the purchase, which is irritating. 
So what do the customers do? With no lack of option, they simply move to another website that provides a smoother checkout experience.
While surveys and recommendations add to the information bank, they shouldn't hinder the shopping process. Rather, you can simply place these fields after the purchase is made (as optional!). 
A customer who has time to spare will readily indulge in this process post placing their order. Even if they don't indulge in the additional fields, you have at least not compromised on sales. 
Smart! Right?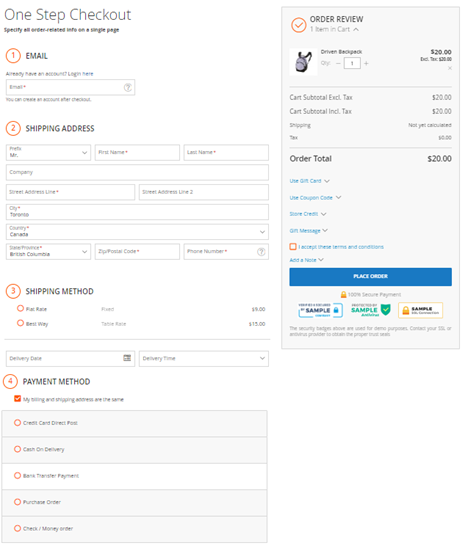 So keep your checkout process quick, simple, and streamlined. Magento 2 checkout extension can be of much help to realize the above suggestion. 
Way 4: Shopping Cart Recovery Emails
Most of the online shopping indulges happen while people are multitasking. Hence there is a high probability your customer can leave the cart unattended because they are occupied with something else.
The trick, in this case, is to send a cart abandonment email sequence. 
To allure, the customer back to the site, do keep these emails personalized and targeted with relevant discounts and offers. 
While formulating such emails, you must focus on crucial information to make a person feel what he/she might be missing. You need to provide them a compelling reason to return to their carts.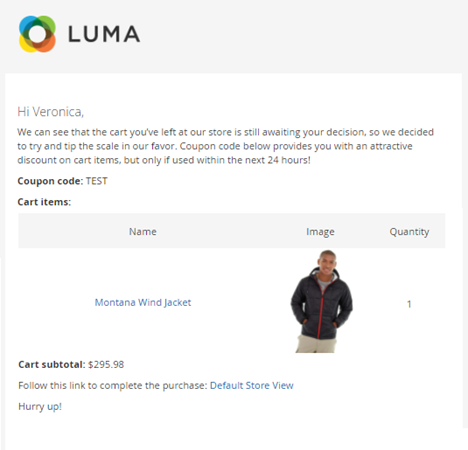 Aheadworks offers an extension wherein you can use scheduled automatic mailing to get the customers back.
Way 5: Retargeting Campaigns
Retargeting is one of the common forms of enticing customers back to the websites. 
If you are a customer, you might have seen ads featuring the products that you have searched on the web. Ever wondered how that happens?
Well, retargeted ads are the answer. 
It's a form of pay-per-click (PPC) advertising, they track past customer behavior to show them what they have been looking for. The mechanism behind this pattern is adding cookies, tracking a customer's online behavior on your website. Following this, you can place ads for purchasing customer-specific products on other websites. 
Since customers are constantly reminded of your product or service, they are most likely to return to your store.
Contrary to the search engine mechanism, you do not have to search for a product to be able to see the ad. Via an organic process, ads feature on websites.
By taking the aforestated measures into account, you will see your business flourishing with betterment in the conversion rate.