Starting with the unpopular physical gift vouchers that bring low income to its stores, the gift card marketplace has achieved success in the last few years. But what is driving the growth in gift card sales, and what are the key trends for gift cards in 2022? Let's discover it on today's blog post.
Gift cards are the payment documents with the prepaid amount of money issued by a store, retailer or bank. Shoppers, company employees and other individuals can use gift cards to spend on their purchases. These are often used by eCommerce companies as a promotional tool to let recipients find a gift based on their wants and needs and, at the same time, to keep money within a store.
There are two main gift card types: open-loop and closed-loop. 
Closed-loop gift cards are cards that can be redeemed only within one store or several stores belonging to the same company. It's the best option for those businesses, which want to ensure that shoppers will return to their stores.
Open-loop gift cards are processed on credit card systems like Visa or Mastercard and are not tied to one business. These gift cards are more flexible and can be redeemed almost anywhere, where the credit card is processed.
During the COVID-19 pandemic, open-loop gift card sales rose by almost 32%. Let's find out the reasons for the gift card sales boost with more statistics.
The global gift card market is growing every year. With revenue of $295.2 billion in 2020, it's expected to hit $584 billion by the end of 2025.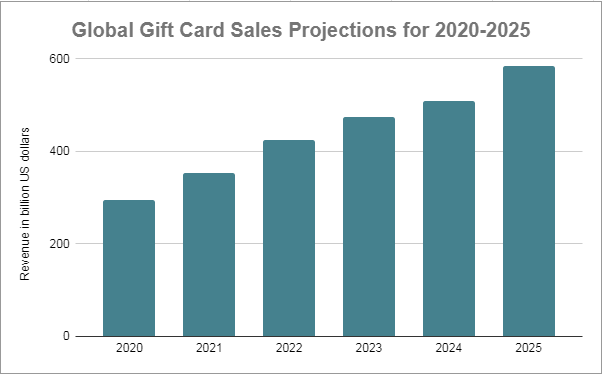 The popularity of gift cards is due to the huge benefits a store gets from offering them.  
59% of customers spend more than the gift card's value, 51% forget to redeem their gift cards, 78% return to the store for more purchases afterwards.
Gift cards are usually used as gifts for family and friends, as a reward for employees, or as a part of a promotion strategy to encourage shoppers to return for purchases. Thus, according to Nielsen Norman Group research, 73% buy gift cards for close family members, 49% for friends, 18% for colleagues. 
Only 17% of Americans want to receive gift certificates for the holidays. However, the increasing popularity of gift culture makes 76% of adults buy a gift card during the holiday period for various reasons.
Reasons to buy a gift card
Gift vouchers are extremely popular among millennials, because they are easy and fast to buy. 
Why do the majority of shoppers opt for gift cards? Because of the:
Choice of gift could be made by the receiver and they can spend as per their wants and needs;

The ability to stay on budget for holiday gifts;

Flexibility in usage;

No stress about return;

Easy to wrap.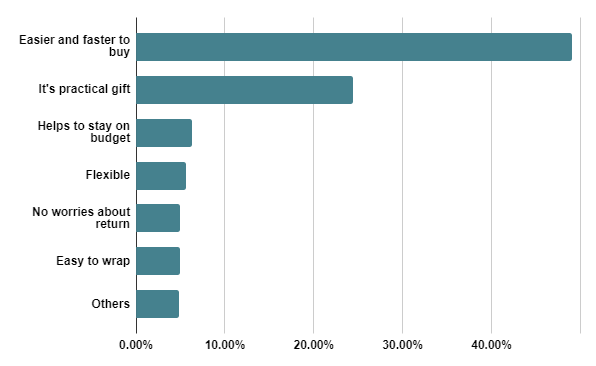 COVID-19 has brought about huge changes in the gift card market and eCommerce in general. The pandemic and the lockdown following it, get buyers to pay attention to online stores as a safer type of shopping. And gift cards have found their stable niche in the new world. Thus, open-loop gift card sales rose by 31.5% in 2020, and hold their position to this day. 
So, if you run an online store, keep in mind the following gift card trends:
The pandemic made shoppers without credit cards or those who were not willing to share credit card information to look for alternative payment methods. Gift cards' security, flexibility and convenience conquered people's hearts. 
The trend continues to bloom to this day and is projected to hit $1,922 billion by 2027. Among the best examples is Amazon gift cards, with 269,000 people hitting Google each month in the US to search for Amazon gift cards.
2. Popularity of home entertainment
COVID-19 also had an impact on streaming platforms and online games. Although some services of home entertainment, like Netflix, experience a sales decline now, the gift card market for these services is still blooming.  
3. Loyalty and Incentives programs
For the last two years, it has become especially popular to engage customers in Loyalty and Incentives programs by offering gift cards to the members. Even if the gift cards' value is small, they increase shoppers' desire to spend more money on online purchases and keep loyalty to the brand. Some B2B stores claim that they have experienced a 48% rise in sales by offering gift cards as a part of their loyalty program.
If you decide to offer gift vouchers in your Magento 2 stores, you should try Gift Card for Magento 2 extension by Aheadworks, which is much more powerful compared to the native Magento functionality. 
The extension enables you to create unique gift card designs, generate codes and manage all the gift cards effortlessly. You can define gift card values or allow customers to define the amount within predefined limits. The admin management tools allow you to set expiration dates, track gift card balance, send email notifications, etc. With the extension you can set, generate, send, personalize and redeem gift cards with ease.