Simple Bundle Product for Magento 2
Boost AOV by creating and selling product bundles.
Intuitive admin interface saves time on creating bundle products
Customers can add bundles to Cart in one click
Current extension version: 1.3.1 | Compatibility: Open Source 2.4.4 - 2.4.6; Commerce 2.4.4 - 2.4.6


License:
Starting At
Special Price
$129.00
$129.00

30-DAY MONEY BACK

FREE INSTALLATION

30-DAY FREE SUPPORT

LIFETIME RIGHT TO USE
Simple Bundle Product Gallery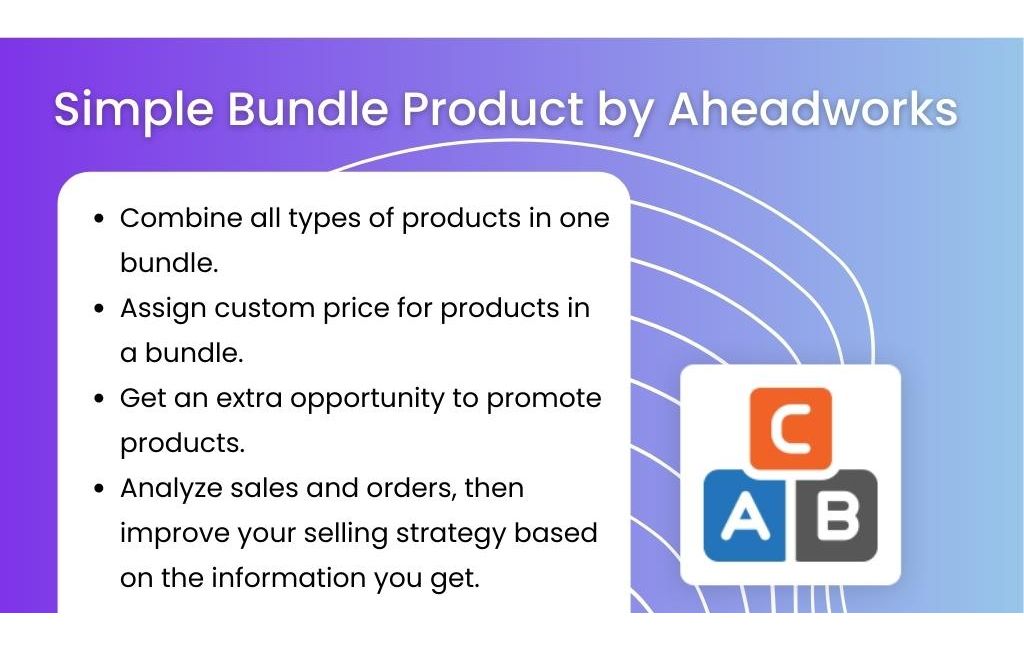 How Magento 2 Simple Bundle Product works
The Magento 2 Simple Bundle Product enhances the native Magento 2 functionality of bundled products management with the simple yet smart interface. Simple Bundle retains the familiar logic of bundles creation both on the back- and frontend, but noticeably improves user experience with updated features of the process, light-weight and intuitive.
Product Bundling Helps in Quick Purchase
Configuring bundles
Bundles on the storefront
Configuring bundles
Want to sell bundles, but get confused with the complexity of the native Magento 2 options? Commit the challenge to the Simple Bundle Product extension for Magento 2!


Simple bundle mode


By switching to the simple bundle mode, you can create your bundles four times quicker than before. Only essential configuration options will be displayed.


Backend bundle orders


When creating new orders on the backend, you can easily add bundles to them. No special set-up is required.
Bundles on the storefront
Bundles on the storefront
With Magento 2 Simple Bundle Product, bundle purchasing is simplified to the fullest.


Bundle items


Bundle items are now presented in the form of a list. And customers do not have to customize them! The module is completely compatible with the native solution so you can use simple bundles along with the flexible ones.


Quick purchases


With the customization step eliminated, all shoppers need to do is to add the product to the cart. That's it!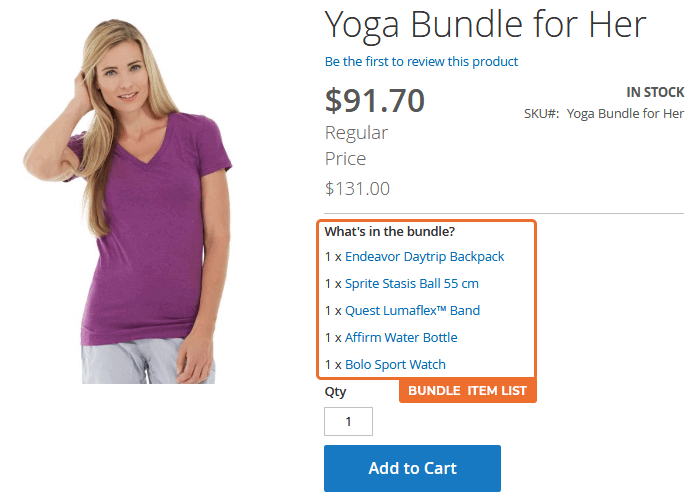 Make Bundle Creation & Purchasing Quick
1.3.1

Released 05.09.2023
* Fixed plugin issue when MSI is disabled in CE 2.3.7
* Fixed issue with reindex

1.3.0

Released 21.08.2023
+ Displaying SKU of child simple products in the order summary and invoice
* Fixed issue with an incorrect price on the category page when one of the child products is out of stock
* Fixed issue with editing products in the mini-cart
* Fixed issue with reindex error

1.2.10

Released 27.03.2023
+ Compatibility with Magento 2.4.6
* Fixed issue with bundle product on the Catalog page for Magento 2.4.6

1.2.9

Released 05.10.2022
+ Partial refactoring
* Fixed issue with design of product details on the shopping cart page
* Fixed issue with the "Simple Bundle" switch appearing after disabling the extension

1.2.8

Released 24.05.2022
+ Declarative schema upgrade
* Fixed issue with duplication of the Bundle product as simple bundle for Magento 2.4.4

1.2.6

Released 24.02.2022
* Magento installation cannot be finished

1.2.5

Released 08.06.2021
+ Work with MSI disabled
* Bundle product doesn't go out of stock when default qty of kids is more than product qty
* The Simple Bundle Product is not "In stock" if kids have qty's setting "Manage stock = No"
* Incorrect price when one of the children is out of stock


1.2.4

Released 18.02.2021
* Simple bundle product is shown as out-of-stock if there is no default source in bundle kids

1.2.3

Released 23.10.2020
* Magento 2.4 compatibility issues
* Fixed issue with products' price in bundles


1.2.2

Released 28.08.2020
+ Magento 2.4 compatibility

1.2.1

Released 24.02.2020
* Fix for Magento Marketplace

1.2.0

Released 31.01.2020
+ 'Add Products by SKU' option support (Magento Commerce)
* Fixed issue with 'Confirmation Pop-up' display


1.1.1

Released 04.07.2019
+ Updated stock calculation behavior
+ Mass action to create bundle products
+ Unnecessary step during order creation in backend was removed
+ Uninstall script
+ Web API support for creating simple bundle products
* Error during setup: upgrade
* SBP doesn't change the status to "Out of Stock" on Magento Commerce 2.3.2

1.0.1

Released 01.02.2019
+ Magento 2.3 compatibility

1.0.0

Released 05.12.2018
*Initial release
Can I set a fixed price and a fixed special price for the simple bundle product?
Question by: Motasem on Feb 21, 2021, 10:35 AM
There are 2 conditions: if Display Out of Stock Products set to Yes and if Display Out of Stock Products set to No. Simple bundle price for the first and the second condition will be different because it is normal behavior, caused by specific of the Magento price index. You can learn more about this in Introducing Simple Bundle Product section of User Manual.
Answer by: Julia Gorobets (Admin) on Apr 21, 2022, 6:44 AM
Will this extension let me add "simple bundles" from anywhere? Like from category pages or widget lists or cms pages?
Question by: Frakes on May 10, 2021, 3:41 PM
An admin needs to add bundle items in order to create a new bundle product. Once the bundle has been created, the admin can add it to new orders.
Answer by: Julia Gorobets (Admin) on Apr 21, 2022, 6:41 AM