Cart abandonment is one of the biggest concerns all ecommerce businesses have to experience. According to Baymard, 46 different studies find out that the average cart abandonment rate reaches almost 70%. For those who have gotten used to more stable brick and mortar stores, these figures can seem terribly large. 
And they are! But a number of actions taken by experienced merchants can reduce the rate dramatically. One of the most important actions to prevent cart abandonment is shopping cart optimization.
Consider yourself, in the buyer's place would you enjoy long multi-step order completion at checkout or it would give you more time to change your mind? And, what if this process is too long, complex with some confusing fields? Of course, now the default Magento 2 checkout has 2 steps instead of 6 as it has been before, but still it's not as optimized as it should be.
We have already compared a one page checkout with a multi-page one, but today we'd like to figure out why the top brands like Amazon, ASOS, Nike, etc. keep the entire checkout form on one page.
Why is one step checkout better?
Before we start discussing this topic, we should clarify that we don't differentiate one step and one page checkout, as in most cases it means the same thing - the way of checkout design, when the process is completed using a single form on one page. 
The second important point we'd like to mention is that we're in no way begging for benefits of multi-step checkout, which provides better analytics, clean page layout and faster page loading, but we admit that from customer perspective one step checkout is more preferable. And here's the reasons why:
1. No redirects and reloads
What can be more distracting from a purchase, than redirects and reloads. They annoy, confuse and in some cases kill the desire to complete the process. One page checkout looks much simpler for a customer: fields are in vertical position all in one page. So our verdict: the simpler and shorter your checkout is, the more conversions you'll earn.
As an extension feature (default Magento 2 checkout is multi-page) one step checkout is designed to be more easy-to-understand. All fields are clear and intuitive, with the remarks if needed, so no questions should appear when using it.
The best thing about one page checkout is that it streamlines the checkout process. The reduced number of fields, auto fills, all information located within a single page - all these saves up to 30 minutes on order completion. You should agree: the less time the checkout process takes, the more profit you can earn.
One step checkout has a responsive design, so checkout looks extremely good on any device: desktop, tablet and mobile. Besides, due to mobile internet being more unstable, people can experience multiple issues when reloading the page. Single page checkout reduces risks to losing the connection while completing the order at checkout.
How to enable one page checkout on Magento 2 store?
As we mentioned above, one page checkout is mostly an extension feature, so to enable it you can choose Aheadworks Smart One Step Checkout for Magento 2. It offers a bunch of useful features to optimize checkout flow and reduce cart abandonment rate. Let's discuss it in more detail!
First of all, the extension adjusts one page checkout to your theme automatically, so merchants can easily configure the process by adding, removing, renaming or allocating the predefined fields into the particular order. 
The in-built autocompletion, Google Place suggestions and pre-filled data, simplifies and speeds up the fields fill, which creates a positive user experience.
The order button is always clearly visible and accessible on any device, thanks to the checkout responsive design. 
Users are allowed to edit items and order details right at the shopping cart; the guest checkout option is also available.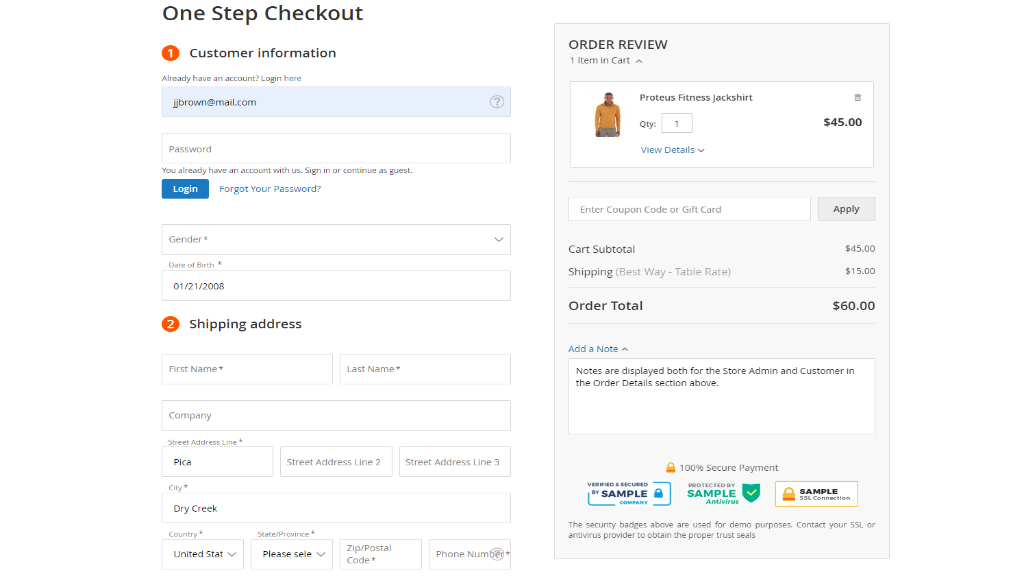 Besides, store admins get detailed reports on checkout performance, so they can track and review total revenue values, conversions, abandonment, and even prefield metrics to identify  most abandoned checkout fields.  
And also no good checkout extension will go without a variety of supported payment methods. Smart One Step Checkout offers its users the following payment options: NET.30, Authorize.net, Bambora APAC, NMI, PayPal Payflow, Affirm, Klarna, Braintree, Amazon Pay, B2B Company Credit, and Splitit payment module. 
When integration enabled, store admins can allow users to add gift cards, reward points or credits at checkout, login via social media account, purchase on behalf of the company, pay by predefined payment method, etc. Learn about extension integrations in the user manual.
Grab Magento 2 Smart One Step Checkout extension and start earning conversions today!