As a business owner, you might be always in search of ways to stay competitive while retaining existing customers and increasing their spending. There exist lots of marketing tools and tricks to build trust and partnership via excellent customer service, discounts, referral programs, subscriptions, and so on.  However, sometimes it isn't enough to increase customer lifetime value which is an important metric to drive growth. 
And especially if you are B2B targeted, more difficulties are waiting for you as B2B buyers are more "rational" and products or services are often more complex.
What we'd like to suggest in this case is to take a closer look at proposing customers make use of the limit. The customer credit limit may become an efficient tool for outstripping competitors. 
Offering Company Credit encourages customers to speed up and increase the amount of their spending. Selling on credit you state the stability of your business and stand up against the competition. It helps tackle potential risks in offering credit by arranging accurate records of credit history and enabling updates to the limits and balances when need be.
Let's take a real example of how B2B Company Credit for Magento 2 from Aheadworks may be useful for your business and make the workflow seamless if you work in the B2B segment. 
B2B Company Credit use case
Problem: 
"I'm a wholesaler and do business with companies who purchase products on credit. They purchase often and the calculation of the payment period starts with every order, making it challenging for the accounting department. We need to make our payment calculations easier, allowing us to provide a better B2B Shopping experience"
Solution:
While running your B2B Company Accounts integrate it with B2B Company Credit from Aheadworks to reach your goal hassle-free. This integration will allow you to do the following:
Monitor orders of all customers within the company account;

Encourage sales by offering credit to the companies;

Set credit as a payment method on front- and backend;

Manage overdue credit payments.
B2B Company Credit extension records all credit transactions and merges credit balance in one place on a company level.  As a result, on a company page on the backend you can see current credit limit information: 
Credit Balance

shows the amount of money the customer owes you, 

Available Credit

shows the amount of money available for the customer to pay for a purchase on credit 

Credit Limit is the amount of money that is set as the maximum for the customer to pay for a purchase on credit.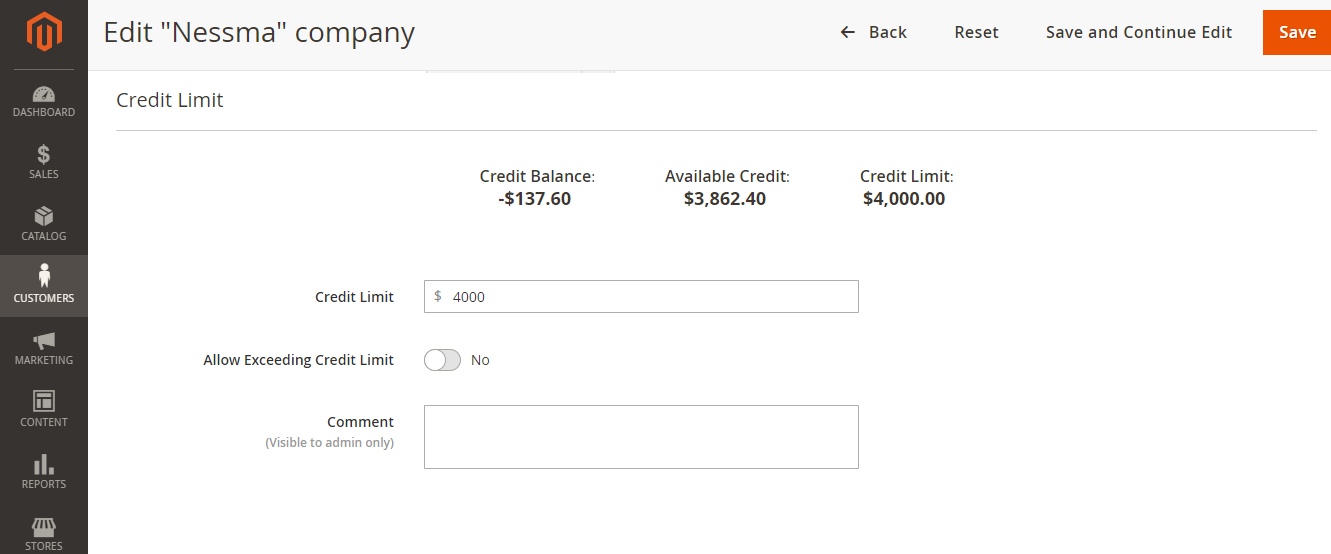 That information will allow you to invoice needed credit payment only one time per certain period (for example per month), so the accounting will focus only on a current credit balance state without the need to calculate each order.
All details about the transactions can be found also on the company page in Credit History, so you are aware of the credit balance calculation.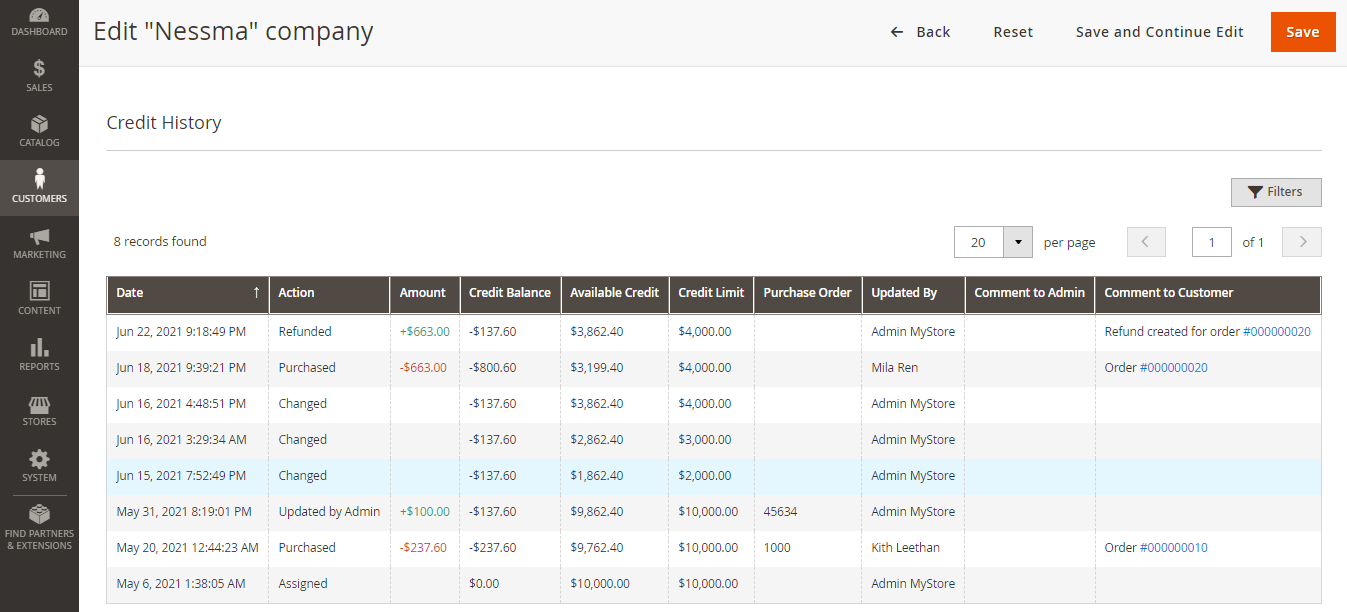 If you find this integration beneficial for your business performance, you might be interested in Aheadworks B2B Extension Suite for Magento 2 which includes the above-mentioned functionality, and much more. Visit the extension product page to explore the features in full.