Smart One Step Checkout for Magento 2
Increase conversion rate and decrease cart abandonment by streamlining the checkout processes for customers.
Customize the Checkout page: add or remove predefined fields, make them required or not

Analyze & track conversion rates and performance of each checkout field

Adjust to demands with smart configuration tools and data collection

Allow flexibility with the support of multiple payment methods
Current extension version: 1.7.7 | Compatibility: CE 2.3.X - 2.4.X; EE 2.3.X - 2.4.X

45-DAY MONEY BACK

FREE INSTALLATION

90-DAY FREE SUPPORT

FREE LIFETIME UPDATES
Smart One Step Checkout Gallery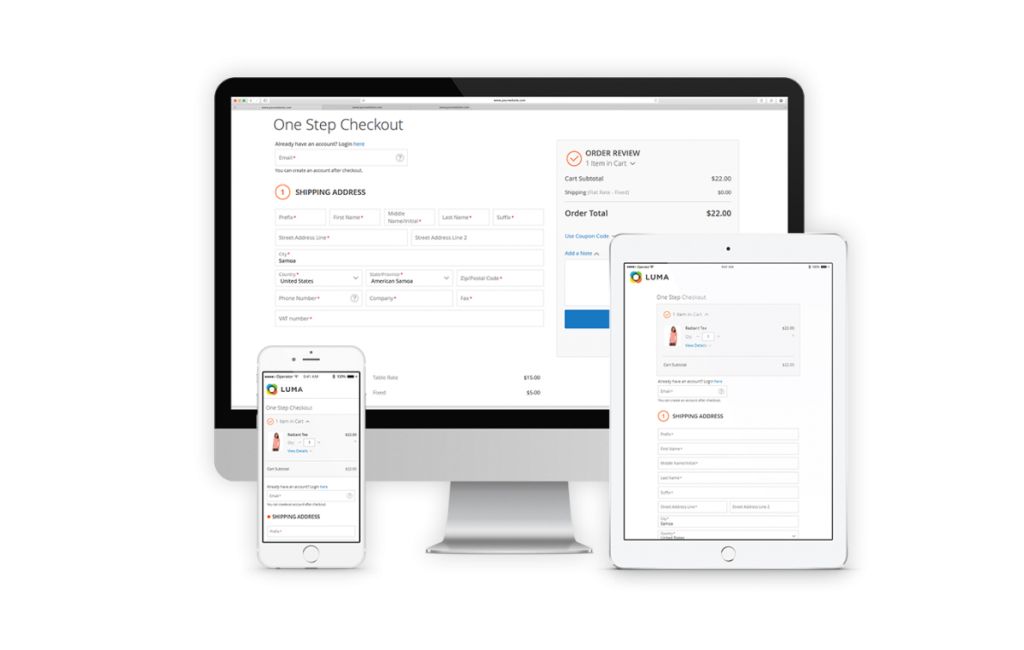 Increasing conversion rate has always been a proven  way to achieve your business goals. It appears, even a small improvement on the checkout abandonment rate can have a significant impact on cash-flow. It is well known that simply requiring users to click the "Proceed to Checkout" button is not enough. The Checkout page needs to be intuitive and user-friendly to minimize friction during the checkout process.
Simplify the checkout process and increase conversion rates by eliminating the required additional steps of Magento's default checkout process. Enrich the Checkout page with robust features like: excluding certain fields, adding comment boxes and adjusting the predefined checkout fields to decrease cart abandonment rates. Make sure your store checkout is not an obstacle, but rather an asset that will increase sales revenue.
Increase Store Profit with Speeded Up Checkout Process
Increase conversions and grow sales revenue, by simplifying native Magento checkout. Gain visibility into your stores' checkout analytics, and begin making data-driven improvements and optimizations based on those findings. The built-in reports show process bottlenecks to be removed and the number of abandoned checkouts to be targeted and reduced.
Store owners can define default values for fields, autodetect countries by customer IPs, take advantage of the automated address suggestions.
User-friendly experience guaranteed, highly adjustable to fit seamlessly with custom themes and mobile responsive design.
Customers can apply gift cards, reward points, store credit, coupon codes*, and edit items in their carts directly on the checkout page. The provided one page checkout has the "'Place Order" button always visible as a call to action.
Customize checkout page effortlessly
Make checkout easier
Speed up checkout process
Optimize checkout flow
Analyze performance
Improve checkout conversion rates
Customize checkout page effortlessly
Customize checkout page effortlessly
One Page Checkout for Magento 2  adjusts to your store theme automatically. All you have to do is add or remove predefined fields, adjust the order in which they are displayed, configure available delivery date and timing.
Make checkout easier
Set default field values, enable the GeoIP country detection and address suggestions, form autocomplete to simplify the overall process and make it more intuitive for customers.
Speed up checkout process
Speed up checkout process
Take advantage of auto fill-in for registered customers  and make sure customers complete order placing without any troubles. Allow users to place orders as guests and identify logged out customers by email.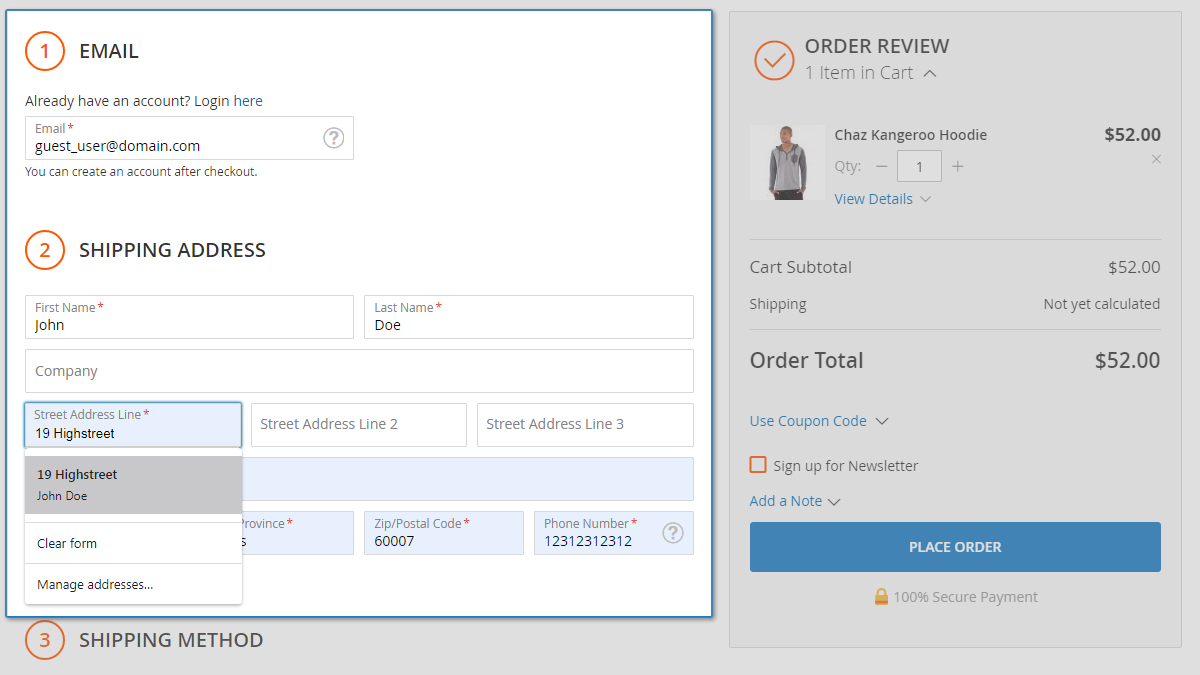 Optimize checkout flow
Create a user-friendly checkout where the 'Place order' button is always visible, without distracting elements. And your customers can edit products directly in the checkout, eliminating the need to abandon the checkout process.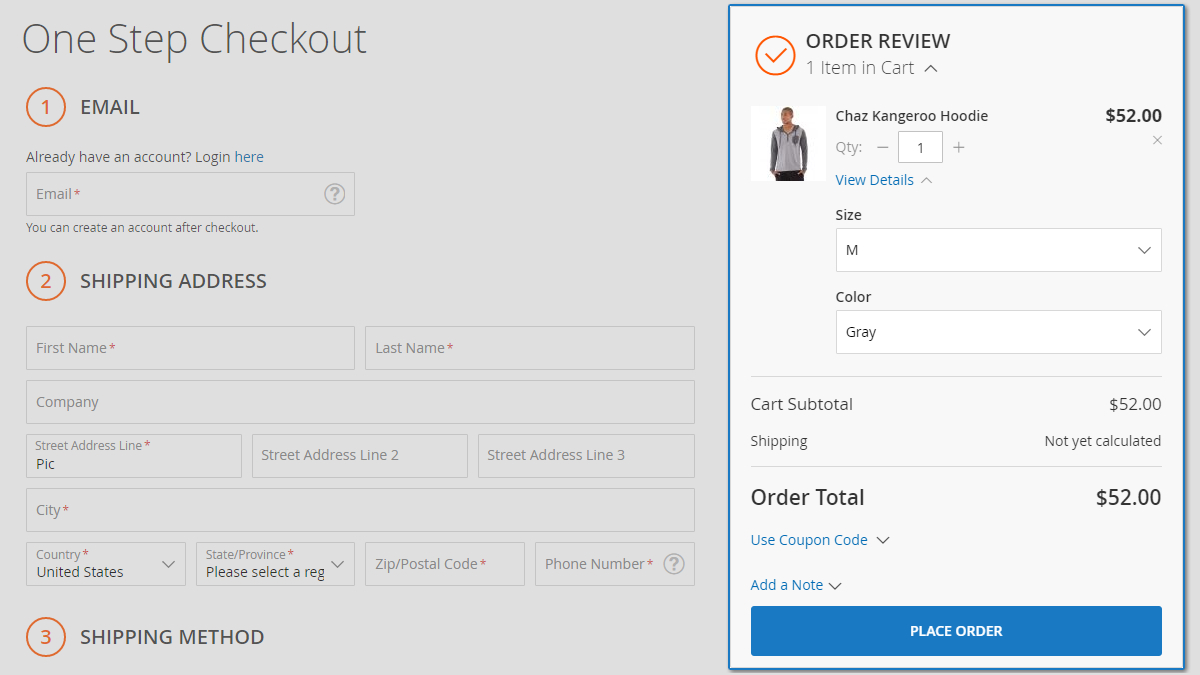 Analyze performance
With the help of built-in reports, identify the checkout fields where customers get stuck. Gather metrics on checkout conversion, abandonment rates, placed order revenues and checkout field completion.
Improve checkout conversion rates
Improve checkout conversion rates
Make data-driven decisions on how to improve the checkout process in your store. Determine which fields should be removed or added and how custom fields influence the checkout conversion. Analyze what shipping or payment methods are in least demand and whether to adjust field positions and default values.
Define if fields are mandatory, add, remove, rename predefined fields or allocate into the desired order.
Filled-in fields are saved in the event of unexpected page reloads.
Customer can login or edit items in the cart without leaving the checkout.
Address autocomplete options
Select countries autodetected by GeoIP and autocomplete address fields based on Google Place suggestions.
Review if checkout conversion is improving based on report findings on revenues lost on checkouts and total revenue values from orders placed.
The report shows which fields that are typically completed vs. those where abandonments are occurring.
'Place Order' button is always accessible, without distracting elements.
Existing customers are recognized by email address and have their data pre-filled.
Checkout conversion and abandonment metrics.
Checkout is made in a two-column design and automatically applies custom theme styles.
Date and time of delivery
Delivery date includes both date and time; required dates and time slots can be excluded from the date options.
Checkout page adjusts to any screen size, and the interface is mobile-friendly.
1.7.7

Released 14.04.2021
+ Compatibility with Klarna Payment method
+ Minor design improvements
* Google reCaptcha is not visible for PayPal PayflowPro payment form on checkout
* It is not possible to make Region/State field non-required in configurations
* Payflow Pro payment does not work on IE 11




1.7.6

Released 29.01.2021
+ Authorize.net official module support
* An error occurs when a customer doesn't have a default address (Magento 2.4.1 EE)
* Top menu is not displayed on the checkout page (Magento 2.4.1 EE)
* It is Impossible to select delivery date (Magento 2.4.1 EE)
* An error appears on Storefront after installing the extension (Magento 2.4.1 EE)
* Datepicker cannot be initialized in Magento 2.4.1
* Minor issues reproduced on Magento 2.4.1 have been fixed
* When Autocomplete is enabled, "Street Address Line" field is blocked
* Empty value in Prefix is not set by default
* isPrivateScope variable is replaced as per Magento recommendation
* Popup does not appear while paying with PayPal Express Checkout
* Default shipping address is not selected for registered customers
* Invalid display of styles when the error "ApiNotActivatedMapError" occurs
* Dependencies on Magento modules are removed
* JS error occurs if a user does not have an email and only 1 payment method is available
* Drop-down index is not working with TAB
* Extension attributes are not displayed in REST API orders list
* Billing address is not transmitted when the Paypal Express payment method is used


1.7.5

Released 31.08.2020
* Speed improvements

1.7.4

Released 21.08.2020
+ Compatibility with Magento 2.4
* Fixed issue when Shipping/Billing address is absent on "Checkout Behavior Report" page
* Message about required billing address is displayed correctly now


1.7.3

Released 28.04.2020
* Fixed issue when commas from the billing address field are visible to guest users

1.7.2

Released 21.04.2020
* Stripe official payment module support
* Fixed issue with required fields
* Improved compatibility with Aheadworks Cart to Quote
* Totals are not updated without reloading the page
* "Company" and "Phone Number" fields are in a wrong order
* Google reCaptcha is not visible in PayPal PayflowPro payment form on checkout
* The report pages are available by direct link if 'Checkout Reports' option is disabled
* Some fields are not displayed as required in accordance with the settings
* Fixed issue with wrong year of Delivery Date filter in Orders grid
* Minor design improvements
* Fixed issue with GeoIp database
* Improved compatibility with Store Credit
* Incorrect sorting of address fields
* Validation does not work properly for new shipping address
* Error occurs during compilation
* Fixed issues with native gift cards
* Fixed issue when 'Phone Number' field is always required

1.7.1

Released 19.02.2020
+ Magento 2.3.4 compatibility fixes for PayPal Express (native) and PayPal via Braintree (GENE)
* Address fields are marked as required if Paypal is enabled

1.7.0

Released 07.02.2020
+ Aheadworks NMI Payment support
* Error appears on the configuration page
* Fixed issue when Gene Braintree CC form is displayed incorrectly
* Minor design improvements for NMI and Braintree payments
* Fixed issue when only one stored card is shown on One Step Checkout page

1.6.0

Released 05.12.2019
+ Speed improvements (reduced the number of requests on page load)
+ Ability to set the order of the checkout fields
+ Added option to enable/disable checkout reports
+ Ability to use native 'Maximum Display Recently Added Item(s)' option
* Fixed issue when text is overlapped in Braintree payment fields on Checkout page

1.5.0

Released 20.11.2019
+ Telephone field is now optional
* Magento 2.3.3 compatibility fixes
* Fixed issue with an account creation when Prefix option is enabled
* Fixed issue with Paypal via Braintree if vault is enabled
* Step numbering for not 'logged in' customers was changed
* Minor design improvements on mobile


1.4.0

Released 18.10.2019
+ Authorize.Net payment method compatibility
+ Added 'Gift Message' option to the order
+ Affirm payment method compatibility
* Magento 2.3.2 compatibility issues
* Internet Explorer "clear field" feature overlaps OSC "?" button
* Fixed issue when the Shipping cost is not changed in Chrome
* Payment method is not updated if Gift Card was canceled
* No validation callbacks when pressing PayPal Button with enabled in context option
* QTY calculation doesn't work correctly on checkout with bundle product (Magento Commerce 2.3.1)
* Fixed issue with Magento FedEx
* If the "Persistent Shopping Cart" option is enabled, user data disappears when re-entering the page
* Fixed issue when "State/Province" field can't be renamed
* Error occurs when module configuration is saved ((Magento Commerce 2.3.3)



1.3.5

Released 31.07.2019
* Static test fixes
* Compatibility with Magento 2.1 is removed

1.3.4

Released 25.07.2019
* Checkout page isn't opened on the storefront (Magento 2.3.2)
* Prefix is not saved in the Order Shipping information
* Fixed visual issues with Ingenico Payment method
* Minor design adjustments
* Fixed issue with Captcha display

1.3.3

Released 15.04.2019
* "Continue to Paypal" button isn't clickable on Checkout page
* Fixed issue when 'Qty Increments' option is ignored
* Order is placed when one of the agreements is not selected
* Minor UI fixes

1.3.2

Released 18.03.2019
+ Cryozonic Stripe Payment compatibility
* Aheadworks Add Free Product to Cart compatibility

1.3.1

Released 15.02.2019
+ Magento 2.3 compatibility
* Improved support of Magento Commerce points, store credit and gift cards
* Shipping address is not selected by default if "My billing and shipping address are the same" is disabled
* Aheadworks Store Credit & Refund compatibility
* Aheadworks Coupon Code Generator compatibility
* Aheadworks Reward Points compatibility
* Unavailable payment methods aren't hidden on Checkout Page
* Error appears in console if Amazon payment method is disabled
* Error occurs on reindex with database with prefix
* Fixed issue with 'send email' action in admin
* Minor UX adjustments

1.3.0

Released 10.01.2019
+ Highlighting of unfilled fields was improved
+ Improved visualization of fields in the extension settings
+ Option to set cart items collapsed or expanded by default
+ Quantity can be updated by pressing 'Enter'
+ Javascript support in the Trust Seals block
+ Option to set Billing Address visible by default
+ Option to display 'Top menu bar' on checkout
+ Billing address is pre-selected by default if shipping info is not needed
+ Delivery Date is added to order confirmation emails
+ Tax summary displaying improved
+ Phone Number field uses a numeric keyboard on mobile
+ Customer Notes are also added to the order comments history thread
* Amazon Pay in Payment Methods allows placing orders without all data filled
* Order note does not appear in admin when Temando_Shipping is enabled
* Grammar mistakes and translation improvements
* Error message appears on an attempt to reconfigure a configurable product
* If state field is disabled in admin, a ",," is displayed in address
* Newsletter subscription confirmation email is sent twice when double opt-in is enabled
* JSON error after saving the information in the Trust Seals Block
* Data from custom address attributes is not saved (Magento Commerce)
* If the "Persistent Shopping Cart" option is enabled, user data disappears on page reload
* Error during reindexing on Split Database setup (Magento Commerce)



1.2.0

Released 08.08.2018
+ Integration with Amazon Pay
+ Custom CSS file for themes that do not support LESS
* Font path improvement in LESS file
* Fixed issue when labels don't move upon entering text in fields (Safari v.11)
* Fixed deploy problem



1.1.1

Released 28.02.2018
* Fixed issue with VAT validation on checkout
* Can't change Billing address when using PayPal Express
* Unable to place order using Paypal Payflow Pro Payment
* 'Address Line' string can't be translated via csv
* Shipping cost update issue
* Issue with initialization of the required "State" field
* Shipping methods become disabled when changing shipping addresses
* Loader doesn't disappear if payment with Braintree gets failed
* Paypal Hosted Pro compatibility issues
* Pressing of 'Tab' in the qty box deletes its value
* Shipping method doesn't appear on Checkout page without page refreshing
* Delivery date and customer notes aren't shown on order page

1.1.0

Released 22.11.2017
+ Integration with Google Autocomplete for Addresses and Places
+ Aheadworks Store Credit and Refund integration
+ Aheadworks Gift Card integration
+ Aheadworks Reward Points integration
+ Integration with the Magento Commerce store credit functionality
+ Integration with the Magento Commerce reward points functionality
+ Integration with the Magento Commerce gift card functionality
+ Added Gift Wrap and Printed Card options in checkout totals
+ GeoIP country detection
+ Product images displaying according to native Magento settings
* Adyen payment method support
* Fixed issue with tax in product details section
* Error in developer console after CSS/JS merging

1.0.5

Released 23.10.2017
* "From - To" fields should be required for Abandoned statistics Calendar
* Saving configuration issue
* Js adjustments on "Abandoned Checkout Statistics" report page
* Design issue with Ebizmarts Sage Pay Direct payment method
* Unit tests update

1.0.4.

Released 10.10.2017
* Сompilation issues
* Static tests adjustments
* Issue with OneStepCheckout and Ebizmarts SagePaySuite
* Braintree payment method design issues
* Magento 2.2: OSC page opening issue
* Shipping isn't updated after changing country/post code
* Stability and speed improvements
* PayPal Billing Agreement Setting is set to "No" issue


1.0.3

Released 17.08.2017
* Field placeholder is not moved to top when field is completed
* "Order review" block width adjustment for mobile view
* Extension affects design settings
* Abandoned Checkout Statistics week calculation adjustments

1.0.2

Released 07.08.2017
* Delivery date and time fields cosmetic adjustments
* Shipping price isn't updated in "Order Review" block
* Order note is missing if Order is created via Paypal
* Right-hand sidebar adjustments
* Delivery date field checkout page validation
* Saving more than 3 Trust Seals error message adjustment
* Special symbols in Order Review block support

1.0.0

Released 28.07.2017
Initial release

1.0.1

Released 28.07.2017
* Unable to place order if there are not shipping methods